Sometimes I have a super good blogger life going on and this past Tuesday was one of them!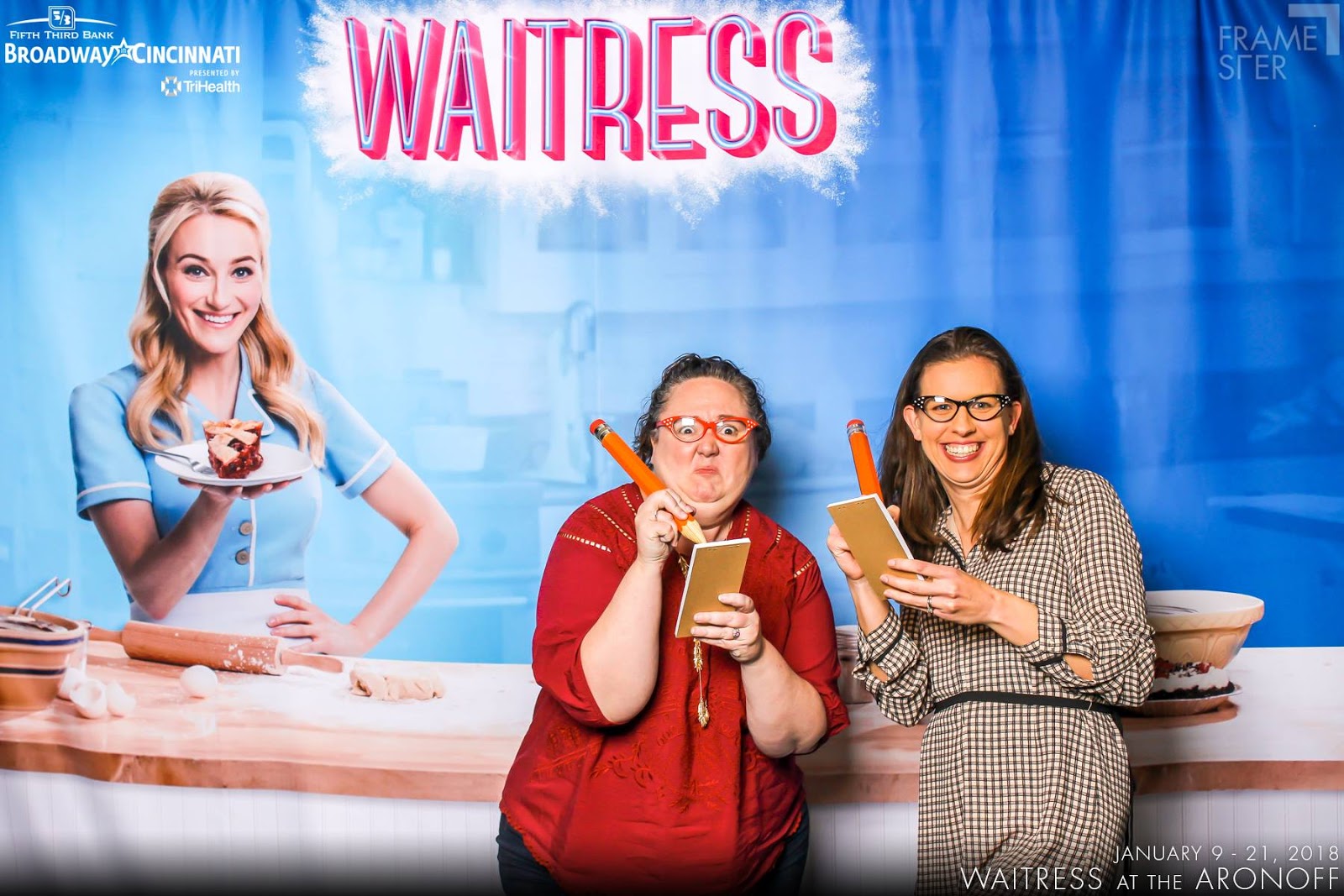 First, I got invited to the preview night of
Waitress at the Aronoff Center
. I
loved the movie
and was very excited to see the musical version. The main thing I can tell you is that they didn't screw it up!!!! That's my biggest pet peeve when they take a movie and make it into a musical (case in point: Dirty Dancing, Grease). Waitress stayed true to the movie and I loved it! They ramped up the fun and pulled back (a little) on the "difficult issues" – but stayed the course and stayed true to the movie.
This show was great! It was fun, the songs were catchy, the actors were great – it just all added up to a great show. I can't get "flour…sugar…butter" out of my head! I will say – I don't know that I would take anyone younger than high school. There are a couple of heavy topics (infidelity, spousal abuse) – and yes – it's a little odd to say it has those topics and is fun – but trust me – it works. Go with your best girlfriend – I did – and we had a blast!
They also had a callout to the Adrienne Shelly Foundation. Adrienne wrote, directed and was one of the stars of the move. Her life was tragically cut short before the movie came out. Such a sad story but so nice to see they keep her memory alive.
Now – before the show – we needed dinner! So we headed to Prime Cincinnati right across the street! They were kind enough to let us try out their Pre-Theater Menu before the show…
The Pre-Theater Menu is a 3 course for $35 (great deal!!) – but we decided to try out an appetizer beforehand. I had my eye on the Baked Goat Cheese with Marinara and Grilled Garlic Crostini ($10) and had to try it! Nobody else seemed to mind either. 😉
I love love love goat cheese – so I knew I was going to like this. I have to say that $10 is pretty affordable for an appetizer at a fancy nice restaurant too – so I was happy with that. We all enjoyed this very much and it was just right to share with the four of us.
The 3-course menu is available from 4-6pm every day. For the first course you can choose from Caesar Salad, House Salad, Greek Salad, Lobster Bisque or Soup Du Jour. Rachel went with the Caesar Salad which looked great – fluffy parm on top – yum!
The rest of us all chose the Lobster Bisque – (soup isn't a meal – he got the bisque! Seinfeld memories!) It obviously doesn't look super appetizing – but it was very tasty. I like when they throw a few pieces of lobster in – but this was very good on its own.
The manager also showed me this cool little private room they have off to the side of the main bar. It's very cool – there are doors that shut – the ceiling has a mural on it and it's got this big high booth – it's very cozy! (Note to husband: good special occasion dinner spot!)
They also brought out a sun-dried tomato focaccia bread with an olive oil & sun dried tomato dipping sauce. The bread was definitely fresh and very soft. Taste-wise – it was fine – I wasn't dying for another piece.
For your main course, you can choose from: 6 oz. Petite Filet, Garlic Shrimp or Chicken Pasta, Grilled Scottish Salmon or a Berkshire Pork Chop. Everybody but me chose the Petite Filet – which is Certified Angus (my favorite!). We all debated about what doneness is appropriate for a steak – I was the only one that was right (medium rare – duh).
All of the entree choices come with delicious sides and veggies – because it's a special menu – you can't swap sides – just fyi. Everybody's filet came with julienned veggies, roasted shallot mash and a red wine demi glace. Nedra made the comment that if she could have her veggies like that all the time – she would eat more veggies!
They also have Wagyu beef and a Certified Angus Ribeye on the regular dinner menu that are both calling my name!!!
Now normally – I would be all over the steak – but I'm not the biggest fan of the filet – and the waiter was bragging up the Berkshire Pork (the bestest of all the pigs!) so I tried that. It also had some yummy sides: Gouda Bacon Gratin and Broccolini! (I love broccolini.)
First – the pork. It was PERFECTION! If I hadn't been in a fancy restaurant – I would have picked it up by that bone and gone to town. (I might have at the end…okay I did…I didn't care! The part near the bone is the best!!!) The chop had a nice salty crust on the outside – but the inside – oh the inside – was a perfect 140. It was pink and juicy – oh just how I like it. When I go back – this will definitely be my choice! Side note: it was Cajun seasoned – I would ask for it to not be – that made it a bit spicy on certain bites and I don't love spicy – or at least go light on the seasoning.
The sides had a lot to live up to – I was really excited for them. Up first – the Bacon-Gouda Gratin – my friends weren't familiar with a gratin – it's basically Au Gratin potatoes – but fancy. It's usually in prepared in a shallow dish and has potatoes and a cheese sauce topped with breadcrumbs, grated cheese and egg or butter. My gratin had delicious flavor – it was sooooo good! The only downside was that it was more than a little burned – so all of the edges were black. It did make the inside have some crispy cheese which was good but it was a little overdone. The broccolini – which I love – was a little under-seasoned and bland. So – I was looking forward to the sides and they were just ok. The gratin had a great flavor though – so I'd definitely get that again.
The third course of the evening was dessert and you could choose from the Half-Baked Cookie with vanilla ice cream & chocolate syrup, Grippo's Pretzel Crusted Brownie with Salted Caramel Chip ice cream or a Key Lime Pie. The server basically told us they were all fantastic. Rachel & I went with the cookie while Nedra & Luann chose the pretzel brownie. We were all very happy.
They did tell us these desserts are smaller sized for the pre-theater menu – which they were the perfect size. I wouldn't want it any larger if I was eating on my own.
The girls loved their brownie concoction – which I can understand why – it looked and sounded great. My half-baked cookie was good and very decadent but it truly was half-baked. I was basically eating warm cookie dough. I love taking the cookies out a super early so they're soft but this was a little too raw.
Why Should You Go?
We all thought $35 for 3-courses was a great deal and you can't get any better than just having to walk across the street for the show. The food was great and we all left stuffed!
Parking Notes: Prime Cincinnati has valet parking that will cover your car for dinner and the show OR you can park in the
Cincinnati 580 building
is great as well ($10). I hate parking downtown so I drove just past it and turned the corner left and there was a garage – so I went in. Good move!