Sometimes you just need a night away – especially when you've got two rambunctious dogs that sleep with you. Every once in a while – I night of humans-only in a King bed is pretty awesome.
We headed to
Hollywood Casino in Lawrenceburg, IN
for just that! It's only an hour away and you get hotel, dining and entertainment all in one – and you don't even need to move your car!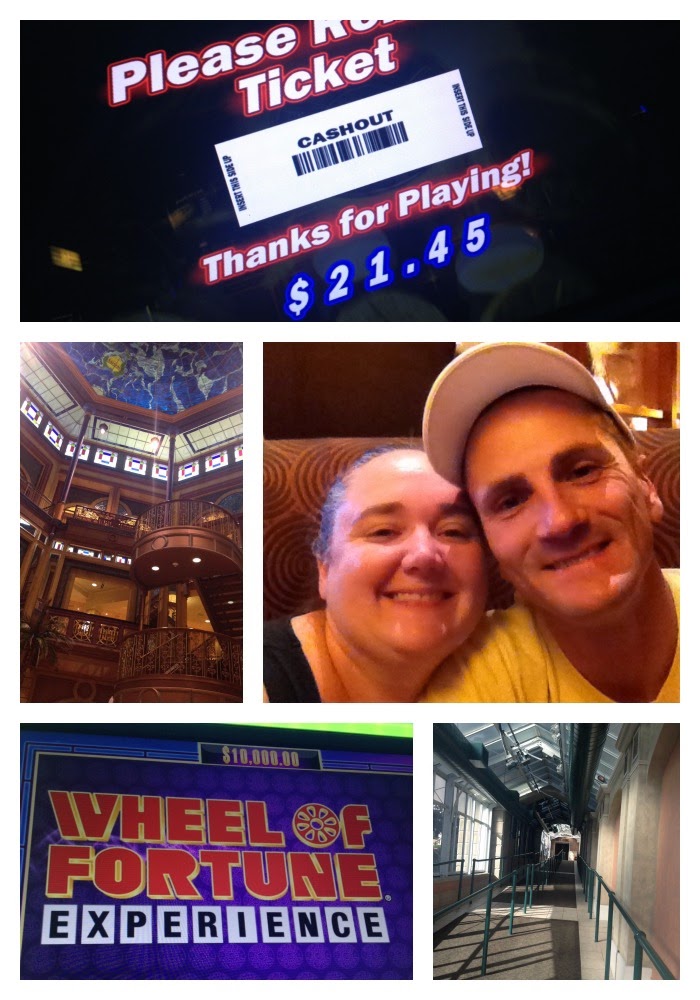 First up we decided to do a bit of gambling. The hotel and casino are connected by a long hallway. There's also a foyer where all the restaurants are.
In the casino we were able to find Larry's favorite Hells Bells game as well as an open comfy seat on the Wheel of Fortune game! I decided to cash out while I was still ahead – $1.45 ahead.
Then we headed over to the restaurant area for dinner.
Hollywood has four restaurants
: Celebrity Grill (breakfast), Epic Buffet, Hops House 99 and Final Cut Steakhouse.
We were tempted to try Hops House 99 but decided we couldn't pass up massive amounts of cow.
For our drink order – we were handed an iPad. We perused the options and Larry came across some crazy wacky thing with bourbon and cinnamon- it was $10 and strong as hell. Larry also tried a Founders IPA. The iPad thing was a bit odd though – we selected our drinks on it and were then told that it didn't work to actually order the drinks – it was just to view the options. Maybe they're saving printing costs – but it's odd.
We started with a salted pretzel bread as well as another white bread. The butter provided was soft and salty – YUM! The pretzel bread was delicious and we pretty much killed it. Felt bad doing it since we knew giant pieces of beef were headed our way but we couldn't help ourselves.
We started with the Final Cut Signature Crab Cake ($16). Our very knowledgable server assured us it was not full of breading, as did the menu. The crab cake had jumbo lump crab, no breading, citrus aioli and the surprising and delightful roasted pineapple relish.
The crab cake was really good – it was so full of crab and the citrus aioli was nice and refreshing but the pineapple relish was the standout. It was zingy and fruity and sweet and just plain delicious. I would never think to pair them together – but it was great!
Per usual with the "high end" steakhouses – the sides are separate. We knew we really wouldn't be hungry enough for them but wanted to try them. We tried the bourbon creamed corn and the smashed potatoes ($7 each).
They look decadent – in reality – they were fine. The bourbon creamed corn really was bourbon-y and for me it was a bit too much. It's definitely not like creamed corn from a can – it's much better than that. The smashed potatoes were fine – very good – but not that exciting.
They had a special the night we were there – a dry-aged, bone-in New York Strip. It was ginormous and pretty delicious. We did realize though that Larry and I ordered each other's steaks. He prefers the New York Strip with less marbeling – while I prefer the Ribeye with more marbeling. The steak was cooked to perfection and we did our best to take on these steaks.
Larry ordered the 24 oz bone-in ribeye ($48) as they don't have the 16 oz anymore. I have to say – there isn't often that I don't have to tweak a picture a bit because of lighting or whatever. This photo was perfection and I didn't need to do a thing. I mean – look at it.
As I mentioned, Larry and I realized we should have swapped orders and I tried this and LOVED it. Larry thought it was a bit fatty with all the marbeling.
After having our fill of cow – we retired to our hotel room for the evening. They have a night club (Boogie Nights) but weren't so much in the mood for dancing. I've
been before
and it's a blast. The hotel was very nice and comfortable – big bed, nice view and bowed-shower rod (love the extra room). The grounds of Hollywood Casino are really nice too – I doubt many people walk around them – but it is pretty.
The next morning we headed back home with our doggie bag. And there were bones in there for the dogs and wow – were they happy!
Thanks again to Hollywood Casino for the night away – it was needed and enjoyed! If you need a night away – I'd highly recommend it!
Disclosure: My visit to Hollywood Casino and The Final Cut were provided by Hollywood Casino but all opinions are expressly my own.