Thanks to Dollywood & Dixie Stampede for complimentary admission
to their venues in exchange for this post. All opinions are my own.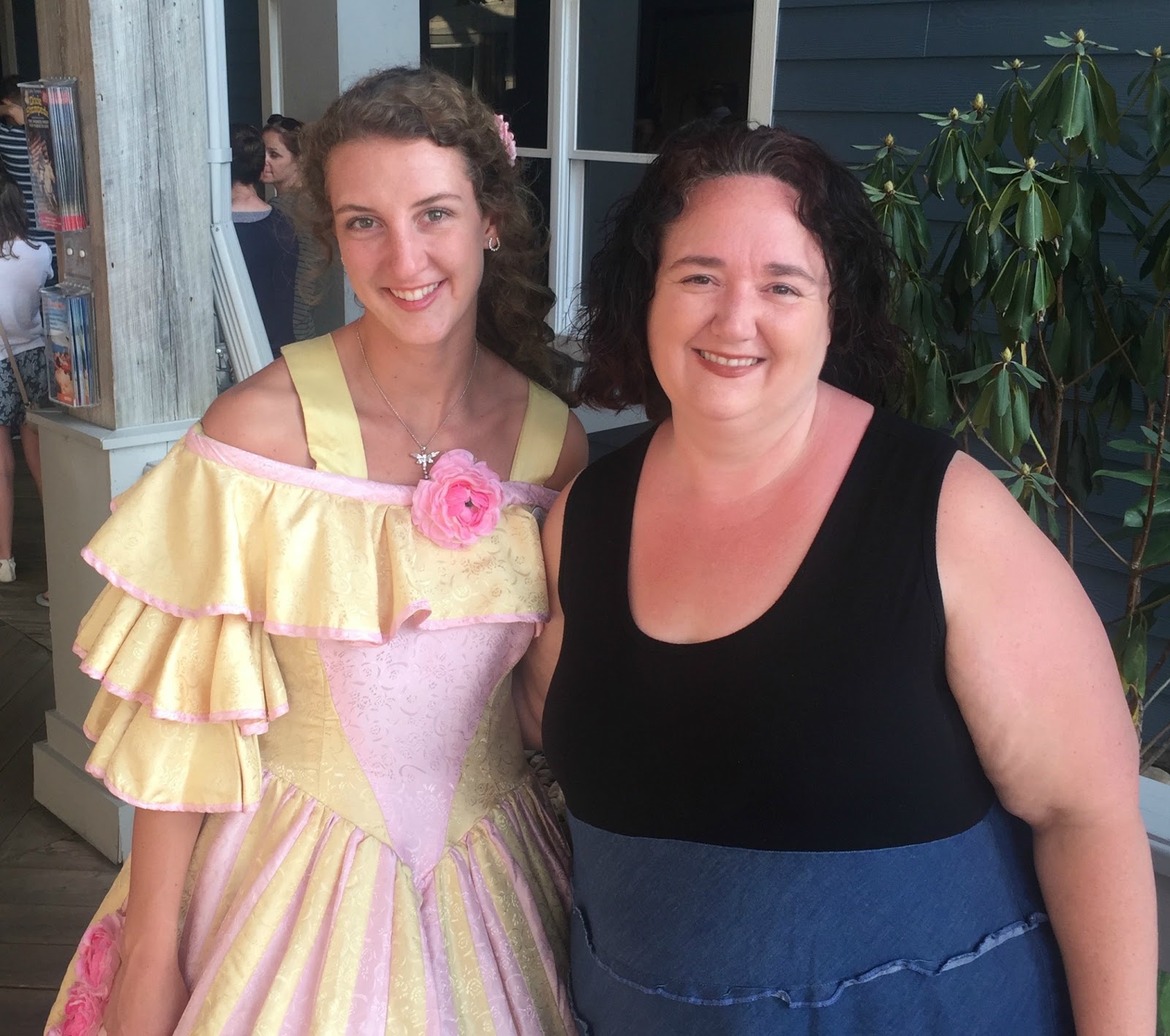 First up was the Dixie Stampede! Dixie Stampede is one of the performance complexes owned by Dolly Parton and it's in Pigeon Forge. Outside they have cast members in costume for you to pose with so I grabbed a quick pic…
There's ample parking and multiple shows each day. You can also usually find some discount coupons at stores in the area.
When you go in they take a pic of you and yours – and then you can purchase it later during dinner. Aren't we cute?! That's my best friend, her husband, their son and me and Lar.


TRAVEL TIP: Hit up the gift shop BEFORE the show! There's nobody in there – and you're just sitting and waiting to get in anyway!
Once inside – you'll head to a large communal area. They have some entertainment for you to listen to and they service drinks and light appetizers. (FYI: This is a family venue – no alcohol.)
We got fun drinks and some popcorn and nachos. The drinks come in fun cups that you can take home.
Once you go inside – you have a menu waiting for you…The chicken is a hint of things to come…
The arena is set up in a horseshoe with multiple levels – the staff is very efficient with everything – it's definitely impressive. Our server was great – he was on top of everything and had a great personality. He also helped with the allergen info – (biscuits = eggs – but everything else was good). Here's the overall menu:
creamy vegetable soup
homemade biscuit
rotisserie chicken
pork loin
corn on the cob
herb baked potato
apple turnover
soda, tea or coffee
Here's the thing with the food – there's no silverware – so you eat everything with your hands. So for soup – you just drink out of the cup. This soup is available in a dry mix in the shop and I got it for my mom – she loved it!
As for the food – it's ok – nothing is amazing – and actually the soup was probably my favorite dish of the night. The meat is a little dry. The apple turnover was really good and they'll send you home with a doggie bag if you need it.
The food though isn't the main draw – a friend of mine visited the area and found a lot of places that offer a meal with a show – it's a way to combine dinner & entertainment for one price which leads me to – the show! Cuz that's why you go!
The setup is that the crowd is split into the North and the South and they have a variety of competitions and shows where the performers compete and one side wins. There's a fair amount of singing, lots of animals and even more family fun.
Horses jumped through fire, princesses sang in a floating gazebo and baby pigs raced! The show is entertaining to say the least and the best part is all the competitions are quick so if one isn't your thing – another is just a few minutes away.
The meal goes throughout the show – apple turnover time is a good time!
There's even an audience participation bit – our server spotted my bff's hubby and thought he must have just looked as all-American as it gets and said, "Do you want to participate in a competition?" Um yes! We weren't actually sure if he was being serious – as the show neared it's end we thought – oh maybe he was joking – but nope! Near the end of the show he said, "Allright – let's go!"
We had been chatting with the server throughout the night – so he got to know our group pretty well – I think that led to Nick being chosen.
The show has a lot of Americana in it – as does most of Pigeon Forge. It's a fun show with lots of horses – and tricks – so I was happy. I would definitely recommend Dixie Stampede or Dolly's new Lumberjack Adventure show (acrobats, lumberjack games and lots more!)
We had a great time at the show – the shows are very family friendly and entertaining – it's a definite must-see if you're in Pigeon Forge.
And while we're in the world of Dolly Parton – let's talk Dollywood! We had so much to do in the week we were there and it was super hot – so we only had a half-day at Dollywood.
Dollywood is a theme park that also has performance areas and some of the story of Dolly's life. She's really done so much for this area – it's amazing – she's really helped make this a successful and thriving tourist destination.
We rode the train at Dollywood and a few roller coasters – it was about all we had time for. I even found a couple of coasters that didn't go upside down so I could ride them!
And every night ends in fireworks! So that's always a good way to end the night. I might have even danced with some very large costumed creatures! Luckily no video of that. And yes – I got in the Peyton Manning spirit with a UT hat! 😉
Why Should You Go? I have to say – after visiting the "sister" city of Branson a few years back – Pigeon Forge & Gatlinburg are where it's at. We had so much more fun in Tennessee!!! It's more updated and modern with a wider variety of things to do. And the contrast of Pigeon Forge (easy parking, mini golf & go carts, restaurants, shows) with Gatlinburg (shops, mountain coasters and walking) make for a great all around trip – then you throw in the mountains – it's perfection! You can really mix it up rather than being stuck with just one thing for a week.