I love road trips – I love them even more when people are feeding me steak and goodies all along the way! A few weeks back, I went on a trip to Wooster, OH to visit the
Certified Angus Beef Council
(
here's Day 1
) and it was so exciting and full of knowledge! So now – Day 2!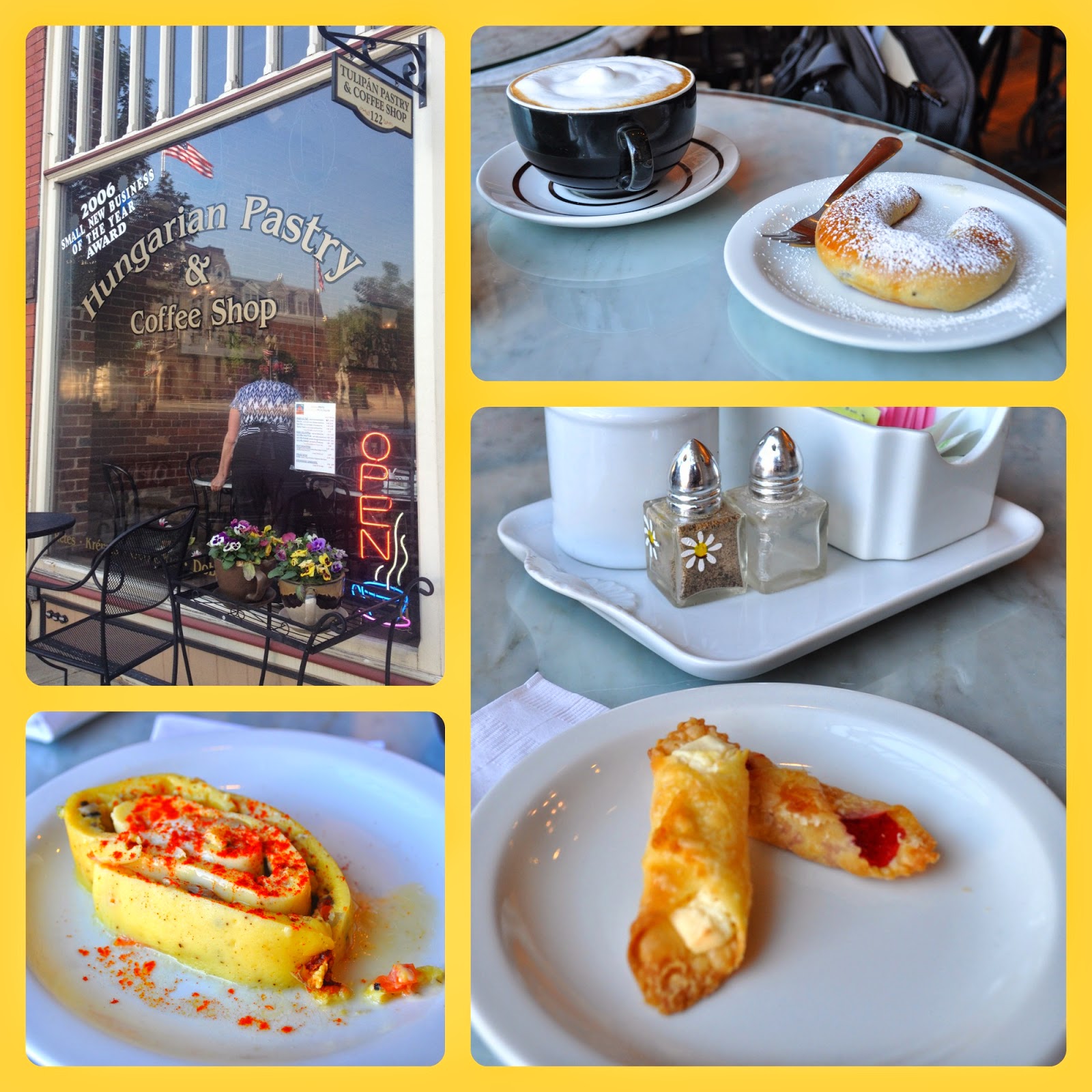 Before our day of beef – we had to get a little breakfast. We stopped at the Tulipan Hungarian Pastry Shop which is VERY traditional and right in downtown Wooster. I had a couple of tiny kolaches (lower right) – they were delicious! Light and flaky with fruit or cream cheese. Other folks ordered the "omelet" which – unbeknownst to me – was just a slice of a rolled omelet (lower left) – so then I had to get one! This was just okay – a bit bland.
Next up was a tour of the Buehler's Grocery which is based out of Wooster and has 14 stores. This market sources locally as much as possible – the produce manager was walking us through telling us where each farm was that sourced the vegetables. They gave us a complete tour and we saw some pretty cool stuff:
They ONLY carry Certified Angus Beef. Boom!
They have a shake machine! (F'real blending bar)
Their cake decorator is adorable!
They put your groceries in bins and then give you the number cards. You pull your car up and show them the numbers and they put the groceries in your car! This totes reminds me of going to the grocery store as a kid back when they did this. Anybody else remember that? Maybe it was an Iowa thing.
After the tour, we headed to the Beef headquarters and President John Stika explained so much to us about WHY Certified Angus Beef. Turns out there are a lot of cows out there that say they're Angus – but come on – Angus from McDonalds isn't the same as Angus from a premium steakhouse – right?!
There are specific steps that Certified Angus Beef goes through to get that name. There is USDA guidelines for meat – and the CAB guidelines above those. It's fascinating stuff! They also have a branch of Natural CAB – which has no antibiotics and is monitored even more closely throughout the entire process.
These guys at CAB are extremely knowledgeable and answered every question we threw at them. By the end of John's presentation – I was sold. (Yes – I'm talking to you Kroger – why don't you have CAB? Meijer does!)
After learning more – we got to get our hands "dirty" and start cuttin up a cow! Dr. Phil – yes – a real Dr. Phil – taught us all about the cow. It was hanging up on a hook and we got to get in there and cut it up. We learned that the skirt steak (bottom photo) is an amazingly tender cut of meat that most people ignore! (
Where's the skirt? Check out this diagram!
)
The ribeye is the key to grading the side of beef. On the left is USDA Select – and you see little to no marbeling (thin lines of fat in the red part). Look down to the CAB – lots of marbeling. Marbeling = deliciousness! Keep that in mind when you're steak shopping this weekend.
Larry went with me on the trip and he got in on the butchery action. Dr Phil said he needed someone strong – so we all handed Larry the hacksaw.
After our day butchering a side of beef – we got to try some sausages that Dr Phil and his crew had made. These were amazing and delicious – especially the one on the right – I seriously think I ate half that pile. If you go to a butcher shop for your meat – and they ever have homemade sausage – buy it!
The CAB photographer even took pics of us with the side of beef. I had to do one goofy and one smiley. I love having little keepsakes to bring home – plus they crack me up. Please no comments about my sexy shoes!
We finished our day with a cooking class from their corporate Chef Michael. We had so much delicious food – and VIP seating for the class. The CAB holds cooking classes a few times/year and donates proceeds to a local charity. Our menu (shown above) consisted of:
Certified Angus Beef Signature Grind Slider with House Mortadella, Amish Cheddar, Tomato & Banana Pepper Sauce with a Beer's Knees Cocktail

The cocktail was the standout here – gin, lemon juice, honey syrup, wheat beer – I don't like gin – but this stuff was delicious!

Grilled Barbeque Certified Angus Beef Sirloin Kabobs with Mixed Greens, Pickled Red Onion

These kabobs were so tender – yum!

Grilled Certified Angus Beef Strip Filet, Chimichurri, Grilled Fennel, Beef Bacon and New Potato Salad

Seriously amazing. That steak – I still think about it. Beef Bacon – what the what???? It was interesting – a little too thick. But the steak and the chimichurri. Yes Yes Yes!

Grilled Pound Cake with Hartzler's Dairy Vanilla Ice Cream and Strawberry Rhubarb Compote

I ate mine and Larry's. 'Nuff said.
Here's a tip: When taking the temperature on a steak – put the meat thermometer in the side of the meat – that way you won't go all the way to the bottom and you'll truly get the center temperature!
So to celebrate the wonder of Certified Angus Beef – I wanted to share their recipe for Chimichurri – it makes 1 pint – which is enough for 16 steaks! You can find
other recipes online
as well!
Classic Chimichurri from Certified Angus Beef Brand
Ingredients
1/2 cup chopped flat leaf Italian parsley
1/2 cup chopped cilantro
1/2 large onion, finely diced
4 cloves minced fresh garlic
1 tsp dried oregano
1/2 tsp crushed red pepper flakes
1/2 tsp kosher salt
1/2 cup red wine vinegar
2 tsp agave nectar or honey
1/2 cup honey
Instructions
In a food processor or blender, combine parsley, cilantro, onion, garlic, oregano, red pepper flakes and salt, pulsing to a finely chopped consistency. Add vinegar and agave nectar. With processor running, add oil in a slow stream until ingredients are well combined.
The trip and all meals & accommodations were provided by the Certified Angus Beef Council but all opinions are my own.
Around The Web
'); script.type = 'text/javascript'; script.src = 'http://widget.crowdignite.com/widgets/31877?v=2&_ci_wid=_CI_widget_'+_CI.counter; script.async = true; ref.parentNode.insertBefore(script, ref); })();