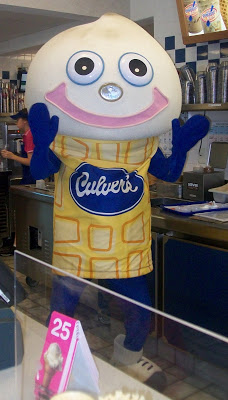 Meet Scoopie! He's the Culver's mascot and he is there to greet you when you come in. The best part is his walk – it's like he's got ants in his pants. He definitely has a groove to his walk and it's fantastic. Scoopie also helps the servers with food delivery and he'll even give you a hug! Kids can even join Team Scoopie and get gear and frozen custard.
We had Culvers back home in Iowa so I was very glad to see them pop up once I moved out here.
But the important thing isn't just how great Scoopy is – it's the food! They serve "butter burgers" – there's not butter in the burgers but there's butter on the bun. We each got double bacon cheeseburgers and they were great. Culvers serves thin burgers so I usually go for the double but they're very tasty.
Besides the butter burgers there is also a large selection of sandwiches, dinners, salads, soups and desserts.
I'm a big fan of the fried cheese balls – I don't see them near enough in Ohio! The cheese balls are a mix of white and yellow cheese – I don't want to go so far as to say mozzerella and cheddar but you can decide for yourself. They're good – that's all I can say.
You can also get a combo with fries – but who wants fries when you can have fried balls of cheese?
Of course I had to get a cup of custard before leaving! Now if you haven't had the custard from Culvers you need to go now and get some. It's thick and very very creamy. The shakes are called Concrete Mixers for a reason because they are thick as hell!
They always have a special flavor or you can just get vanilla. I like the flavors like blueberry pie or something like that – they have little balls of "crust" that look like rabbit doody and it makes me laugh.
And so we say goodbye to Scoopie! It was a great visit to Culver's and he definitely made us laugh.
I'm a big fan – it's a quick casual type of place. You order at the counter and get a number and the food is brought to your table.
There are two locations in Cincinnati – one in Mason and the other is in Hamilton.