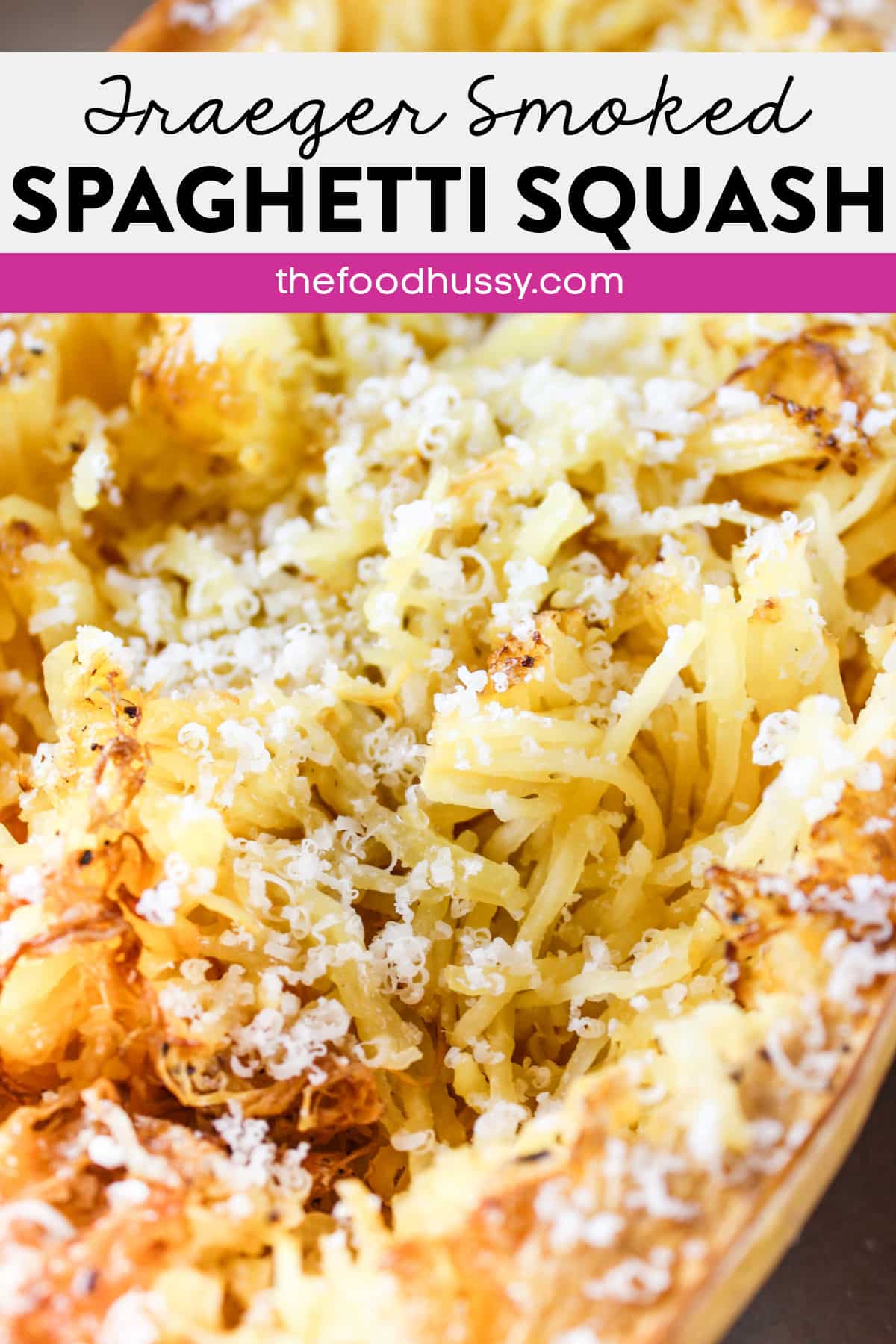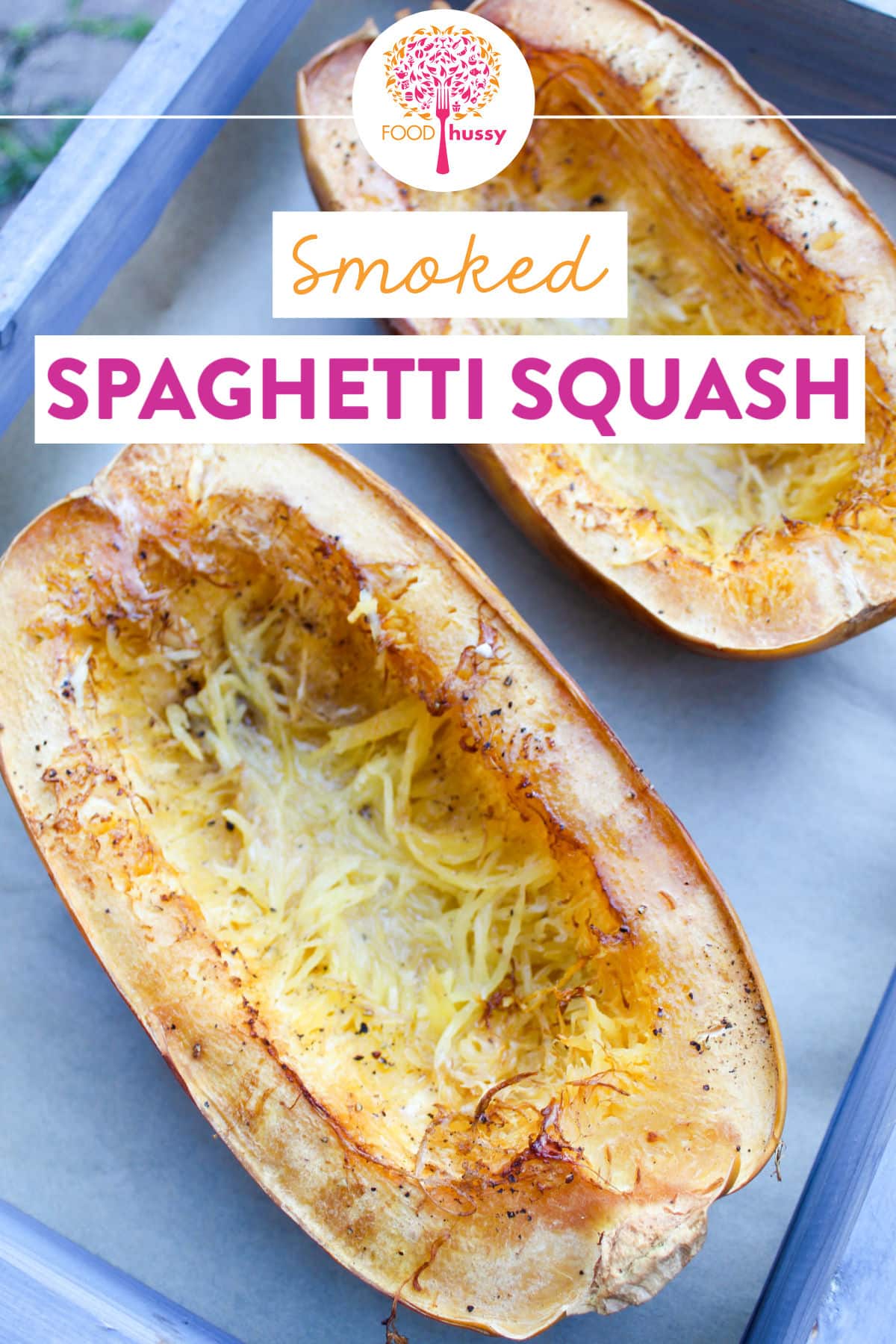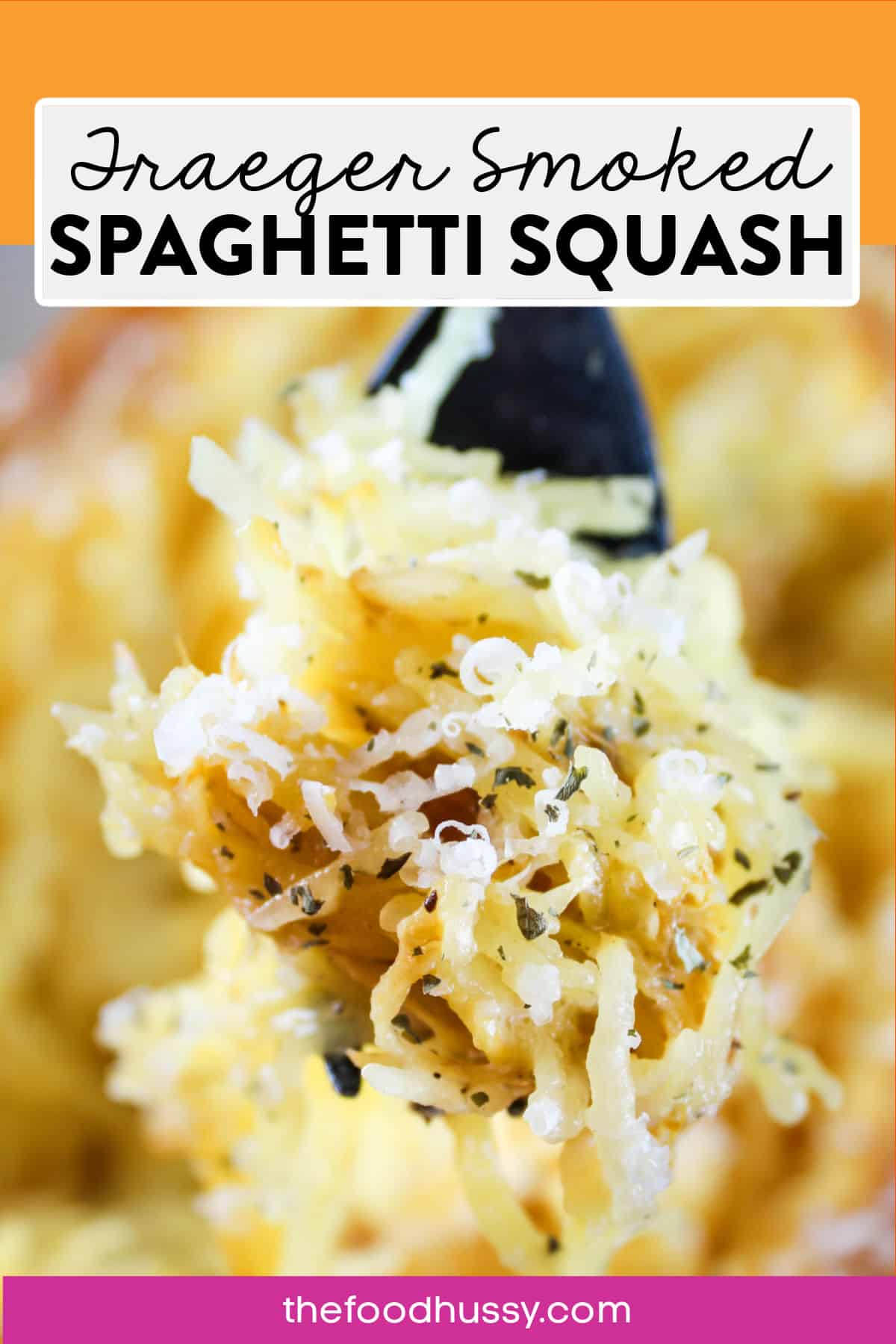 Smoked Spaghetti Squash is an easy & tasty side dish that takes on all that delicious smoky flavor from your smoker! Spaghetti squash is a great low-calorie and low-carb substitute for pasta.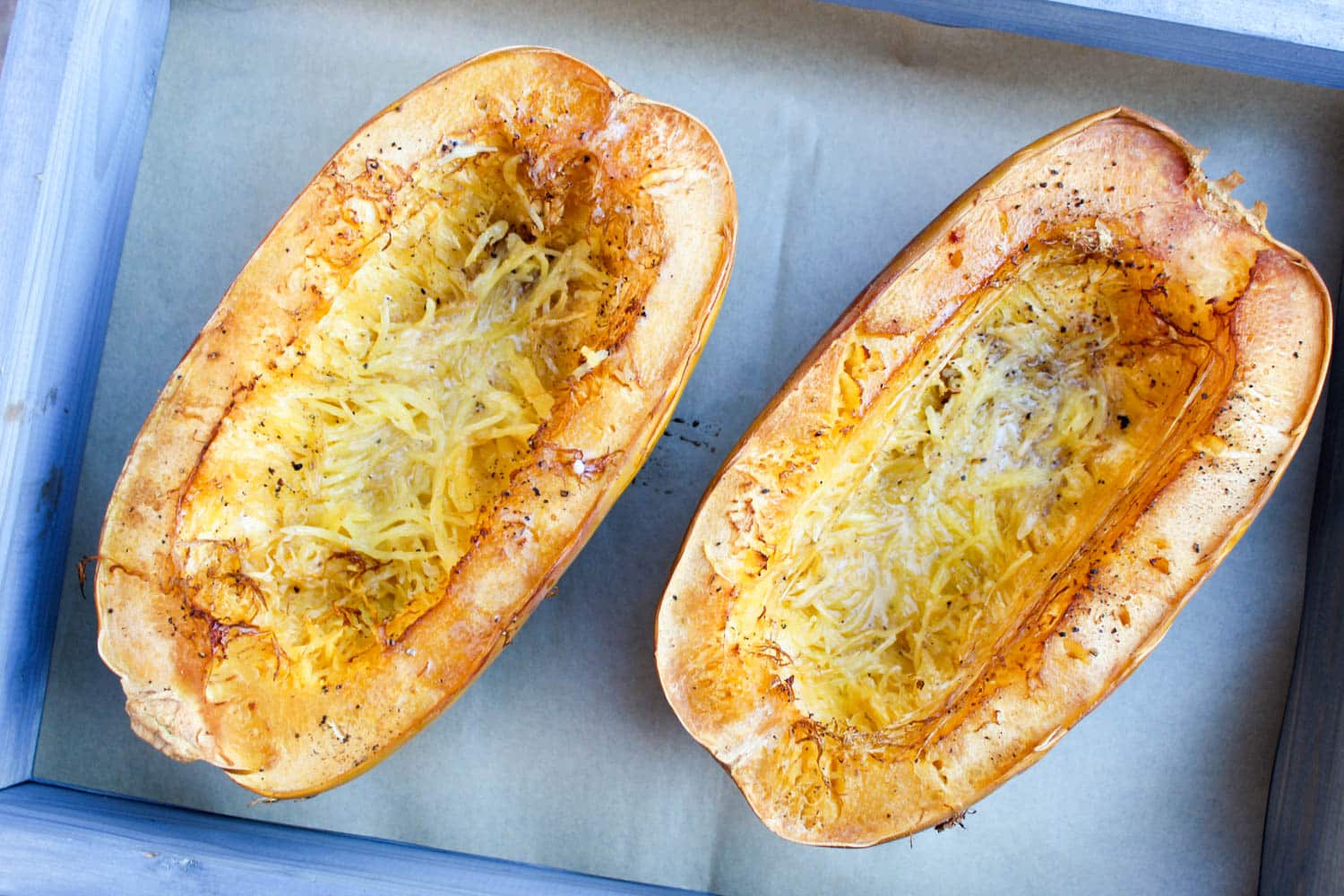 What You Will ❤️ About Smoked Spaghetti Squash
Simple Ingredients! All you need is the squash and salt, pepper & olive oil.
Smoky Deliciousness! No matter what kind of smoker you are using – the smoky flavor will be absorbed into the squash.
Super Healthy! Spaghetti squash is full of nutrients and antioxidants. Plus it's low-carb and low in calories – so it's a great option for anyone trying to eat better!
Serves 8! Spaghetti squash come in a variety of sizes but a large one can produce 8 servings! There's so much goodness in just one squash and it reheats well – so leftovers are great!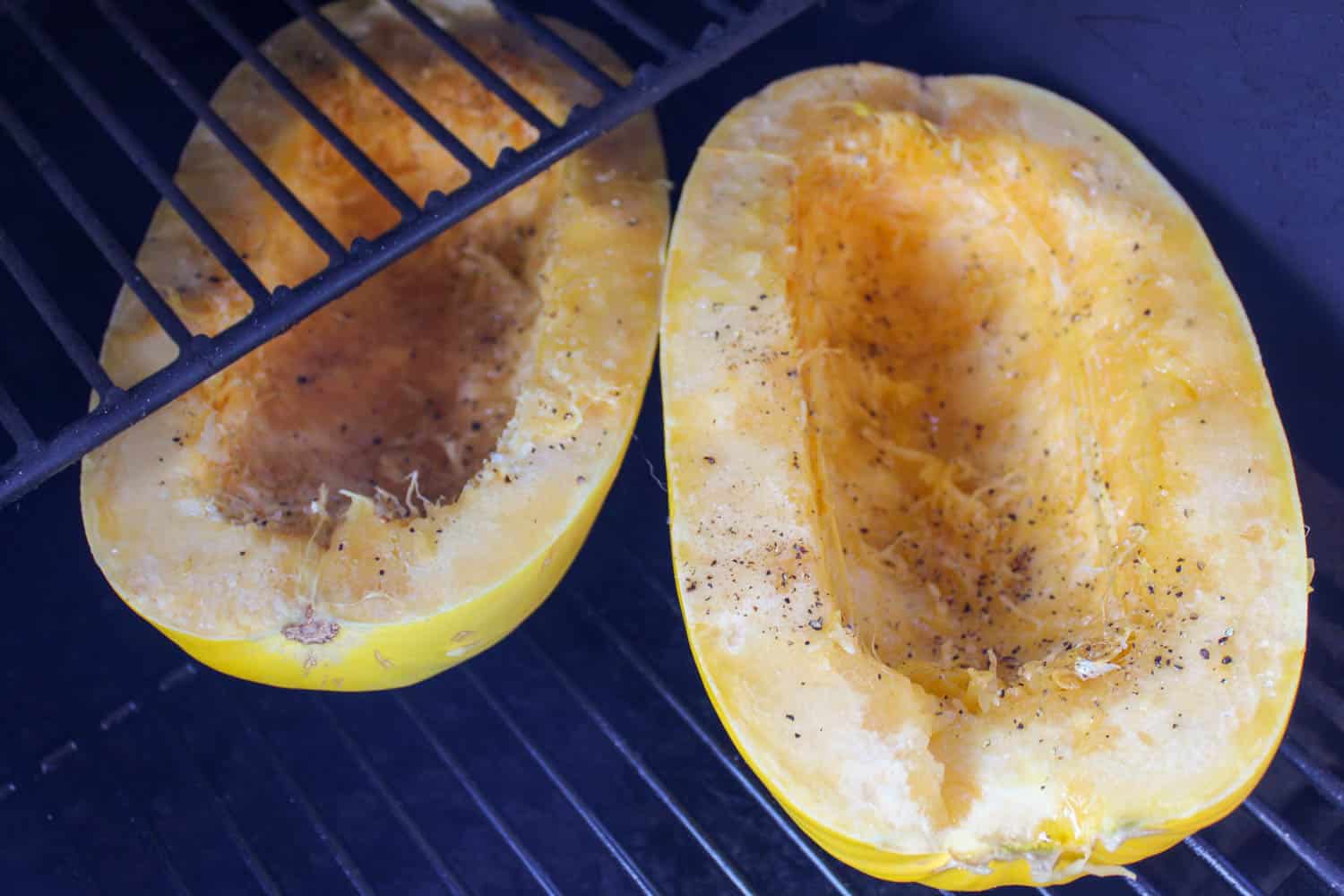 Ingredients for Smoked Spaghetti Squash
This is one vegetable that needs very little to make it delicious! Here's all you need:
Spaghetti Squash – these guys are pretty big so if you're only making it for 1-2 people – look for a smaller one
Salt, Pepper, Olive Oil – very simple ingredients are why I love this!
Butter & Parmesan Cheese – when you serve – this is all you need!
How to Serve Spaghetti Squash
Spaghetti Squash by the name is a great swap for pasta but there are multiple ways you can serve your cooked squash! Here are some of my favorites:
Marinara – very traditional swap for spaghetti serving with any type of spaghetti sauce
Stir fry – spaghetti squash strands are a great sub for rice as part of a delicious stir fry dish
Stuffed – mix together sausage, mushrooms and peppers and add it to the squash for the last hour of the smoke
Quiche – add cooked spaghetti squash to quiche for a crunchy bite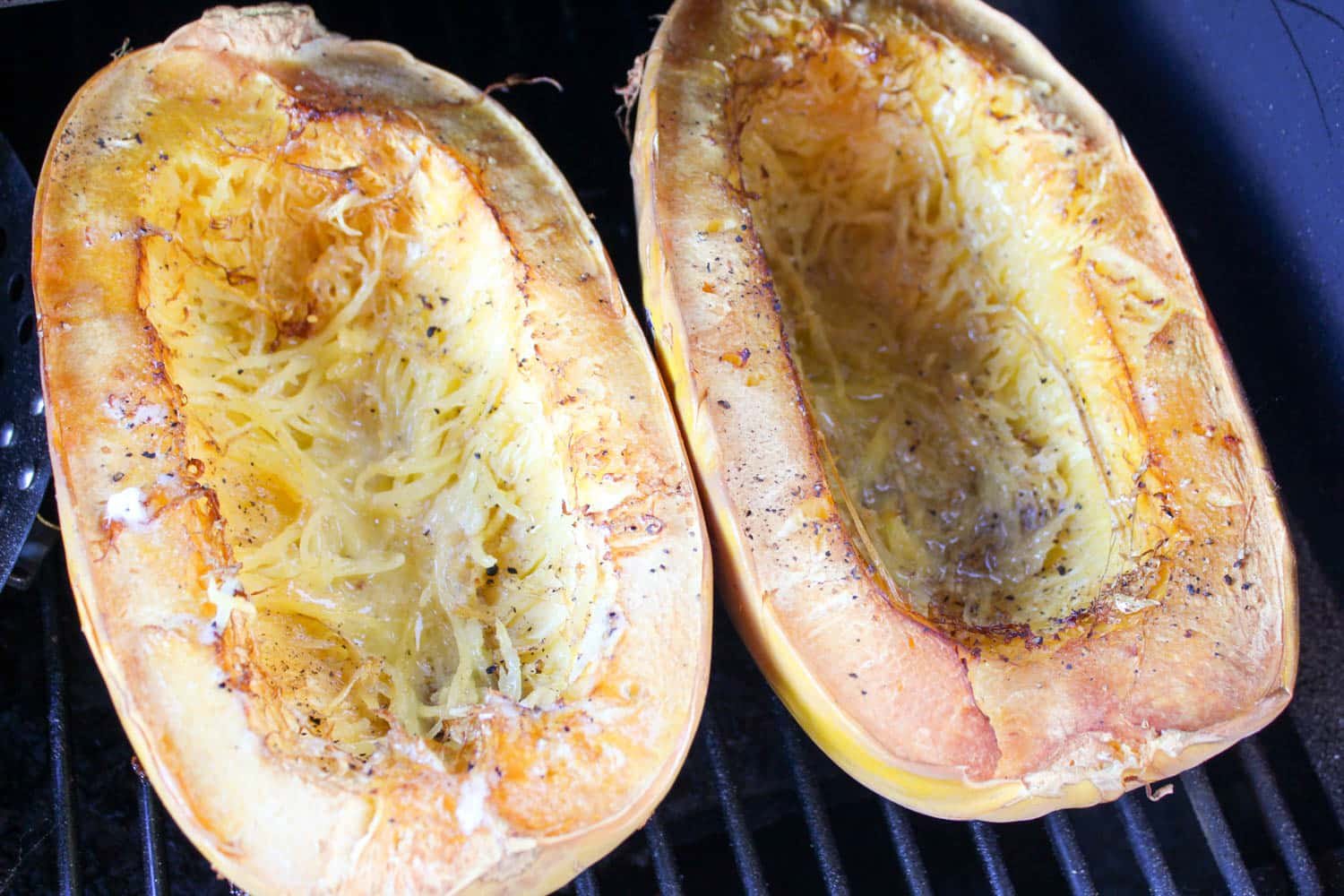 How to Smoke Spaghetti Squash on the Traeger
When I'm using my Traeger – I like to load it up and this was a great addition. If you're doing any sort of protein like a pork loin – pop open a spaghetti squash and add it to the smoker!
Set Pellet Smoker to 225º – be sure your pellet hopper is full!
Using a large chef's knife, slice spaghetti squash in half. See tips in FAQs. Scoop out seeds and strings from center.
Drizzle squash halves with olive oil and sprinkle with salt and fresh ground pepper
Place on smoker for 2-2.5 hours. Using a fork, poke the flesh of the squash. If it's fork tender – scrape the inside of the squash. If spaghetti strands start to form and is easy to scrape – it is done and ready to serve!
Remove squash halves from the smoker and place on a baking sheet. Using a fork, scrape insides of the flesh to loosen all of the strands.
Add butter, salt, freshly grated Parmesan cheese and fresh parsley. Toss lightly to serve.
This post contains affiliate links which I make a little money on purchases. Thanks in advance! I am an Amazon associate as well as a member of other affiliate programs.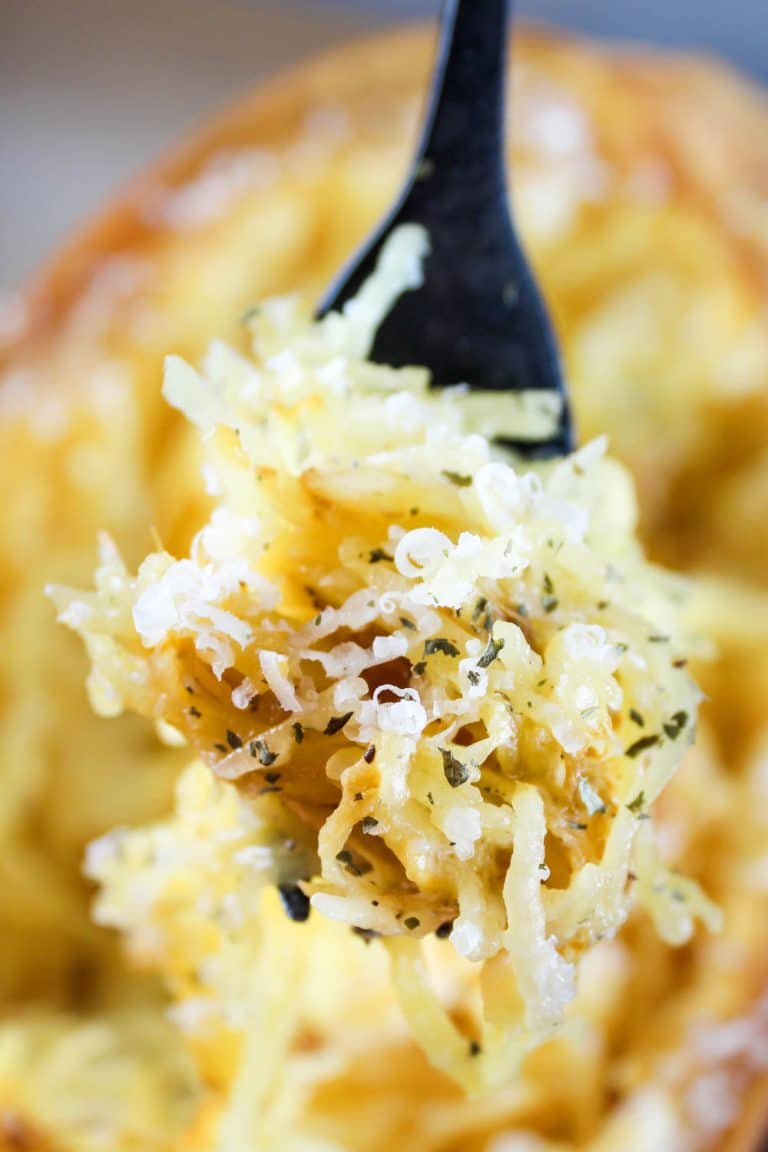 Tips, Tricks & FAQs
How do I cut this damn spaghetti squash? It's like a brick!!!!
Using a large chef's knife and a cutting board, cut the squash from stem to end lengthwise. To cut it, insert tip of the knife into the squash and pull the knife down toward you. Hold the squash with your other hand. Don't try and cut it all at once. Turn the squash as you go – it's a bit of a workout.
What pellets are best for vegetables?
There are many flavors of pellets that work in your Traeger pellet grill. I keep it simple and always use the Traeger Signature Blend which is a blend of Maple and Cherry. That said if you're looking for something specific for spaghetti squash – because it's a hearty vegetable it can take on a stronger pellet. I would choose Hickory, Mesquite or Pecan.
How long does it take to cook spaghetti squash?
In the oven, you're cooking at a much higher temperature (400º) for about 50 minutes but on the smoker, you want it low and slow. 225º for 2-2.5 hours.
What does spaghetti squash taste like?
Spaghetti squash has a very neutral and mild flavor. The strands have a slight crunchy texture to them. These are why it's a good swap for rice or pasta because it takes on the flavor of what you're adding to it. I wouldn't say it tastes like pasta – but if you're looking for a low-carb alternative to pasta – it's a great choice along the same line of zucchini noodles.
How do you store and reheat leftover spaghetti squash
Store leftovers in an airtight container (I like these glass storage ones) in the refrigerator for up to a week. Reheat in the microwave for 2 minutes or in a skillet for 4-5 minutes.
Can you freeze leftover spaghetti squash?
You could but it's got a high water content – so if you freeze leftovers – they will likely get mushy when you thaw and reheat. So I wouldn't recommend it.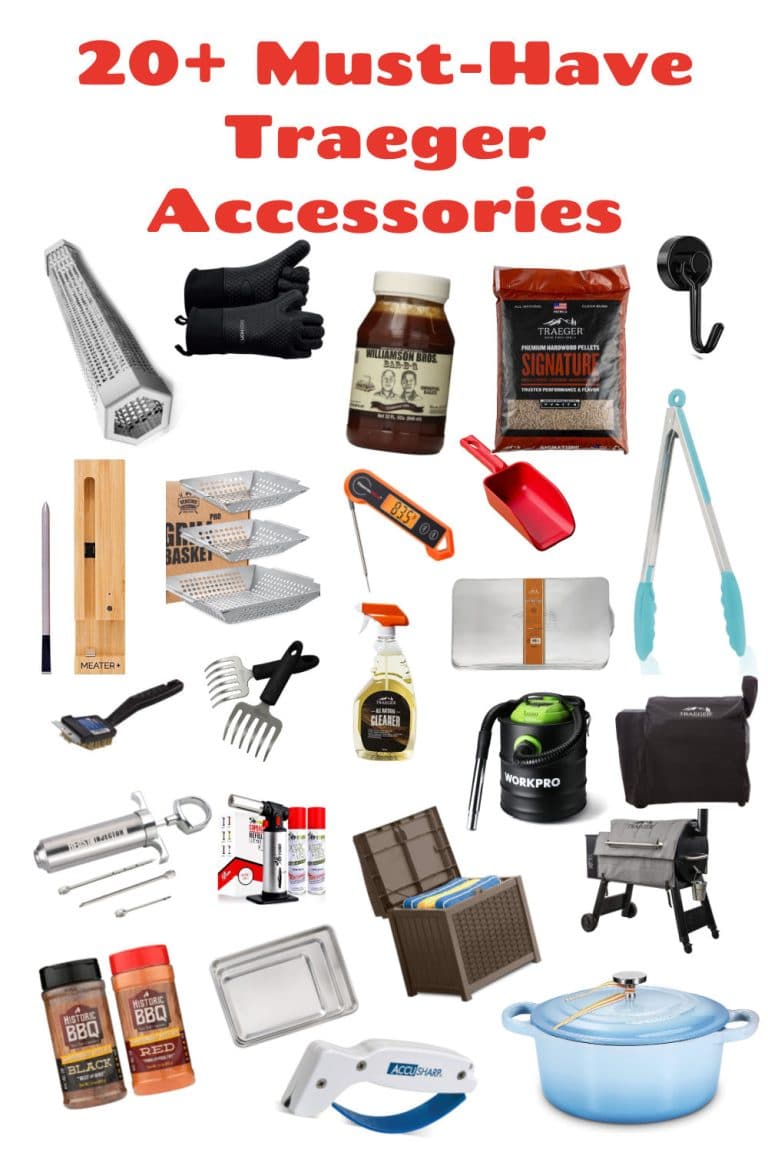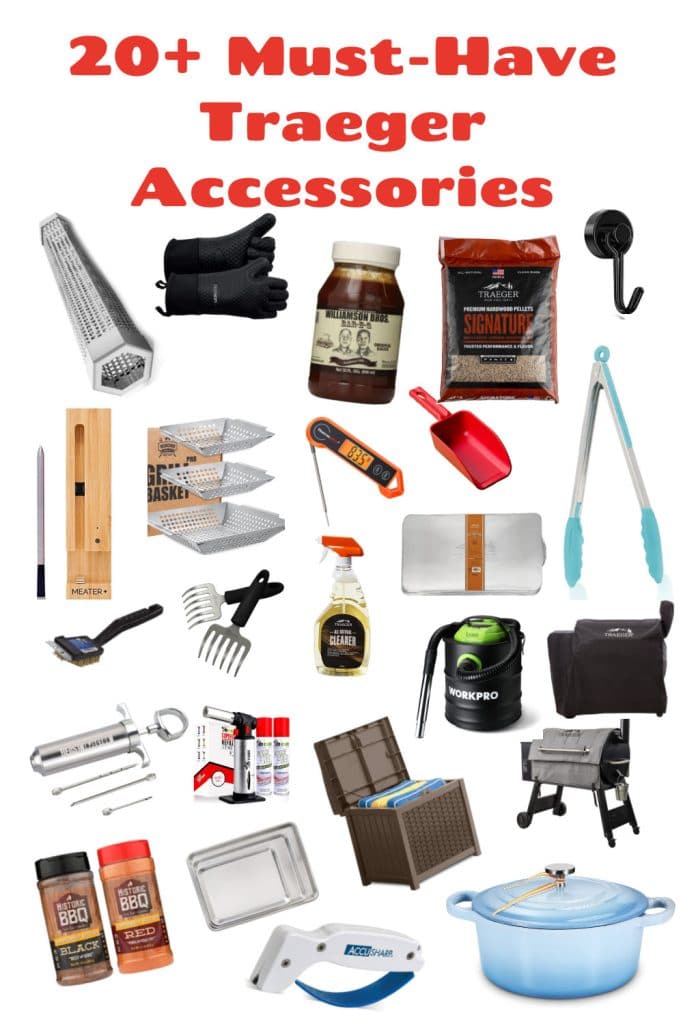 I absolutely love my Traeger Pellet Grill and you can pretty much use it right out of the box! But over the years I've definitely found that there are some Traeger smoker accessories that make everything a lot easier!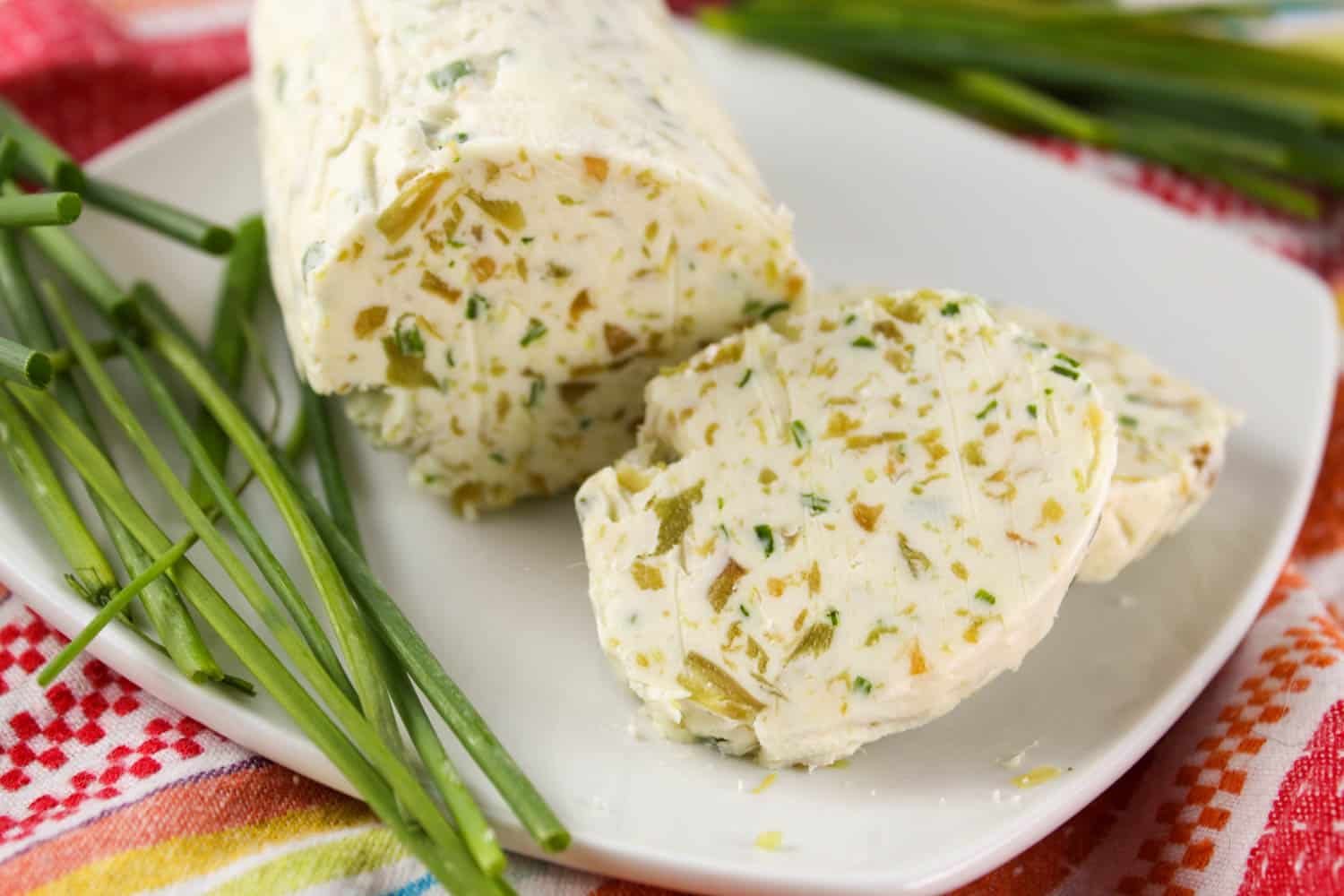 What to Serve with Spaghetti Squash
More Smoked Vegetable Recipes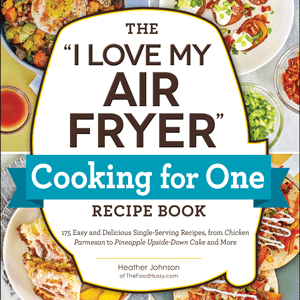 Get Heather's NEW cookbook – Air Fryer Cooking for One today!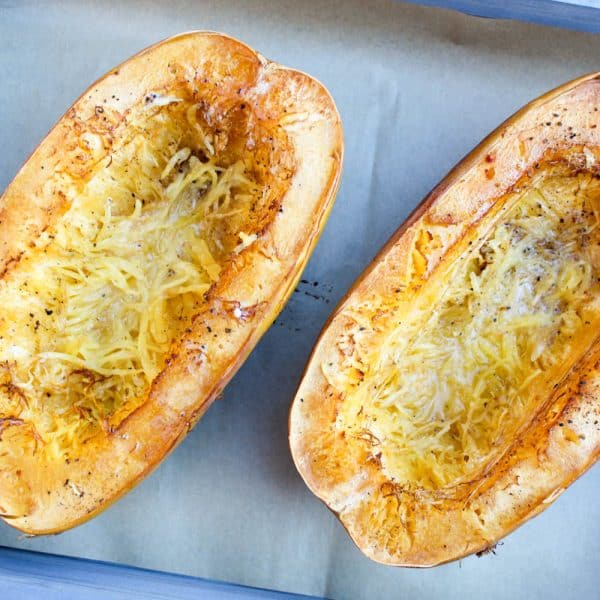 Smoked Spaghetti Squash
Smoked Spaghetti Squash is an easy & tasty side dish that takes on all that delicious smoky flavor from your smoker! Spaghetti squash is a great low-calorie and low-carb substitute for pasta.
Ingredients
1

spaghetti squash

2

tbsp

olive oil

1

tsp

coarse sea salt

1/2

tsp

ground black pepper

3

tbsp

salted butter

3

tbsp

parmesan cheese

grated
Instructions
Set Pellet Smoker to 225º – be sure your pellet hopper is full!

Using a large chef's knife, slice spaghetti squash in half. See tips in FAQs. Scoop out seeds and strings from center.

Drizzle squash halves with olive oil and sprinkle with salt and fresh ground pepper

2 tbsp olive oil,

1 tsp coarse sea salt,

1/2 tsp ground black pepper

Place on smoker for 2-2.5 hours. Using a fork, poke the flesh of the squash. If it's fork tender – scrape the inside of the squash. If spaghetti strands start to form and is easy to scrape – it is done and ready to serve!

Remove squash halves from the smoker and place on a baking sheet. Using a fork, scrape insides of the flesh to loosen all of the strands.

Add butter, salt, freshly grated Parmesan cheese and fresh parsley. Toss lightly to serve.

3 tbsp salted butter,

3 tbsp parmesan cheese
Notes
**We are not dietitians and recommend you seek a nutritionist for exact nutritional information. The information in the nutrition box are calculated through a program and there is room for error. If you need an accurate count, I recommend running the ingredients through your favorite nutrition calculator.**
Nutrition
Serving:
0.75
cup
Calories:
114
kcal
Carbohydrates:
9
g
Protein:
1
g
Fat:
9
g
Saturated Fat:
4
g
Polyunsaturated Fat:
1
g
Monounsaturated Fat:
4
g
Trans Fat:
0.2
g
Cholesterol:
13
mg
Sodium:
378
mg
Potassium:
137
mg
Fiber:
2
g
Sugar:
3
g
Vitamin A:
293
IU
Vitamin C:
3
mg
Calcium:
46
mg
Iron:
0.4
mg