So I'm from West Liberty, IA – it's a very exciting town consisting of one flashing yellow signal light. But it's home and I still have a soft spot for it. Being that I am from WL, IA I knew that I had to visit West Liberty, KY! (There's a West Liberty, OH too – that's next).
But yes – on one of our Saturday drives – we headed south to KY and stopped in West Liberty!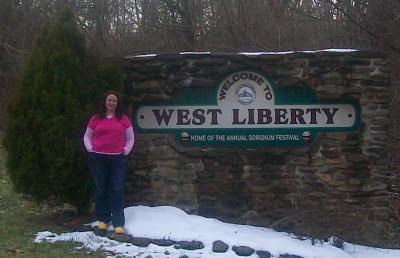 I had to take a picture in front of the sign – poor Larry pulled off the side of the road and had to step in mucky snow to take it. God love him.
Along the way along 460 we found Broke Leg Falls near Ezel, KY. I really can't find much info out about it but we whizzed past the sign and then slammed on the brakes to turn around and see what it was – SO GLAD WE DID!
Basically – it's beautiful. Rocks, waterfalls, trees – in the summer I bet it's an amazingly peaceful sanctuary.
Again – beautiful.
I got this great pic of Larry in the ice…he wanted to go all the way down but it looked pretty treacherous so Nervous Nelly made him stop there…
After all that, we were hungry and it was getting dark so we headed up to Paris, KY and found Jerry's!

It appears from the comments this used to be a chain but there aren't many left. It was definitely old school and LOTS of old people as well!
My salad with honey mustard to start things off…nothing special but good especially when you're starving!
I got steak & shrimp with mac & cheese. The steak was superthin and not that good but the shrimp was delicious! I'll basically eat any mac & cheese but it was fairly mushy.
Larry got the steak & chicken. His steak was better than mine – much thicker – it was definitely rare (we asked for medium) but we all lived. The rice was kinda gross…no flavor.
2 buns…nothing noteworthy here. Honestly the food at Jerry's wasn't great but we didn't have a lot of options. It was fine and the service was great so it was worth the stop.
They were also selling this homemade sweet sorghum. I asked if it was like syrup and they said "Um no." They couldn't really explain what it WAS like but said you eat it with biscuits. I decided to pass.
This was also our day for interesting food items. We stopped somewhere along the way for a snack and found these. The Red Velvet were like twinkies but I've NEVER heard of Mrs. Freshley's! Larry seemed to remember Mambas from his childhood and he was happy to mow down the whole pack!
Why Should You Go? Well, it's nearly a 3 hour drive so you gotta really wanna go! But – the Falls were definitely worth the drive and we were just lucky enough to stumble upon it. Maybe check it out for a lazy day picnic with an overnight stay at a B&B?