Well I must say – I have a new favorite in town. And it is The Root Beer Stand in Sharonville. When I was a kid, my Dad would take me to the A&W at Sycamore Mall in Iowa City on a regular basis. I LOVED the little kid glasses of A&W Root Beer. So when I ran across this Root Beer Stand – I had to go!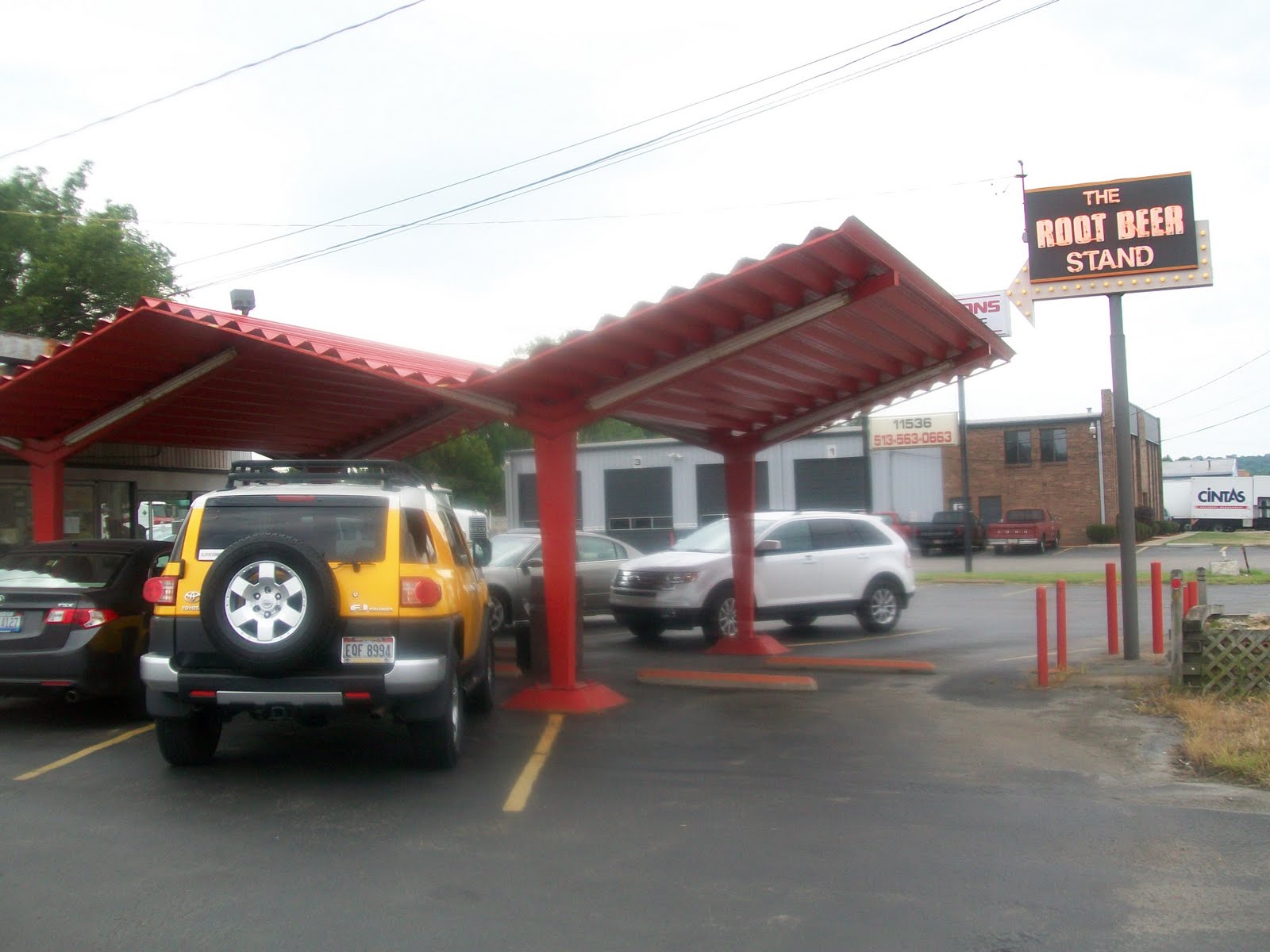 It's not a drive-in where they serve you at the car – but you pull in and go inside. There are probably 20 seats around the counter.
It's a very cute little place with paper menus on every corner and ball caps hanging from the ceiling.
Before we even looked at a menu – we got a big ol' pitcher of Root Beer. Set us back a whole $3! Best part is if you don't finish it – they'll let you take it to go. I don't know what it is but this type of root beer is always better than the stuff at the grocery store. Something with the "out of the tap" taste – it's just very different and much better.
Here's the history – pretty interesting! Why retype it all?!


Also – I have to tell you about the pair next to us at the counter. There was a grandpa and grandson and midway through dinner the prior said to the latter, "I came here when I was seven!" His grandson looked at him in pure amazement… Needless to say I was a little fer-klempt!
And there it is – my new love – The Timmy Dog! ($5) This is a foot-long hot dog with (get ready for it) ketchup, mustard, onions, relish, sauerkraut, cole slaw, chili, hot sauce AND cheese!


I have to say – this sounded horrible – but it was DELICIOUS! I had to order it because it just sounded so odd – how couldn't I? It's a skinny fairly flavorless dog – but come on – do you really need a big honkin Nathan's frank when you have all that other crap?
So let me say – take a chance on this one!
Larry got The Big E Sandwich which was a hamburger with american cheese topped with ham & swiss ($5.25). It was fine but nothing special really. We have been back and he had a double cheeseburger and yeah – again – nothing special. So – maybe stick with the dogs – cuz they rock.
I had to put another pic of the dog – cuz you just can't believe all the stuff that's on it! I didn't bite off of it – just cut – so it's not gross – right? I was just still in amazement at the deliciousness on a piece of wax paper that was this hot dog at this point.
Lastly – I saw something on the menu called Swamp Water. What the hell is that? Ask and you shall receive. It's a mix of their non-carbonated orange drink and root beer. Not really my cup of tea but it wasn't bad.


The best part was the service. The girls are so friendly and sweet and really win you over. Full of information, free swamp water tasting and just great service.


Why Should You Go? Can I say anything more? The dogs are great and the root beer is even better!