This post is sponsored by Tom & Chee. All opinions are my own.
Tom & Chee just opened in Anderson Township – it's their new prototype for the franchise stores that will be opening more and more across the country! I went before they opened and found out what you should try when you go!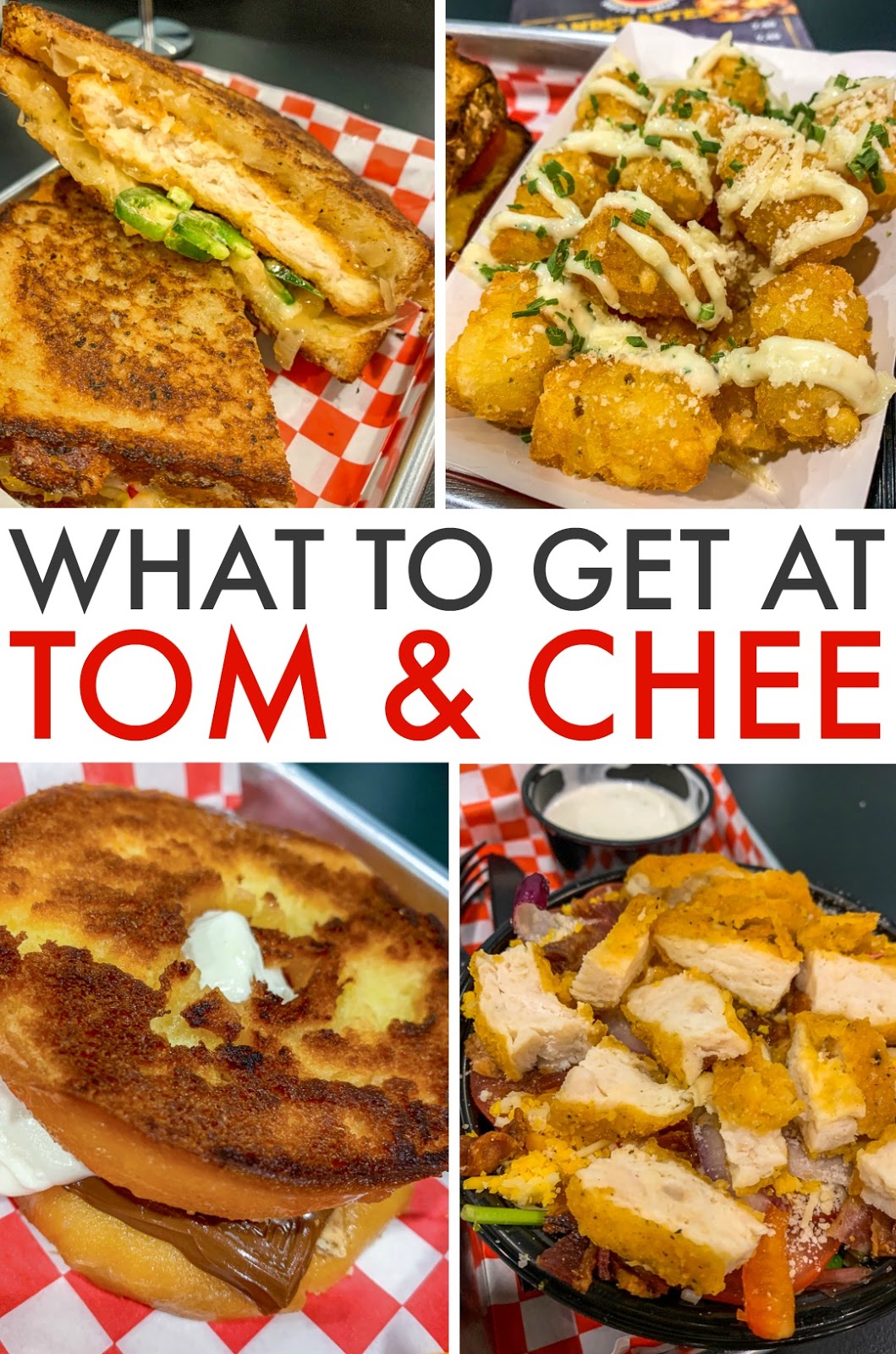 If you remember, Tom & Chee was started right here in Cincinnati and was featured on Shark Tank a few years back. They grew rather quickly and have now scaled back the menu a bit and are focusing on what they do best – melts (aka grilled cheese with extras!), grilled cheese donuts and salads!
First up – I tried the Italian! Man oh man is this delicious! It's piled high with mozzarella, ham, pepperoni, salami, banana peppers, onions, lettuce, tomato and balsamic vinaigrette dressing! I love an Italian sandwich and this was one of the best I've had! It's a perfect balance of meat, cheese and veggies!
I wanted to eat everything on the menu – but it really wasn't feasible so I did recruit some friends to help me. (haha) One melt on everyone's list was the Kickin' Chicken – pepper jack cheese, fried chicken, sauteed onions, jalapenos and kickin sauce! It's spicy and delicious!



Tom & Chee has also introduced TATER TOTS to their menu! You can get three kinds of tots! Regular tots, Kickin' Tots or, my favorite, the Garlic, Cheese and Chive Tots. These tots are covered with garlic aioli, two cheeses and chives. They are so good and who doesn't love tots?!



Also new at Tom & Chee is a Pick 2 Menu! The best thing about the Tom & Chee Pick 2 Menu is you can pick from EVERYTHING! For just $8.99, you can choose two from a half melt, half salad, cup of soup, cup of mac and cheese, tots or donut sandwich. That means you could get TWO half melts, or a half melt and a half donut, or a half salad and cup of mac, or – well you get the point!


My friend Andi got the Chicken Bacon Ranch (the most popular sandwich on the menu) which has cheddar, bacon, chicken, roma tomatoes and – of course – ranch! She paired it with the Garlic, Cheese & Chive Tots!



I did also try the Kickin' Tots – they are their regular seasoned tots topped with a spicy Kickin' sauce. They have got a kick to them for sure! I'm a spice wuss and liked them a lot but my spicy loving friend could add more spice with additional jalapenos!



Grilled Cheese Donuts are one of their signature items! Years ago I went on a food tour in Cincinnati and tried their traditional Grilled Chee Donut which is a glazed donut with mild cheddar cheese. It's DELICIOUS! And if you haven't tried it – you really must try it! It sounds weird – but it's amazing!


But now they have a S'more Donut – and it is outstanding! I don't even like s'mores and I ate two of them!!! (OMG – diet gone!)



The S'more Donut is a grilled glazed donut with graham cracker, chocolate pieces and marshmallow mascarpone cheese. I can't even tell you how amazing this is! Shockingly, it's not OVERLY sweet. It's definitely a perfect sharable dessert after those awesome melts!



Yes – that's me putting down S'more Donut #2. I couldn't help myself! I've made my own grilled cheese donuts at home – like this grilled cheesecake donut – I'm definitely going to be doing more of these!
Now – if all that is a little heavy for you – Tom & Chee also has a great selection of salads! I got the Fried Chicken Salad (half size shown) with greens, five cheese blend, cucumber, tomato, red pepper, red onion, bacon, fried chicken and ranch dressing!


I've also made a copycat version of their signature Ultimate Garden Salad with Grilled Cheese Croutons and love it! They also have a Chicken Caesar or Green Goat salad (the GG has cranberries, goat cheese, toasted almonds and grilled cheese croutons!).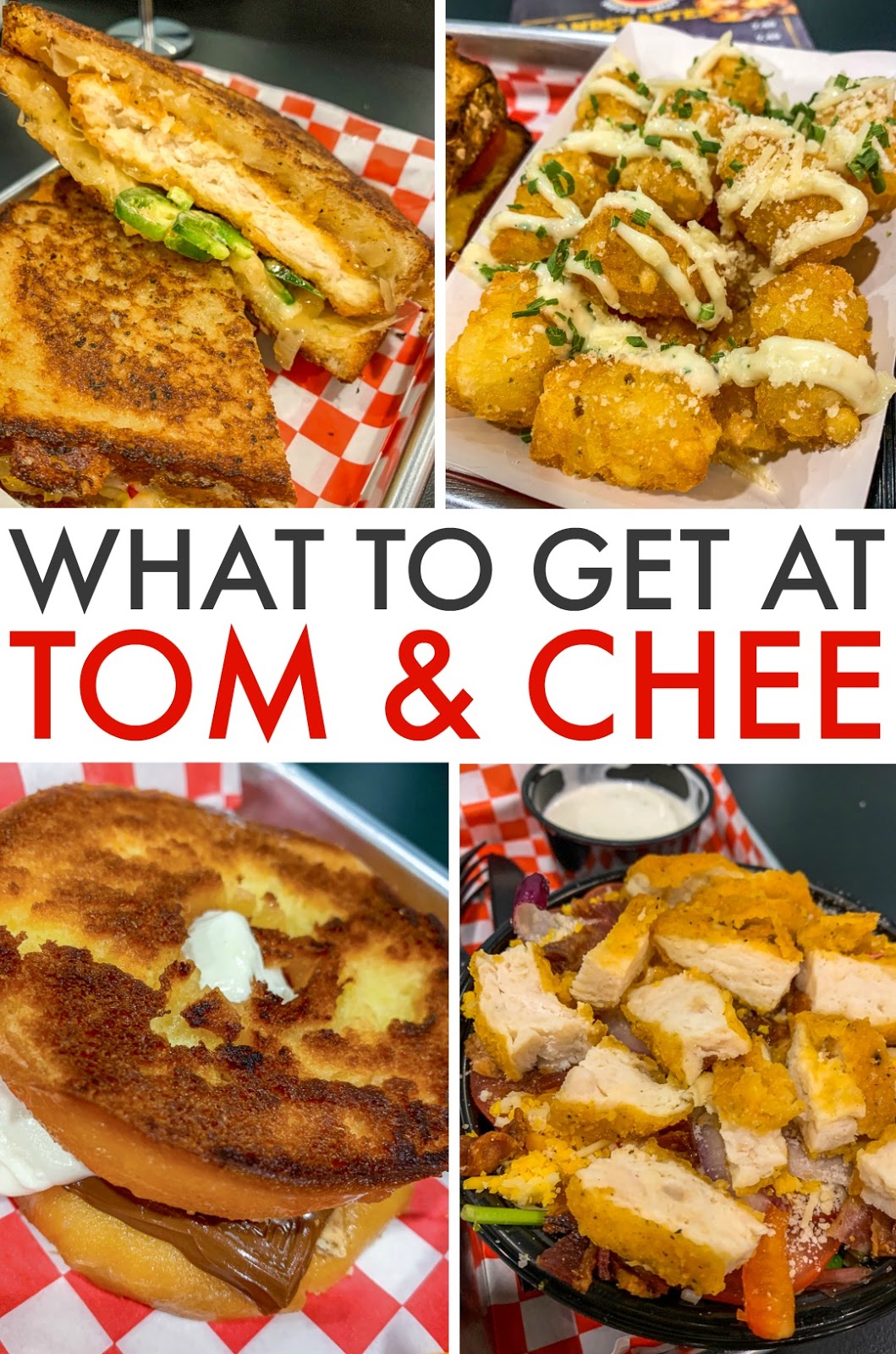 There are a ton of great options at the all new Tom & Chee in Anderson Township. I didn't even get to try their signature tomato soup or macaroni and cheese.
If you're looking for a great spot for lunch or dinner – Tom & Chee is it! They have lots of cheesy melt options along with tots, soup, salads and more. Their new location is at 7578 Beechmont next to Kroger – be sure to stop by!