We are always trying new restaurants for lunch in downtown Cincinnati. My male coworker would pretty much be happy if we ate burgers every day of the week. So – it just made sense that we checked out
Bru Burger Bar
.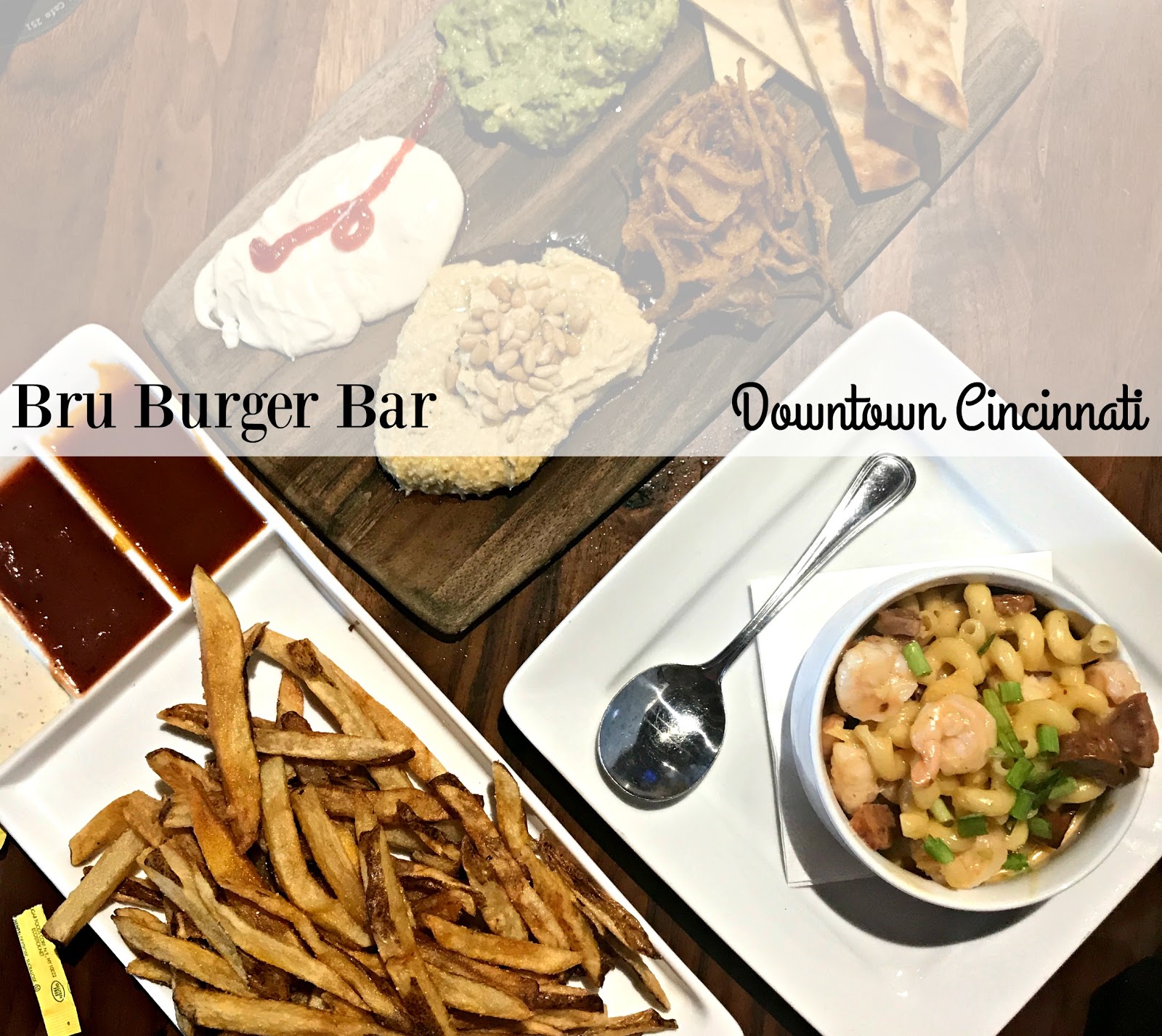 They were also kind enough to host our party of four and share lots of goodies with us! We had appetizers, burgers and sandwiches! We were too full to take on dessert – but we pretty much killed the rest of the menu!
There are 9 locations in KY-IN-OH with one in Cincinnati and another opening soon in Fort Mitchell. The downtown location is in the form home of El Coyote and a bunch of other places that have come and gone.
Bru Fries ($6) – Golden Fries with House-made Ketchup, black pepper mayo and house-made chipotle BBQ sauce


The End Burger ($11) – Horseradish Havarti, over easy egg, tomato, carmelized onions, lettuce and truffle aioli
Coworkers tried a few different things – Keith always has to try a shake – but never offers me any! The End Burger was a popular choice – which happens when you put a fried egg on something. The fries were good as well – but just a heads up – they come with a housemade ketchup – which doesn't really taste like ketchup.
Roasted Jalapeno Mac & Cheese ($9) – andouille sausage and shrimp tossed with cavatappi pasta in a spicy cheese sauce
This was something everybody was interested in trying. I don't really like spicy things but if it's mac & cheese I'll eat it. This was pretty good – there wasn't enough sauce for me – but the extras made it better.
Triple Dip ($9) – Whipped Goat Cheese with Peppadew Pepper Jam, Edamame Hummus with pine nuts, Guacamole, Onion Straws and grilled Naan


Then there was the Triple Dip – honestly I don't remember much after this. The hummus wasn't great – it was chunky and not a lot of flavor. The guac was fine. The onions were fine.
BUT THAT GOAT CHEESE DIP!!!!! Whipped goat cheese is now a new obsession. All three of us girls said the same thing – THAT SHIT IS AMAZING!!! It was tangy (cuz it's goat cheese) but not overwhelming. I was really wishing I wasn't being polite and sharing this! Scroll down to see just how much I loved it!
Grilled Portobello Sandwich ($9) – grilled mushroom, peppadew pepper jam, arugula, goat cheese, balsamic onions and pesto on rye
For some reason – I got a grilled mushroom for lunch. What the hell? HAHA – JK – I did it because I figured if everything else was super heavy and we had lots of appetizers – I should try something lighter for lunch.
The sandwich was good – there was a lot of toppings – although with the rye – it got a little soggy and messy to eat. But it was unique for a mushroom sandwich – to have these extras – so I liked it.
No – I didn't like it at all. I might have not even asked before I just started licking – it was that good!
What to Get at Bru Burger Bar?
Most definitely – the Triple Dip is my #1 reco! The rest was pretty good as well – but I might just eat that whipped goat cheese for breakfast, lunch and dinner from now on!