After spending a week in Juneau, I know all the best places to go for lunch, dinner and anything else! Bucket List item – checked off!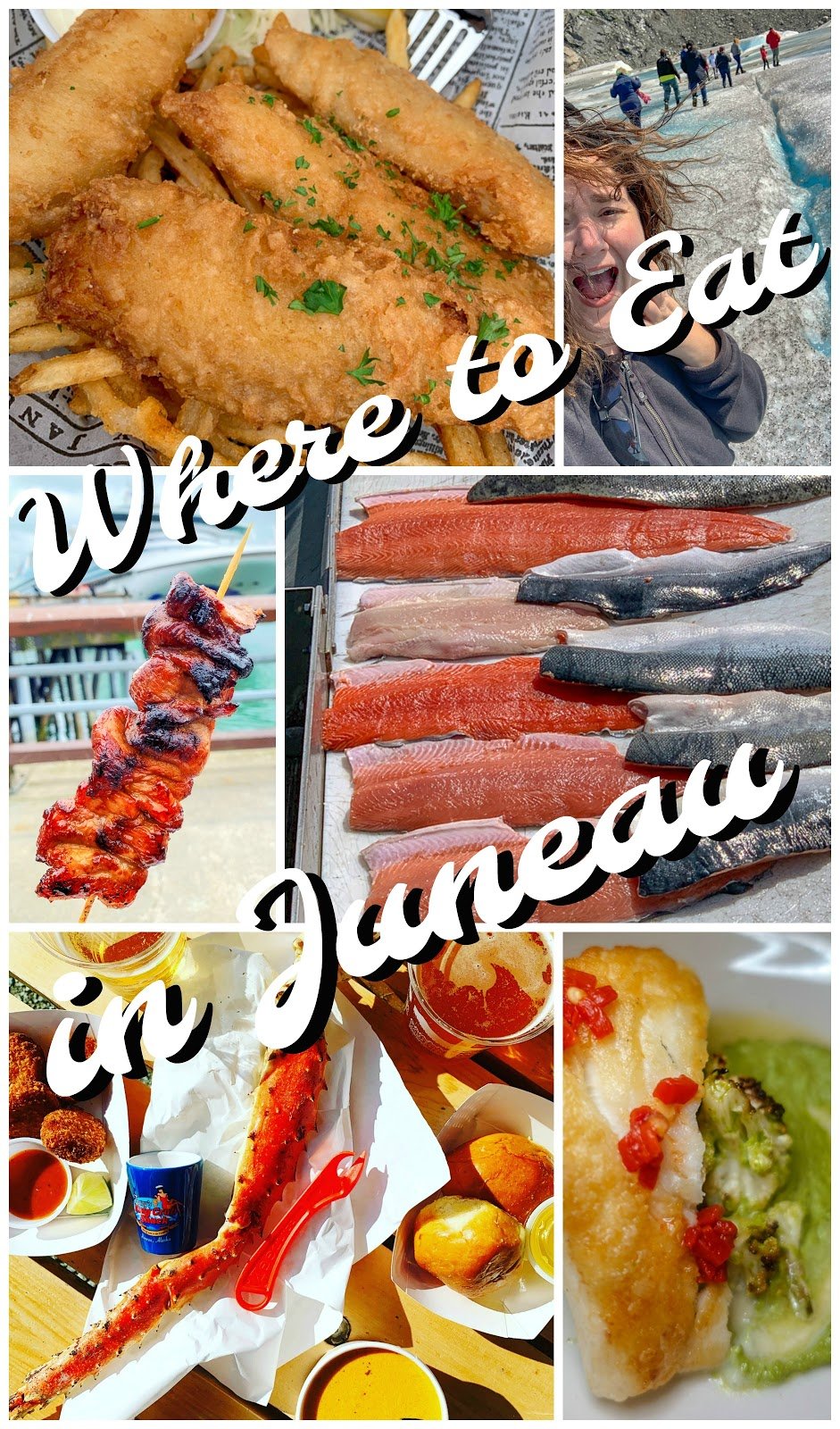 I've always wanted to go and I had an amazing time!!! I got to play with sled dogs, ate my weight in salmon and King Crab, drank beers on a glacier and finished it up by seeing whales! But let's focus on the food!
The Salmon Spot – we were on our way to an excursion and I was starving – so we found the Salmon Spot and I grabbed a salmon burger. Man oh man – this might have been the best thing I ate the whole trip! It was light and no fillers – I scarfed that thing!


Where: It's a little shack across the street from the Cruise Ship ports and Hanger on the Wharf.
Being a cruise ship town, there are tons of shore excursions – we saw a sign in front of a hotel that said DOG SLEDDING in Alaska? Um – we were in! Since this was summer – we did a tour in the forest. Man was it fun!!!! The bus picked us up and our driver was REALLY entertaining – we gave him a great tip – he had JOKES.
It was $130 a person and worth every penny. I mean – I got kisses from a real Iditarod sled dog! There were 6 of us on a sled (it had wheels) and our team took us around a track through the forest then we got to meet and greet with the dogs and finally we got to hold PUPPIES! Oh no – I wasn't in heaven at all.


Where: Every hotel lobby has folks to help with excursions and there are a million booths right where the Cruise Ships dock.



Blue Tent – Yes I'm referring to a blue tent – that's where our bus driver from the dog tour told us to go – so we did. Right near the cruise ports – there's a covered pavilion with 2-3 food vendors. We went to the blue tent and got this pork on a stick. It was delicious!


Where: Covered pavilion right near the cruise ship dock



During our conference, we had some time to explore for lunch and there is a little food truck park in a yard. We stopped up there and went to a white taco truck (not Deckhand Daves). The King Crab Taco caught our eye and it was amazing! The tortilla was homemade and while it doesn't look that crazy – it was so good! Hot, cripsy and filled with delicate King Crab. Man – I could have had a couple more!! There's also a beer truck and a bunch of covered seating – so you can sample multiple trucks!


Where: Franklin Street – up the hill on the right


(Side note: everything in Juneau is within walking distance!)
Roma Bistro on the Wharf – we wanted to eat dinner but our internal clocks were way off with the 3-4 hour time difference. So 9pm rolls around and we finally decide to eat. Guess what? The cruise ships are gone and everything is closed. 🙁 What do you do?


You find one place open and you run! Roma did not disappoint – it's kinda fancy but the prices are affordable. I got the Polpette Ragu ($7.99) which is a meatball, marinara and housemade ricotta on top! Man – this was perfection in a cast iron pan!



My friend got the Lamb Osso Bucco (also delicious and only $9.99). After our tapas, I had to have dessert because it was Rhubarb Tiramisu ($7.99). I LOVE rhubarb and this had rhubarb coulis, Ladyfingers and toasted pistachios. It was so good and not overly sweet. I enjoyed every bite!


Where? Roma Bistro is located at Pier 49 near the cruise ship port. It's a large blue building that has 4-5 restaurants and a few shops.
Sandpiper Cafe – one morning we decided to grab breakfast in Juneau and the Sandpiper was very close to our hotel. We did Uber because our feet were hurting and we were tired and cranky. The breakfast was good, it was a clean little cafe and there were a lot of folks that had been on the glacier the day before – you could identify them by their sunburned cheeks!


Where: 429 West Willoughby Avenue



Speaking of glaciers – we got to do a helicopter ride to Mendenhall Glacier and then have a food & beer tasting thanks to Alaskan Brewing! It's good to be a food blogger!!! I think I liked the White beer. Did you know that this is a crevasse not a crevice? A crevasse is in ice, a crevice is in rock. #learnin The tour was amazing – once in a lifetime.
Where: Every hotel lobby has folks to help with excursions and there are a million booths right where the Cruise Ships dock.
There are fishing boats everywhere and if you google "salmon charter boats" you can find folks that will take you out on their boats to go fishing. We had a lunch provided by Salmon State where they explained all the work they're doing to make sure that we keep getting healthy wild salmon out of Alaska. We also got to try FIVE different kinds of salmon! Yes! They filleted them and then grilled them for us right on the pier. Amazing.



Alaska Fish & Chips – we had to get fish & chips and it was our last full day so a group of us conference goers ran out to Alaska Fish & Chips – also at Pier 49. It's right across from the cruise ship dock and has a big outdoor patio. I got cod ($16.99) – but they also had halibut. It was so good!!!


Where: Pier 49, 2 Marine Way



I also had a bit of a celebrity crush moment – I met a Fly Girl. If you don't know what that is – you are too young and we can't be friends anymore. I was on my way to the bathroom at the conference and saw Lisa Marie of An Appetizing Life. I thought she looked familiar earlier and then saw her name tag and it all clicked. I had a serious fan girl moment and said, "OMG – are you a Fly Girl????" – knowing I was about to unleash 100 questions – she said, "Yes – can I go to the bathroom first?". I obliged but we became quick friends! Be sure to follow her on Instagram.
Salt – After the conference, we decided to head out for a "fancy" dinner and knew we wanted to go to Salt. Everybody had recommended it. I went with Kitchen Gone Rogue, Boulder Locavore and Muy Bueno Cookbook. I went for the Alaska Halibut ($36) which had salsa verde puree, roasted cauliflower and a beurre blanc sauce. This was fancy dinner night but it was nice to sit and relax with my girls!


Where: 200 Seward St
Tracy's King Crab Shack – when it comes to food in Juneau – you MUST go to Tracy's King Crab Shack. It's the OG of Juneau. There are two locations – a sit down restaurant by the cruise ship port – BUT if you walk past Pier 49 and head along the waterfront – you'll find their new "Crab Shack". Go there! That's where the locals go – and it's so delicious and more casual. There are a few "shacks" where they take orders, dole out beer & wine and have covered seating. It's peaceful and chill.
For $38.95 you can get the combo which is a 1 lb. King Crab Leg (oh shut the front door!), 4 mini crab cakes and a cup of crab bisque. The crab cakes were just meh – but the bisque and the crab leg were TO DIE FOR! We ate their twice on our trip – and I never do that!
Where: 300 Whittier Street
We also went Whale Watching – I can't even tell you how amazing this was. We saw four whale tails – I got video and my friend Kelly snapped this photo. When I was a kid – I had a poster of every whale breed – this was a LIFELONG DREAM. Bucket list checked for sure!
Where: Every hotel lobby has folks to help with excursions and there are a million booths right where the Cruise Ships dock.
For you cruise shippers, if you're only in Juneau for a day – I would hit up the Salmon Spot and Tracy's King Crab Shack and the Whale Watching excursion.
But if you're lucky enough – just go to Juneau for a week – you'll love it! It's safe, calm and there's so much to do. We could have stayed for a few more days! There's also a gin distillery, shopping and even more food!
Thanks to the International Food Bloggers Conference for picking such a great location. Next year we're heading to El Paso!