So hubby and I were trolling Colerain and he wanted Chinese food – alas we found China Chef!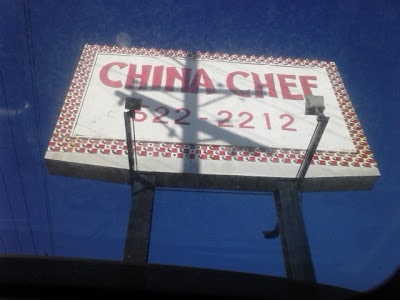 It's kinda dirty and sketchy – but hell sometimes those places have the best food. So we went on in.
Not much recollection of what we ordered – but it wasn't very good. Larry got sweet & sour chicken – that's what he always gets. I got some sort of spicy shrimp dish with peanuts and vegetables. It had too many vegetables that weren't broccoli and mushrooms so I didn't like it much. I'm so hit or miss with Chinese food…either I love it or hate it.
We also ordered an appetizer – and I let Larry pick – well he picked wrong. He ordered
Shrimp Toast
. We've both seen this on menus before and didn't really know what it was. He asked if it had eggs – the girl said no – but once we saw it – we knew it did.
But I have to say – I was only able to eat one of the little triangles. This is the one of the ODDEST foods I have EVER eaten!
The first bite is crunchy and has this weird texture and does taste like shrimp. And you're thinking – hmmm – interesting. Then it just goes downhill from there. It's got an odd smell and it's sort of like french toast that hasn't been cooked long enough and instead of egg & milk mixture – it's like egg & fish juice mixture. It's just odd and fairly gross. The texture is the funkiest thing – soggy bread that smells like fish and is deep fried.
Don't eat it. Ever.
Why Should You Go?
Don't. The rest of the food wasn't awful – but it wasn't good either.