When you're living the single life like me – sometimes you have to be flexible. This year – all my Thanksgiving plans fell through. And I'm 8 hours from my family – so what's a girl to do? A local b&b had a last minute Thanksgiving for those with nowhere to go and I went!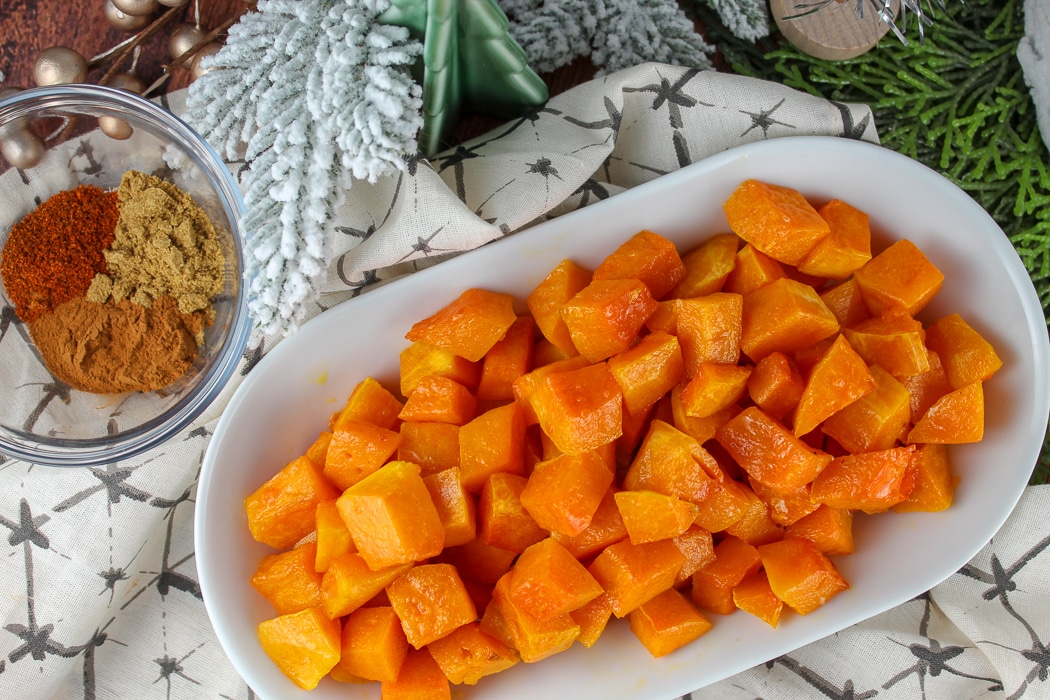 Luckily I found a butternut squash! What next?
Can you air fry squash?
Yes!!!! That's how I came up with this air fryer recipe for butternut squash – would be a pretty short post if you couldn't! hahaha
How long do you air fry squash?
When I made air fryer acorn squash – I kept the squash in the skin – but this time – I peeled the butternut squash with a vegetable peeler and then cubed it. Because the pieces are small – it was done in 15 minutes in the air fryer! Quick!!! You could also just half the butternut squash but I would guess it would take probably 25 minutes to cook that way.
How to make roasted butternut squash salad
So while the air fryer butternut squash cubes were cooking up – I looked through the fridge and thought – what ow? Well I had a half container of spinach and said – OK – salad it is!!! I mean it was Thanksgiving Day at like 2pm and I had to have a dish at 530pm!


So I put together this roasted butternut squash salad with spinach, diced cucumber, goat cheese, craisins and candied pecans. All that sounded like it would go together. But I wanted a little bite! So I put together a little seasoning mix to toss the squash in (cumin, coriander, cinnamon & chili powder) – yum!!!!


Then toss it all together! I was going to make an apple cider vinaigrette but it was late and I had a champagne vinaigrette in the fridge and used that – and it was delicious!
I was so excited to try this air fryer squash and it didn't even need breading! Roasted squash is so delicious all on its own! It's delicious with a little butter and sea salt – but I also loved the spiciness of the mixture I sprinkled on top.
Looking for other air fryer vegetable recipes?
Looking for other salad recipes?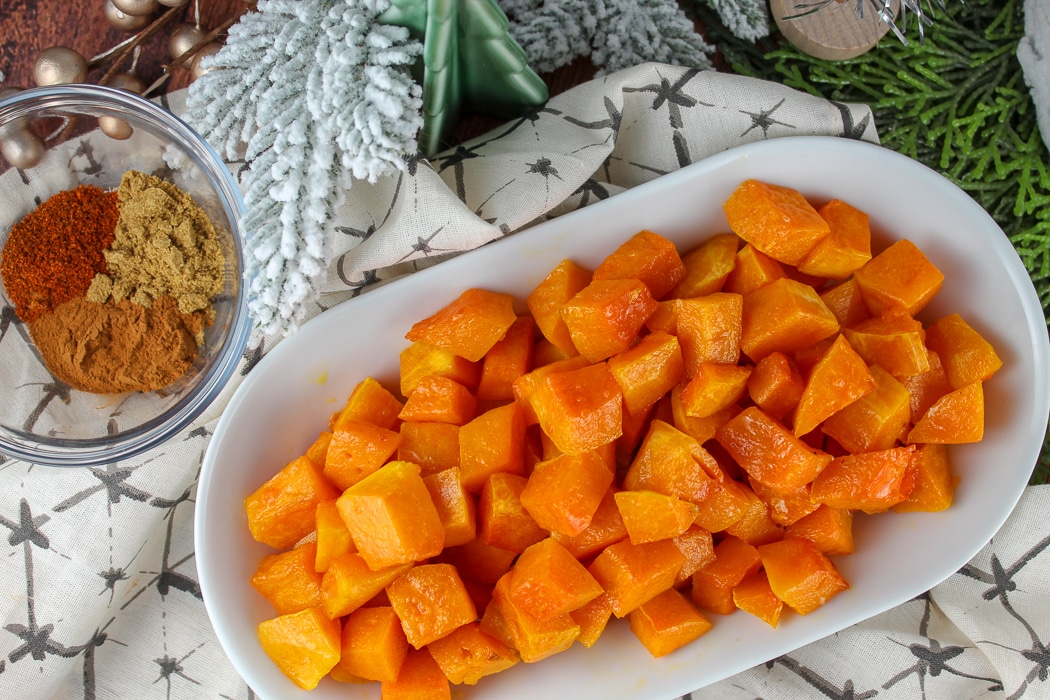 Air Fryer Butternut Squash (+ Bonus Salad!)
prep time: 15 M
cook time: 15 M
total time: 30 M
I had to come up with a last minute holiday side dish and then I remembered that I had a butternut squash in the fridge! Boom! I popped the squash in the air fryer and then made a delicious salad and it was the favorite dish of the night! (I swear!!)
ingredients:
Squash ingredients
1 butternut squash, peeled, seeds scooped, and cubed
Extra-virgin olive oil, for drizzling
Sea salt and freshly ground black pepper
Chopped parsley, optional, for garnish
Salad ingredients
1 small butternut squash, peeled, seeded, and cubed
1 Tablespoon Extra Virgin Olive Oil
¼ teaspoon Ground Cumin
¼ teaspoon ground coriander
¼ teaspoon Ground Cinnamon
¼ teaspoon Cayenne Pepper
6 cups loose-packed baby spinach
Champagne Vinaigrette dressing
2 ounces goat cheese, torn into smaller pieces
3 Tbsp pecans, diced
1/4 cup craisins
instructions:
How to cook Air Fryer Butternut Squash (+ Bonus Salad!)
Air Fryer Squash
Place the squash cubes in the air fryer and toss with a drizzle of olive oil and pinches of salt and pepper.
Roast 15 minutes at 400°F or until golden brown around the edges in the air fryer
Butternut Squash Spinach Salad
In a small bowl, stir together the cumin, coriander, cinnamon and cayenne. Set aside.
Remove the butternut squash from the oven, let cool slightly, and, while warm, toss with the spice mixture.
Assemble the salad with the spinach and half of the roasted squash. Drizzle with ⅓ of the dressing, toss lightly, then add the remaining squash, goat cheese, craisins and sunflower seeds. Drizzle with more dressing as desired. Serve immediately.
Recommended Products:
Air Fryer
Maple Glazed Pecans
Champagne Vinaigrette
Did you make this recipe?
Tag
@foodhussy
on instagram and hashtag it #foodhussyrecipe