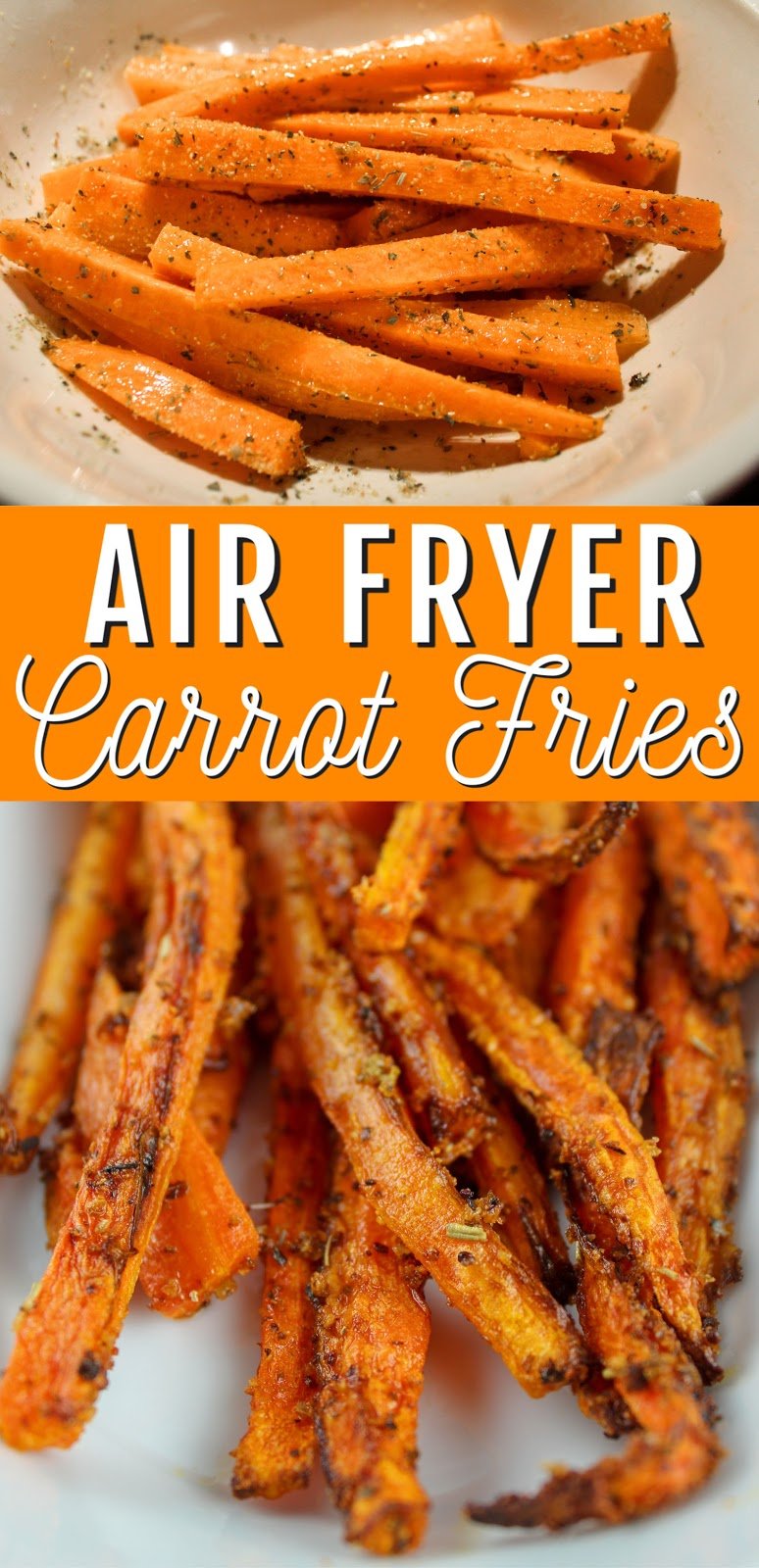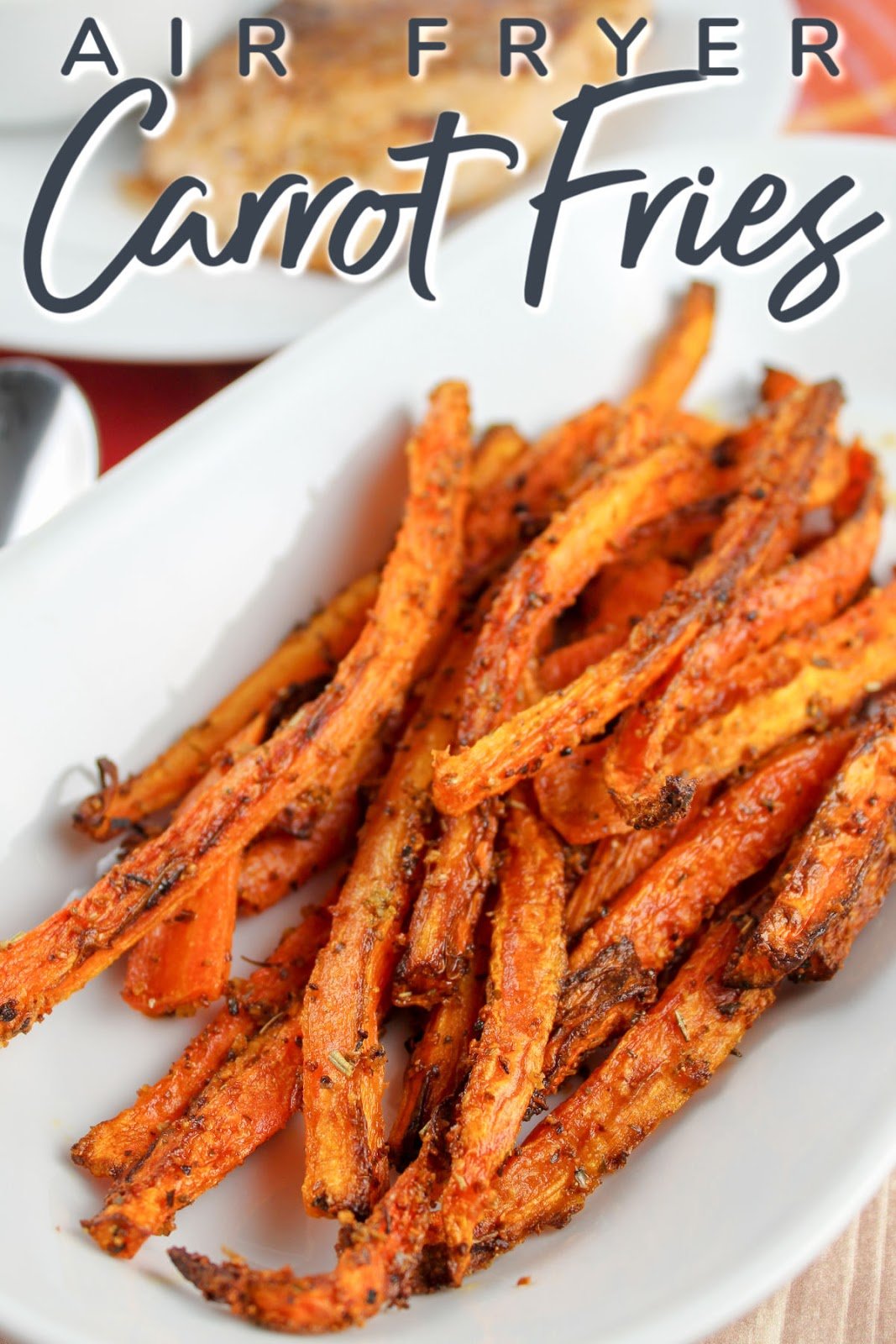 Roasted carrots are great – but they take time – UNLESS you're making them in your air fryer! These crispy air fryer carrot fries are a tasty and quick side dish for any meal!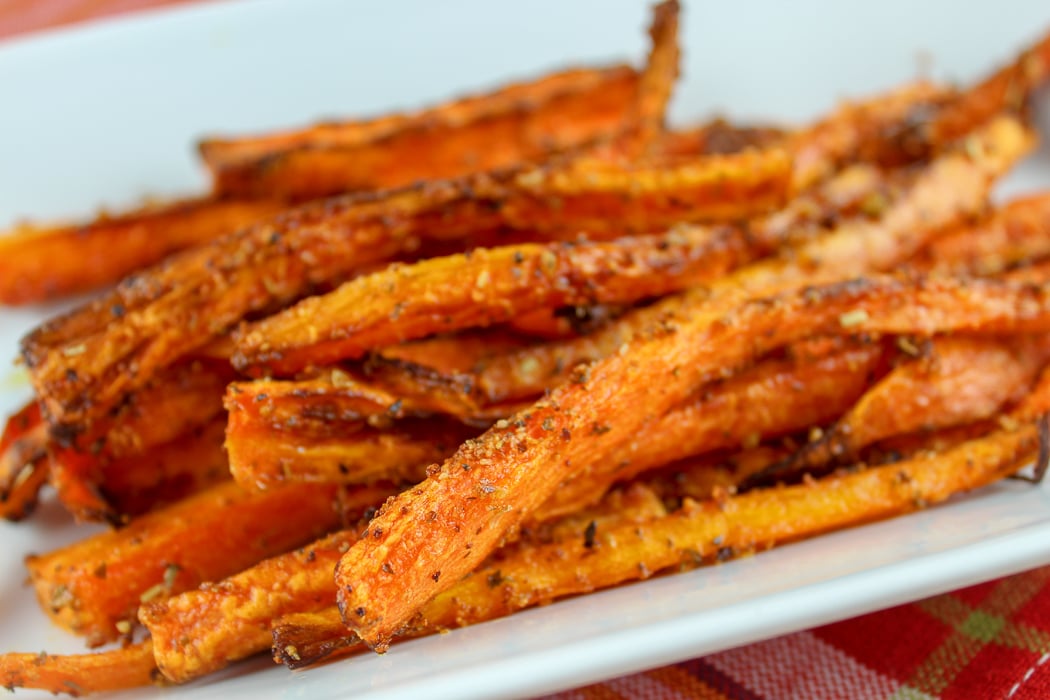 If you're a fan of sweet potato fries – these easy air fryer carrot fries will be a big hit – even for picky eaters! They take just 15 minutes and come out perfect.
Air Fryer Carrot Fries Recipe Ingredients
These delicious carrot fries are super easy and only need 3 simple ingredients:
carrots – I like to use large carrots – but you could also quarter baby carrots lengthwise for this recipe as well
Smaller baby carrots will take a little less time cooking time
Want to save a little time? Buy a bag of carrot chips!
olive oil
favorite seasoning – I like a lemon/herb seasoning but here are a couple of spice blend ideas you can put together on your own:
Fragrant & Fun – garlic powder, onion powder, lemon juice, black pepper and sea salt
Spicy Carrot Fries – brown sugar & chili powder or maple syrup & cayenne pepper
How do you make carrot fries in the air fryer?
This healthy alternative to traditional fries is super simple as well with just a few easy steps:
Peel and cut carrots into french fry shapes
Be mindful of the thickness of the carrot fries – the thicker they are – the longer they'll take to cook
Place carrot sticks into a large bowl
Toss with a tablespoon of oil and 2 tablespoons of seasoning until well coated
Place carrots in a single layer in your air fryer basket (or oven)
Air fry at 350 degrees for 7 minutes
Shake the basket to flip your carrot fries
Air fry for an additional 7-8 minutes
Serve! Sprinkle with parmesan cheese or serve with a dipping sauce like ranch, spicy mayo or get fancy with a pesto aioli (pesto + mayo)
Are carrot fries more healthy than traditional french fries?
Definitely! These delicious air fryer carrot fries are made with carrots vs potatoes – so that's a big plus right off the bat. You're also using much less oil than deep frying. These are a healthy snack that you can enjoy with any dish!
If you want to make them even healthier – spritz them with olive oil spray or avocado oil instead of pouring the olive oil into the bowl – this will eliminate any excess oil on your carrots.
How can I make a crispier carrot fry?
I love this healthy recipe but sometimes I like a crispy carrot! If you add a little corn starch (1/2 tsp) when you toss your carrots in seasoning – that will absorb any excess moisture and crisp up your fries a bit.
Can I make carrot fries in the oven?
Yes – spread the seasoned carrots out on a baking sheet and bake at 425 for 25 minutes.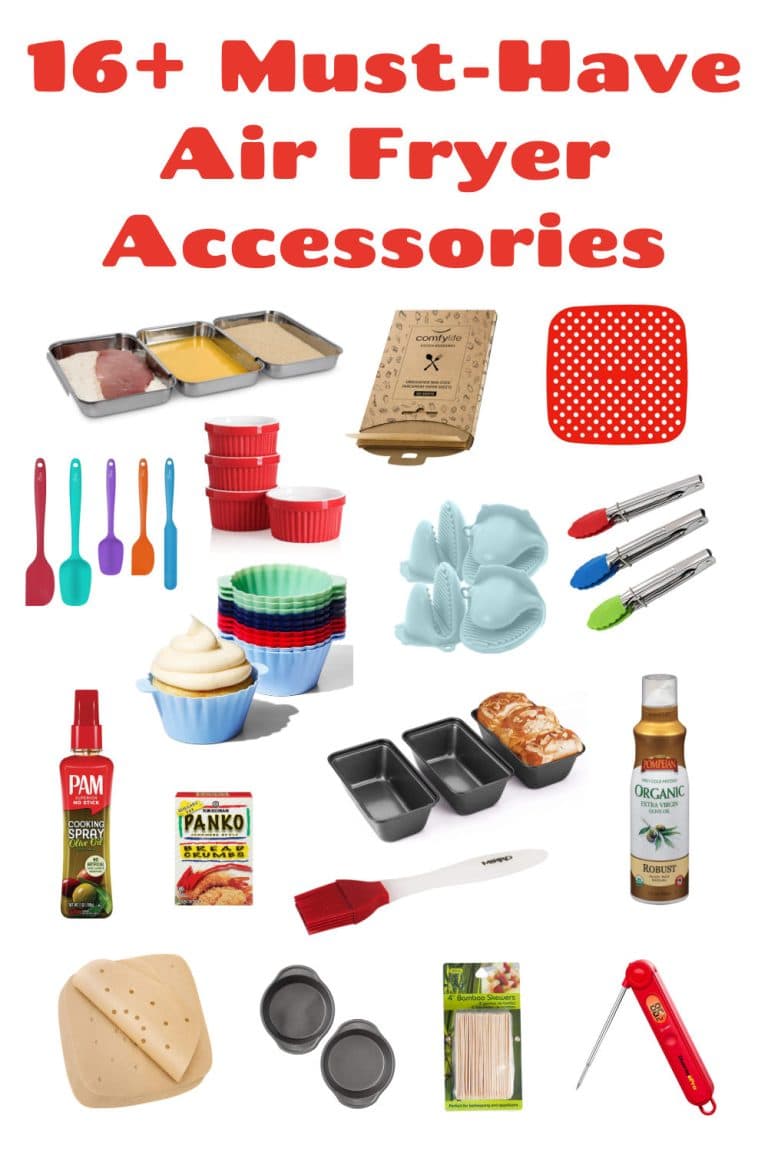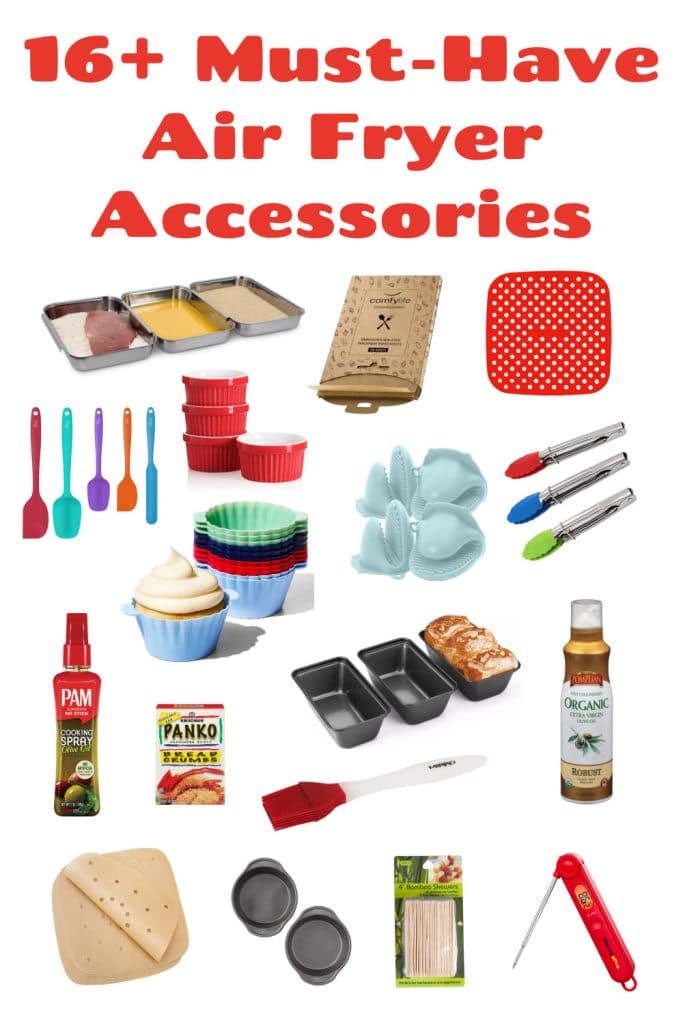 Best Air Fryer Accessories
Here's my ultimate list of best air fryer accessories – whether you have a basket- or oven-style! I've also included a price guide as well as my favorite recipes for those accessories.
Air Fryer Side Dishes
Air fryer carrots fries are a great easy side dish – and if you like air fryer vegetables – here are some of my other favorite easy recipes:
– Air Fryer Buffalo Cauliflower
You can also join my Easy Air Fryer recipe group on Facebook to get more recipes and answers to any questions you might have.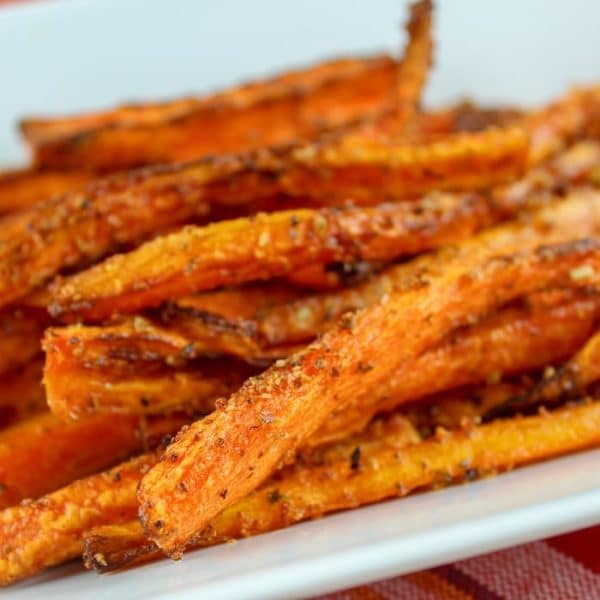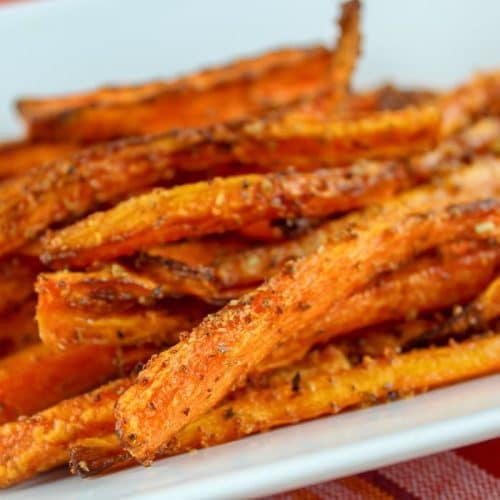 Air Fryer Carrot Fries
Roasted carrots are great – but they take time – UNLESS you're making them in your air fryer! These air fryer carrot fries are a tasty and quick side dish for any meal!
Instructions
Peel carrots and slice into "french fry" shaped sticks

Place carrots in bowl and add oil and seasoning

1 tbsp olive oil,

2 tbsp lemon herb seasoning

Toss carrots until coated

Air fry at 350 for 15 min – shake half way
Nutrition
Serving:
1
carrot
Calories:
85
kcal
Carbohydrates:
6
g
Protein:
0.5
g
Fat:
7
g
Saturated Fat:
1
g
Sodium:
80
mg
Potassium:
195
mg
Fiber:
1.5
g
Sugar:
3
g
Calcium:
20
mg