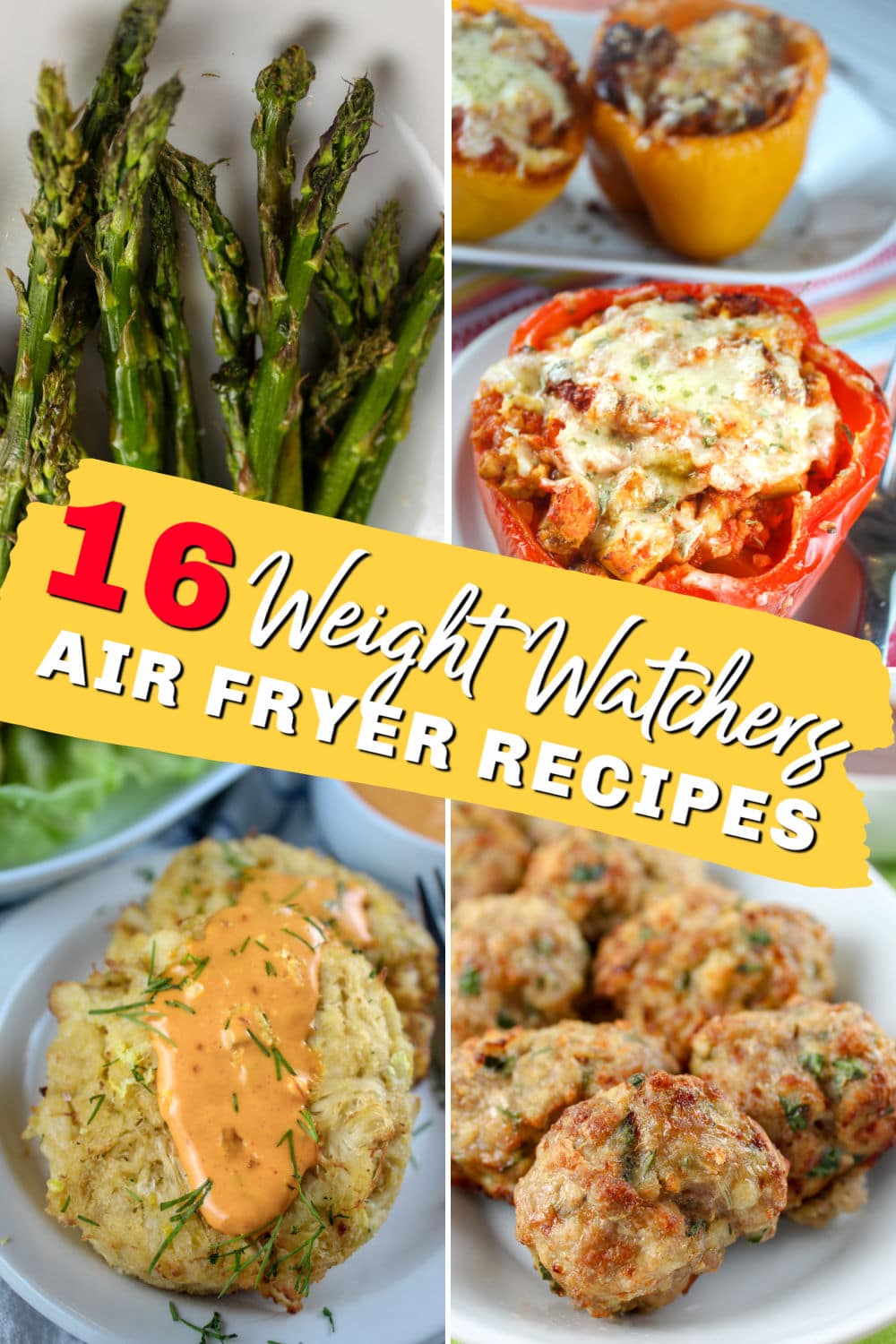 Weight Watchers Air Fryer Recipes have been amazing for me in my weight loss journey! I've lost 13 pounds thus far and am going strong! I use my air fryer nearly every day – whether it be for cooking or even just reheating foods. Heck I love my air fryer so much I have TWO!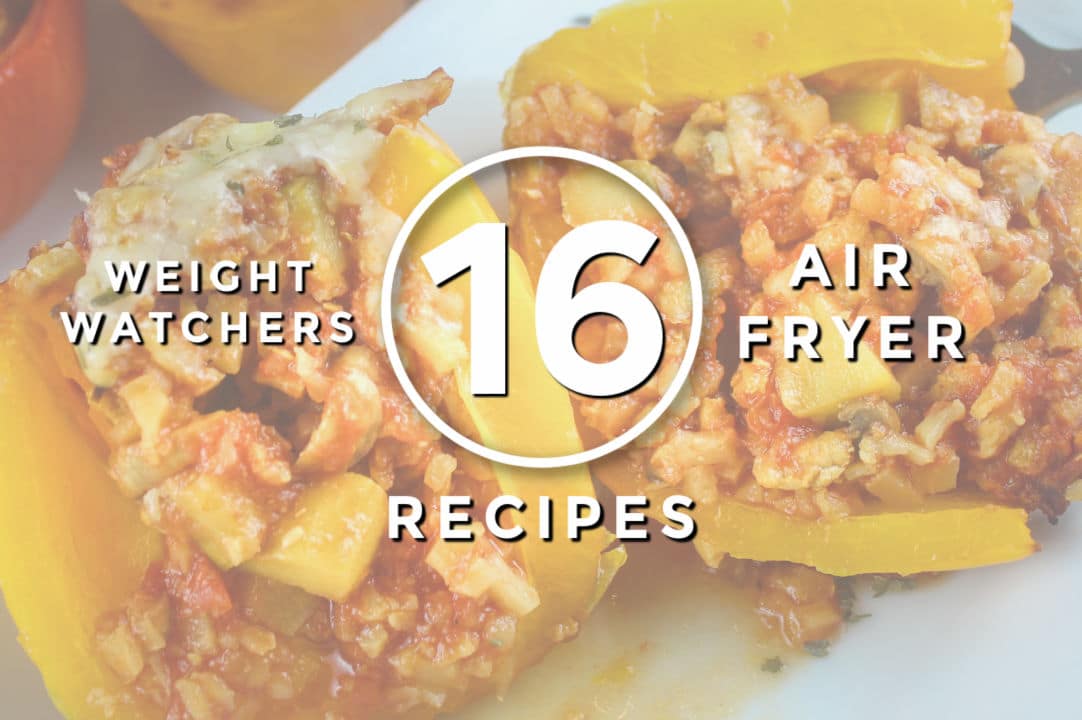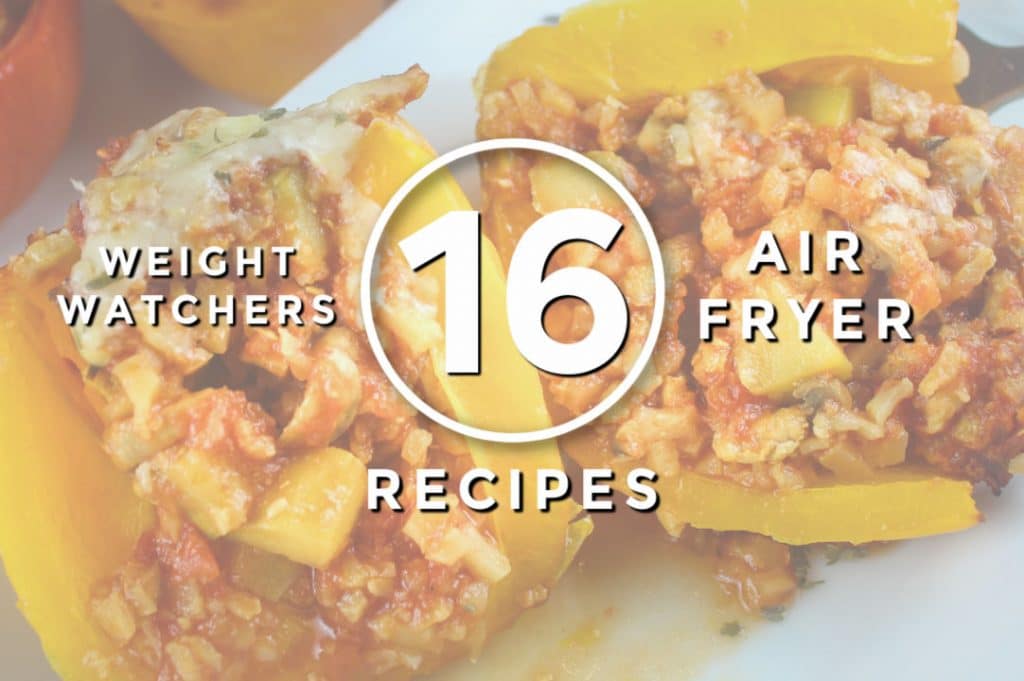 Air fryers are fantastic for Weight Watchers because you don't need to add much – if any – oil to cook your food. Just a quick spritz of olive oil (I'll give you my reco down below for a sprayer) will take care of most everything! I've made everything from a fried egg to meatloaf to banana bread in my air fryer – and all Weight Watchers-friendly!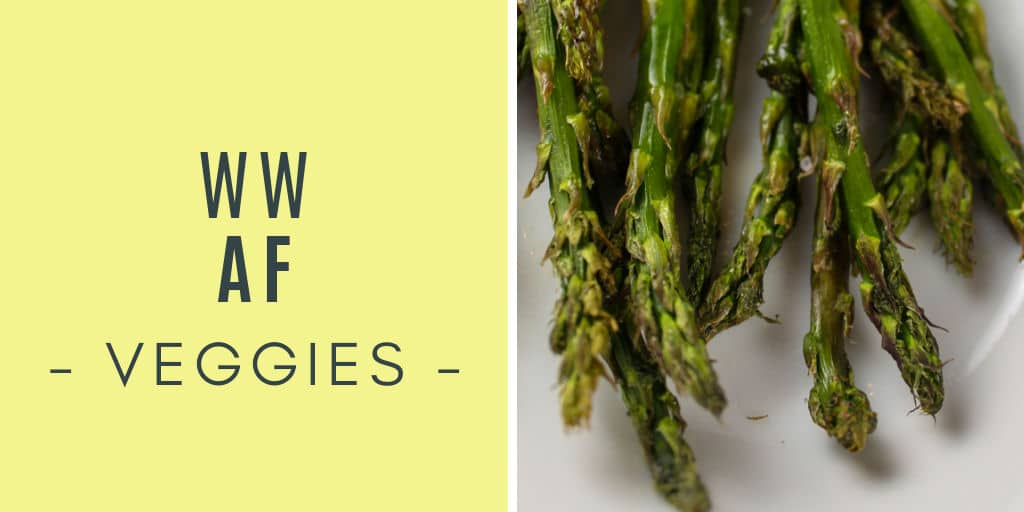 Weight Watchers Air Fryer Veggie Recipes
Air Fryer Asparagus – 0 points on all plans (Green/Blue/Purple)
Air Fryer Carrot Fries – 2 points on all plans
Air Fryer Cabbage – 2 points on all plans
2 Ingredient Roasted Air Fryer Cauliflower – 2 points on all plans
Zucchini Fritters – 2 Fritters – 4 pts Green, 3 pts Blue & Purple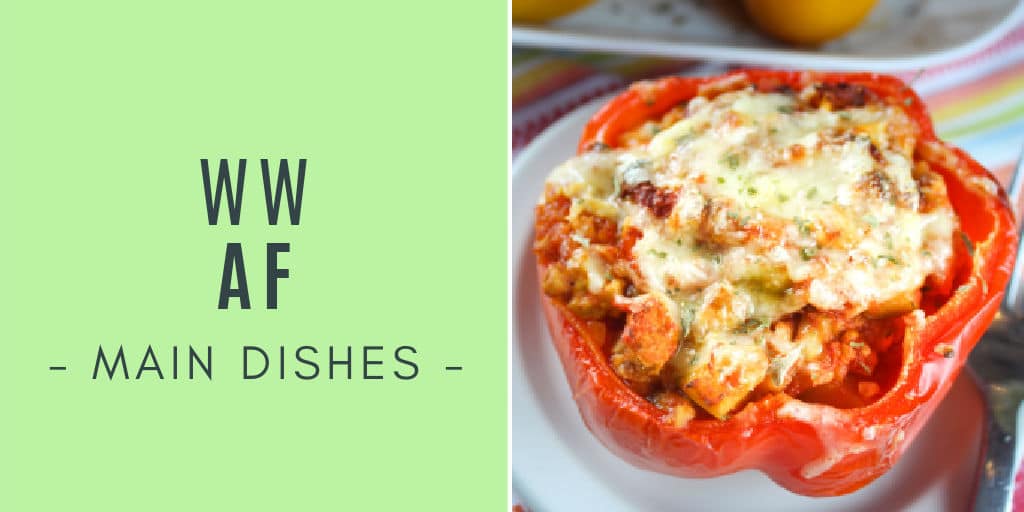 Weight Watchers Air Fryer Main Dishes
Air Fryer BBQ Meatballs – 2 pts Green, 1 pt Blue, 0 pts Purple
Air Fryer Stuffed Peppers – 1.5 peppers – 2 pts Green, 1 pt Blue/Purple
Air Fryer Crab Cake – 1 cake – 4 pts Green, 3 pts Blue/Purple
Air Fryer BBQ Salmon – use sugar free bbq sauce – 4 pts Green, 0 pts Blue/Purple
Air Fryer Turkey Meatloaf – 5 pts Green, 4 pts Blue/Purple
Air Fryer Chicken Breast – 5 pts Green, 3 pts Blue/Purple
Air Fryer Turkey Meatballs – 5 pts Green, 4 pts Blue/Purple
Air Fryer Tilapia – 6 pts Green, 4 pts Blue/Purple
Air Fryer Pork Chops – 7 pts Green, 6 pts Blue/Purple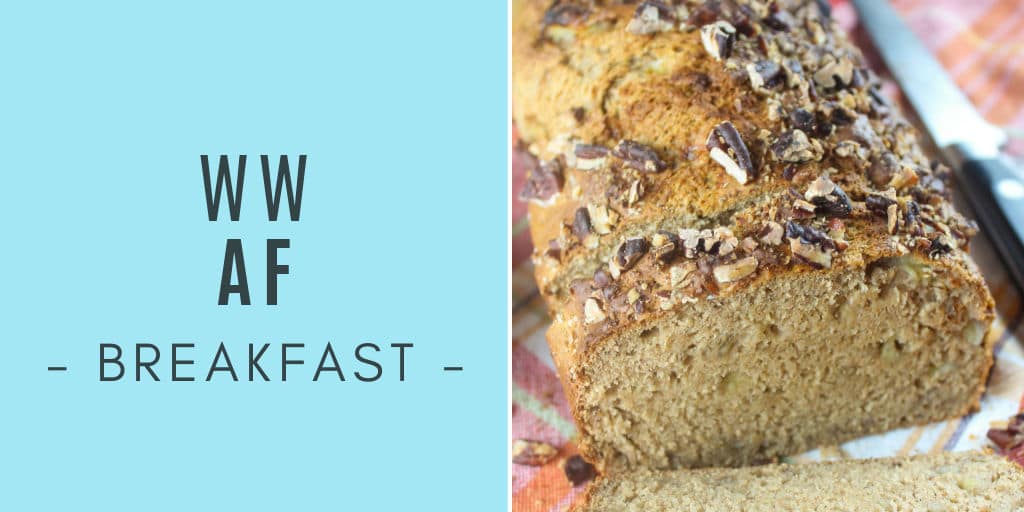 Weight Watchers Air Fryer Breakfast
Air Fryer Fried Egg – 2 pts Green, 0 pts Blue/Purple
Copycat Air Fryer Starbucks Banana Bread – 4 pts across all plans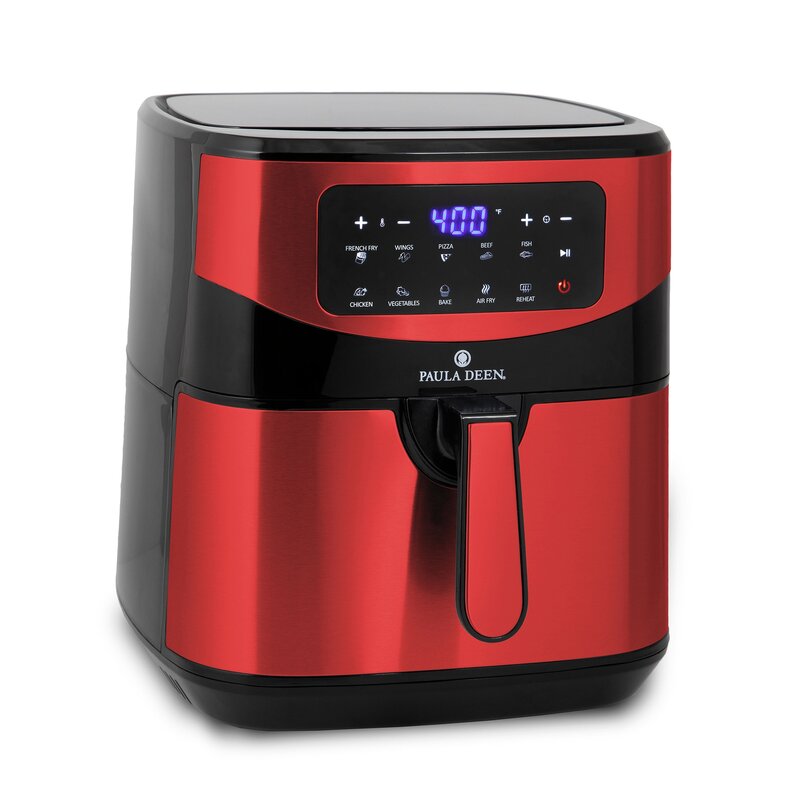 What is the best air fryer?
Oh heck – they're all good! I personally like Paula Deen's air fryers because there is so much room in them! I first bought the non-digital 9.5 qt and it's still probably my favorite. There's just a dial for the time and temp – and it is SO EASY to clean!!! I then saw that Ms Paula came out with a digital 10.5 qt and bought it too!
I like them because there's a ton of space – more than any other I've seen! I've made a whole 6 lb chicken in one and also made loads of shrimp/pickles/veggies and more – without having to make them in multiple batches because of space. (Don't overcrowd your air fryer!). I also love the non-stick surface and how easy it is to clean the unit. The basket pulls out with a handle and there is a grate in the basket you pull out. I've never had anything stick where I needed to scrub – which I love!
So that's my plug for Paula Deen and her air fryers – they're my favorite!!!
How do you brown food in an air fryer?
A spritz of olive oil will help foods brown – it's literally not even a measurable amount of olive oil – so it's super healthy! Olive oil is a little thicker and there are a ton of sprayers on the market. I've found the best one is the Pam non-aerosol olive oil spray from the grocery store for $3. (Don't buy it on Amazon – just linking so you can see bottle!) Then I just re-fill with my own olive oil. I've tried fancy ones and they just clog or don't work well. And don't use non-stick aerosol spray – it make the nonstick get sticky and gunked up.
Air Fryer FAQs
A lot of folks in Weight Watchers groups are talking about buying air fryers to help with cooking healthier. Here are some FAQs if you're new to air frying:
How is the cook time different for frozen foods compared to oven?
I recommend same temp as the "box" recommends and half the time. Start there and you can add a couple of minutes.
When do you clean your air fryer?
I clean the basket at least every other use – depending on what I'm cooking. Then every 5 or so uses, I wipe out the inside and the element with a wet paper towel.
Are air fryers healthy?
Well – it depends on what you're making – but you do use a lot less oil – so that's great. You do still need to spritz items with EVOO so they brown – not everything – but anything breaded.
What do you use for breading in an air fryer?
I usually do flour/egg/panko – but to be more WW friendly – skip the flour and just do egg white and panko – still crunchy!
What can't you make in an air fryer?
Be careful with liquid items – batter doesn't really work. I've made scrambled eggs and fried eggs but tried a quiche – and that was a bit of a fail! hahaha. You see the air fryer circulates AIR – and AIR blows things around! hahah
Weight Watchers FAQs
How does Weight Watchers work?
Based on your height, weight and age – you get assigned a number of points. Then every food has a point value. Voila – you don't eat too much! There are also some foods that are zero points – woohoo!
What Weight Watchers Plan is Best?
There are currently three plans: Green, Blue and Purple. Purple has the most free foods and fewest points – Blue has a few less and Green has the fewest zero point foods. I'm on Green because it's the strictest. That is the nice thing about Weight Watchers – it's very customizable to what fits you. If you need more structure in portion-control, go with Green.
How much does Weight Watchers cost?
The lowest digital only plans are less than $3.50/week. They also always have specials going on so I recommend checking it out online!
Other Resources for Air Fryer & Weight Watchers
If you're looking for even more air fryer fun – be sure to join my Facebook group for Easy Air Fryer Recipes and subscribe (button is on the top right) to my email list.
I also have more Weight Watchers recipes and Air Fryer recipes right here on my blog!
Be sure to email me along the way with your journey – I'd love to have some WW Friends to keep up with!