I love a Chinese Buffet – but it's not just for the Kung Pao whatever! My favorite two items on the buffet are the crab casserole and those damn donuts!!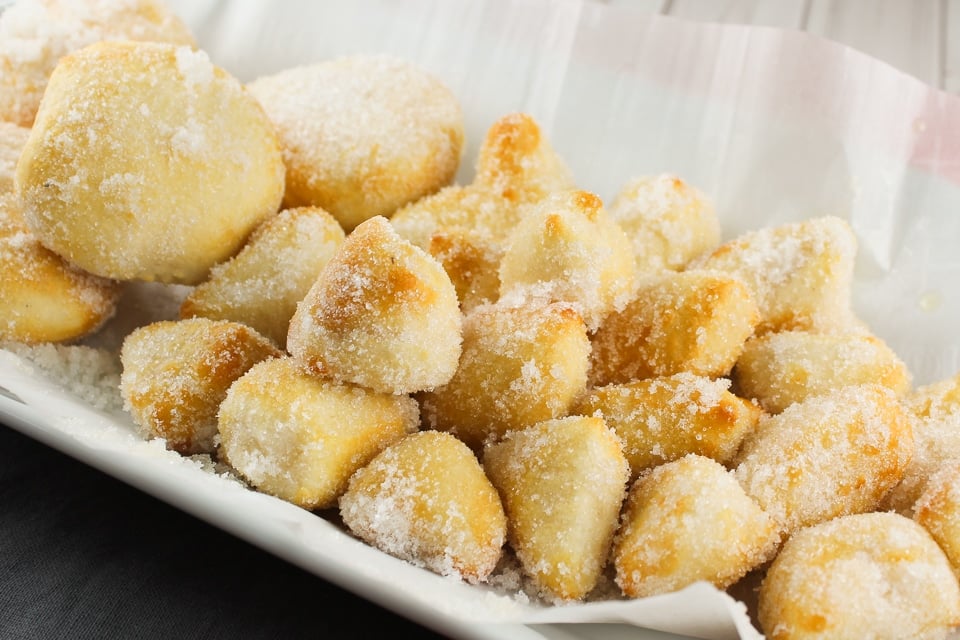 I don't know why – but those donuts are the best!! They're light and fluffy and sugary – they're perfect! But who knew they were so cheap and easy too?!
How to make air fryer donuts? (aka How to make Chinese Buffet Donuts? aka How to cook canned biscuits in an air fryer?)
Air fryer donuts start with canned biscuits – that's it! Be sure to get the cheap biscuits!! You know the ones – they're less than $1 for a can of 8-10 biscuits. I like the cheap ones because they're cheap and small. You don't want giant biscuits for this. Now let me say – I never use these kind when I want actual biscuits – but for these air fryer donuts – they're perfect!
Are air fryer donuts good?
Uh – yeah!!! Duh!!! They're my favorite!!! I know – it's hard to believe that refrigerator biscuit donuts are that good – but they are! I was a little skeptical that they might be dry – but tossing them in the melted butter did the trick – they were delicious!
I should mention too – you can leave the biscuits whole or you can cut them in quarters and have little donut bites! They're buttery, sugary little nuggets of delight! I promise you'll have these donuts every week after you try them!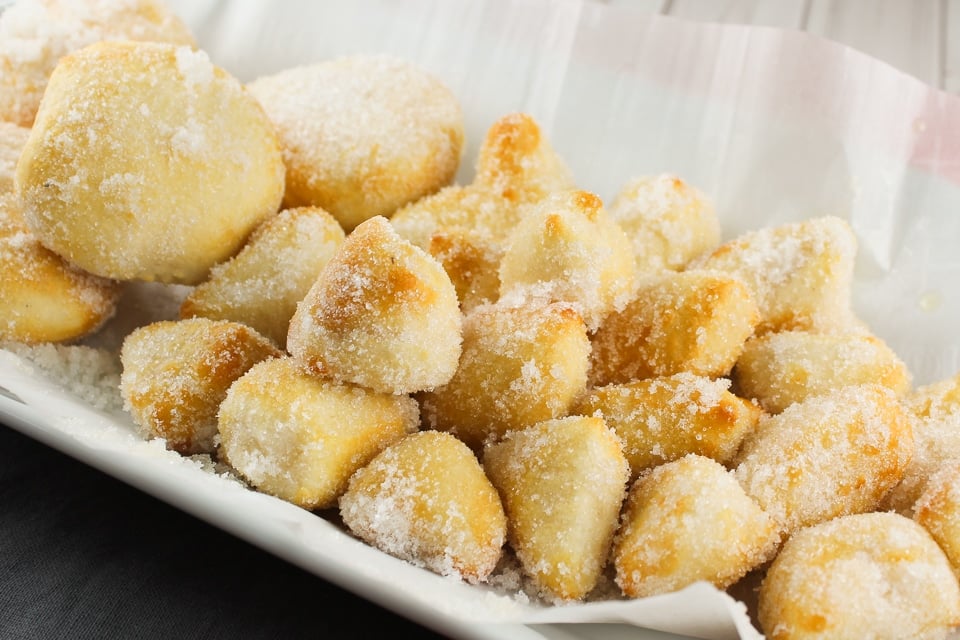 Air Fryer Copycat Chinese Buffet Sugar Donuts
prep time: 5 M
cook time: 12 M
total time: 17 M
I love those sugar donuts at the Chinese Buffet – and not only did I make them at home – I made them in my air fryer! They're light, fluffy and done in minutes! It's a great (cheap) fun dessert! #copycat #chinesebuffet #sugardonuts #airfryer
ingredients:
1 can cheap biscuits (not flaky)
1/2 cup sugar
4 tbsp butter, melted
instructions:
How to cook Air Fryer Copycat Chinese Buffet Sugar Donuts
Line a baking sheet with parchment paper.
Put sugar in a shallow bowl; set aside.
Remove the biscuits from the can, separate them, and place them on the baking sheet.
if you want donut bites, cut each biscuit into four pieces
Spray donuts with cooking spray or olive oil from a spritzer
Place biscuits in a single layer in the air fryer (try to keep them from touching – if you have more biscuits than will fit in your air fryer – you'll have to do two batches)
Close the air fryer and set to 350°F. Cook, 3 minutes. Open air fryer, flip biscuits and cook 3 minutes more
While biscuits are air frying, melt butter in microwave and pour into a bowl
Transfer biscuits to the baking sheet.
Toss biscuits in melted butter bowl
Move biscuits to sugar bowl and toss to coat heavily
Serve warm
NOTES:
– Buy the cheap biscuits – less than $1 for a can
– You can mix cinnamon into the sugar if you like
– If you have a large air fryer, you can do them all in one batch
– It's much easier to toss the donuts if the butter is in a bowl and use a spoon for tossing
Recommended Products:
Phillips Air Fryer
Parchment Sheets
Acacia Wooden Octagon Square Trays