I love when I make something after a long day of work and then realize it's so good I have to share it with you! You see – most of my recipes I plan out and think through and prepare for – but not this one – this was a pure magical accident!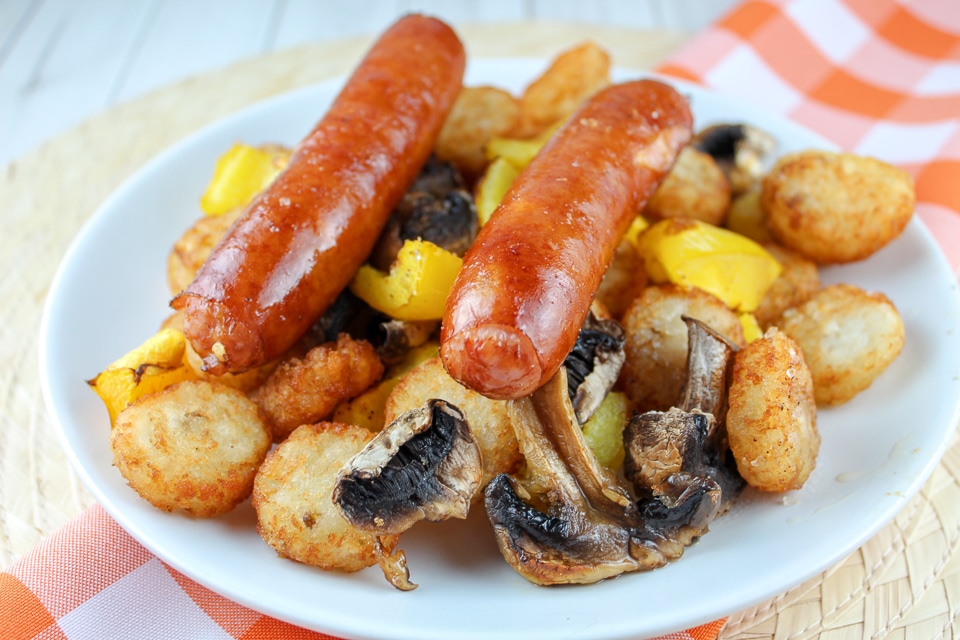 Who doesn't love sausage & peppers? I wanted to make a one-pan meal in my air fryer and that I did! I added some extras to make it complete – crispy crowns, mushrooms and some of my favorite seasoning!
How to cook sausage and peppers in the air fryer?
It's so easy it's stupid – you put everything in the air fryer – turn it to 350 and start. That's it!!! The nice thing about this is that everything cooks together and at the same rate. The crispy crowns (or tater tots) take the longest time – but it's all good. I've been making sausage in the air fryer since I got it! (My favorite are cheddar metts/smoked sausage!)
I always sprinkle my favorite Taco Johns Potato Ole Seasoning over the sausage and peppers. If you don't have that – you can also use the "fry seasoning" from Freddy's or Steak and Shake, taco seasoning or even Lawry's seasoning salt. Anything that adds some extra zing!


I also always have Freddy's Fry Sauce in my fridge as well and love to top this dish with my fry sauce. You wouldn't believe how the dogs drool while I eat this – it's everybody's favorite! 😉
What are other dinner air fryer recipes?
I use my air fryer 3-4 nights a week! I've made Shrimp Taco Salad, Garlic Parmesan Chicken Wings, Ham & Cheese with Tomato Sandwiches, Steak & Veggie Bites and more. You can find all of them in my Air Fryer Recipes section or in my Air Fryer Facebook group!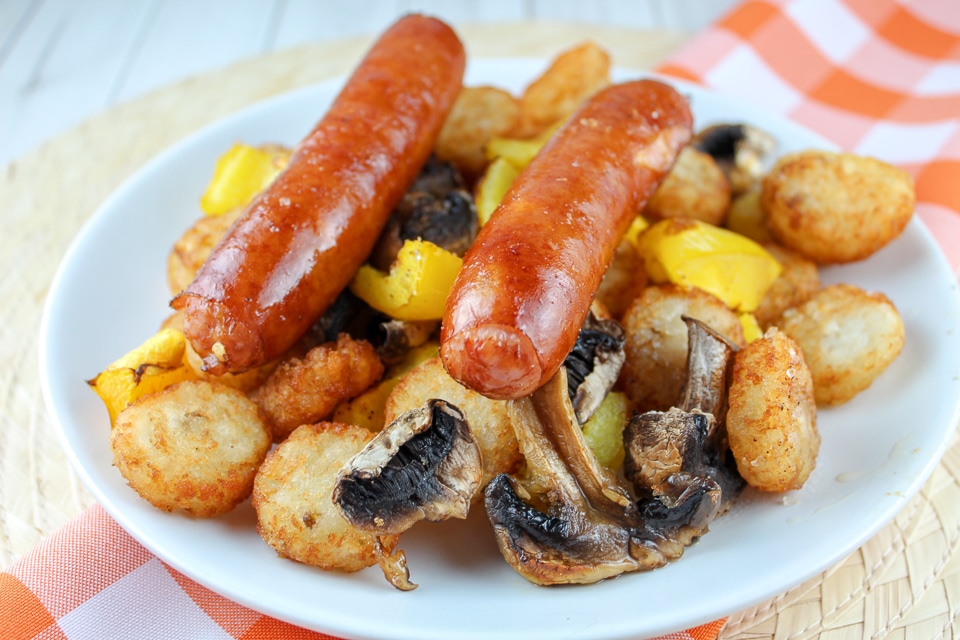 Air Fryer One Pan Sausage and Peppers Recipe
prep time: 5 M
cook time: 10 M
total time: 15 M
Sausage and Peppers are such a classic combination – and I found a way to get them on the table in 10 minutes using my favorite kitchen tool – the air fryer! I add in tater tots to make them a one pan meal that the whole family will love!
ingredients:
– 1/3 bag tater tots or crispy crowns (10-15 per person)
– 2 smoked sausage links with cheddar
– 1 yellow pepper, diced into 1″ pieces
– 4 oz mushrooms, sliced
– 2 tsp Taco Johns Potato Ole Seasoning
instructions:
How to cook Air Fryer One Pan Sausage and Peppers
– Place tater tots in bottom of air fryer basket
– Set the cheddar sausages on top of the tots
– Scatter peppers and mushrooms on top of the tots/sausage
– Sprinkle Taco Johns Potato Ole Seasoning over everything
– Air Fry at 350 for 10 minutes
– Split between two plates and serve!
Recommended Products: