One of my go-to meals at home has become air fryer steak & veggies! The veggie depends on what is on sale through Shipt each week and today was asparagus! It was only $1.99!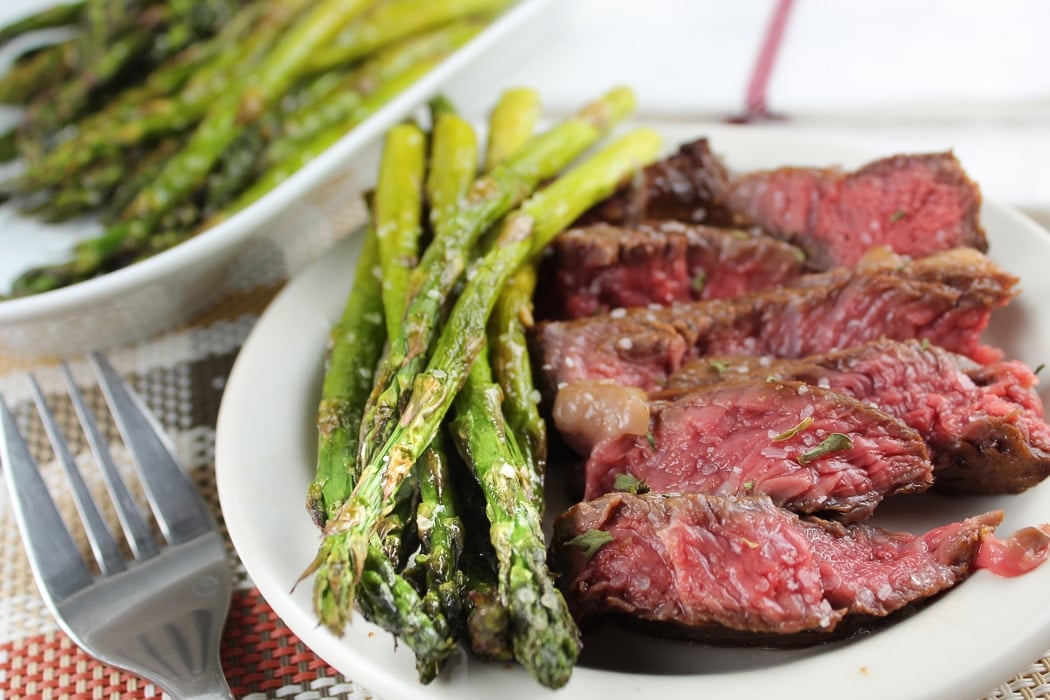 I also grabbed a Certified Angus Chuck Eye Steak (an affordable cut – that is as tender as a ribeye!) and went to town. Now – I know – that steak is pretty rare – but I can't help it – that's how I love it! But no worries – I'll give you directions on how to cook your steak no matter how well done you like it!

Can you air fry steak? How to air fry steak to medium rare?
Of course! I'm hard pressed to find something you cannot air fry! What I did for this was marinate the steak ahead of time – my favorite marinade is from Plain Chicken of course – her Best Steak Marinade is to die for! She made steak for me when I went to her house – and I can't use anything else!


After that – I just popped it in the air fryer on top of the asparagus and started her up! My rare steak was about 8 minutes – so if you want it cooked more add a minute or two for each level up (10 minutes for medium rare, 12 min for medium, etc.) – always temp your steak – it's just easier to make sure it's right. (my fav thermometer hands down – Thermapen! Worth every penny – great holiday gift)



Can you air fry asparagus? How long to air fry asparagus?
Again – I say – of course!!! Now I set the marinated steak on top and then did a quick drizzle of olive oil and coarse sea salt – that's it. The asparagus only took five minutes and still had a nice bite to it!!!
I took the asparagus out and continued to cook the steak. I just put it on a platter and set it in the microwave (didn't cook it) – just to keep it warm.
Is air fryer steak good?
Hells yeah! It's amazing!!!! Honestly – cooking steak in the air fryer isn't any quicker than on the stove top or grill – but it's much LESS MESSY!!! Honestly I love steak in a cast iron pan – but I always get smoke in my house and my vent doesn't work – so it's a smoke filled kitchen every time. With the air fryer – no smoke! OMG – it's perfection every time!



I love my air fryer so much and it's given me so many great meals – here are some of my favorites:


– Air Fryer Breaded Pork Loin
– Air Fryer Healthy Fish Tacos
– Air Fryer White Pizza
You can find all of them in my Air Fryer Recipes section or in my Air Fryer Facebook group!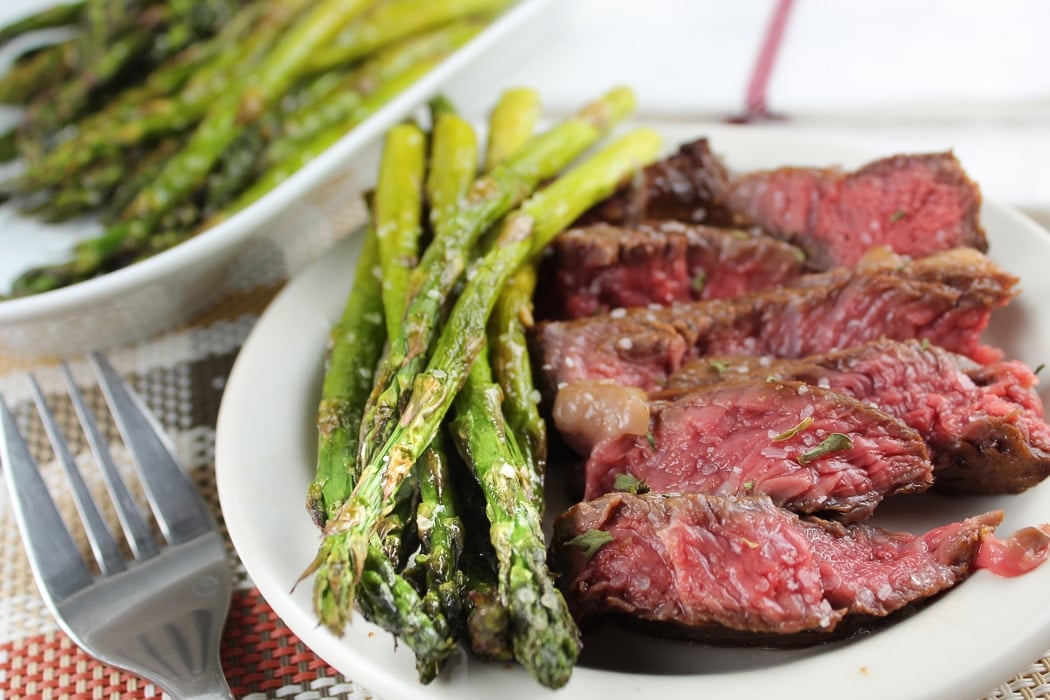 Air Fryer Steak & Asparagus
prep time:
cook time: 10 M
total time: 10 M
This is one of my go-to air fryer dinners! I grabbed these delicious cuts of Certified Angus Sirloin and they are perfect for the air fryer. Asparagus is also perfect for the air fryer – it stays firm and doesn't need much seasoning! You'll love it!
ingredients:
1 bunch asparagus
1 Tbsp olive oil
1 tsp coarse sea salt
2 boneless chuck eye sirloin steaks
instructions:
How to cook Air Fryer Steak & Asparagus
marinate steak for 1-8 hours in your favorite steak marinade. I use this one from Plain Chicken
trim asparagus and lay in bottom of air fryer
drizzle with olive oil and coarse sea salt
remove steak from marinade and place on top of asparagus
air fry at 350 for 5 minutes
remove asparagus and keep warm
air fry steak for an additional 3-8 minutes depending on your taste.
NOTES:
always temp your meat
:
125 – rare (seen here)
135 – medium rare
145 – medium
150 – medium well
160 – well (why???? haha)
Recommended Products:
Philips XL Air Fryer
Steak Knives
Olive Oil Dispenser
Did you make this recipe?
Tag
@foodhussy
on instagram and hashtag it #foodhussyrecipe