Me and that air fryer are besties! And this recipe is about to become YOUR bestie! It's light and delicious and SO DARNED EASY!!! These are by far the BEST and EASIEST air fryer fish tacos you'll find!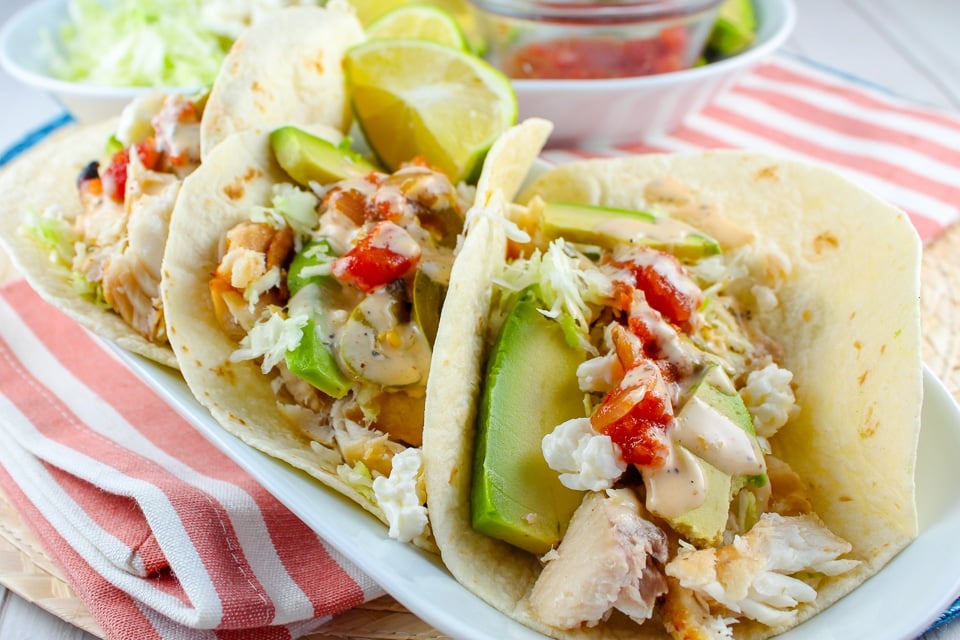 The key to these is to marinate your fish ahead of time. So the night before – grab the fish and the marinade and pop it in the fridge! And yes – this recipe is for air fryer tilapia with no breading. You'll love the results!
How do you make healthy fish tacos? How to marinate fish for the air fryer?
I marinated the fish in a Mojo Criollo Spanish marinade – it's easy to find at the grocery store and it comes in a big bottle – so you can use it for fish, chicken or poultry! It's very versatile! Air frying fish is super simple – out of the marinade and into the air fryer for 12 minutes!
Then top your Healthy Air Fryer Fish Tacos with your favorite toppings – I like something crunchy (cabbage), something creamy (avocado) and something spicy (jalapenos) – you're done!
What is the Best Fish to use in Air Fryer Fish Tacos?
You can use any white fish for air fryer fish tacos but I prefer tilapia. It's an affordable fish that absorbs the marinade flavor easily. Other fish that would be good are halibut, cod and even pollock.
I really loved these air fryer tilapia tacos – tilapia is such a light fish and it absorbs the marinade and adds so much flavor!
What to serve with Air Fryer Tilapia Fish Tacos?
You can also check out all of my easy Air Fryer Recipes! I have side dishes, main dishes and desserts! They're yum!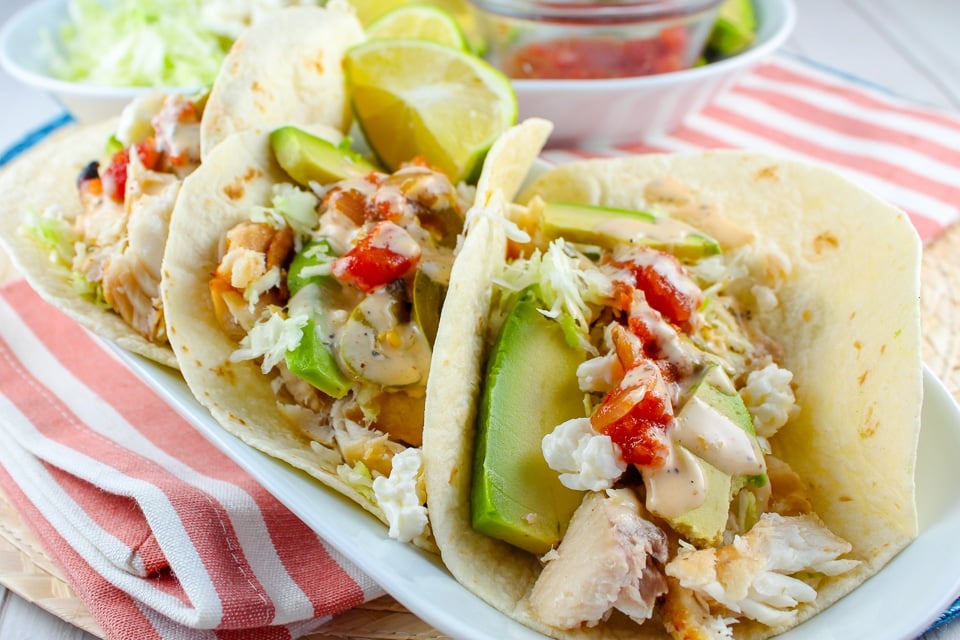 Air Fryer Healthy Fish Tacos
These air fryer fish tacos are going to be a weekly favorite in your house! The fish takes no time at all to make and comes out perfect and you top it with light and fresh toppings like avocado, cabbage and limes! It's light and delicious! #airfryer #fishtacos
ingredients:
1 lb tilapia (2 filets)
1 lime, quartered
6 flour tortillas
shredded cabbage
1 avocado, sliced
Queso blanco (any Mexican crumble cheese will do)
salsa
jalapeno slices
instructions:
How to cook Air Fryer Healthy Fish Tacos
Marinate tilapia for a minimum of 4 hours in Mojo Criollo Marinade – (or your favorite citrus based marinade)
Place tilapia filets in air fryer and cook at 350 for 12 minutes
While tilapia is air frying, prepare vegetables and toppings
lay out tortillas
quarter a lime
slice an avocado
shred 1/4 of cabbage head
break off 1/4 of queso blanco and crumble
2-3 tbsp salsa
10 jalapeno slices
2-3 tbsp jalapeno ranch
Once fish is done, remove and set on plate
Place tortillas in air fryer with a light spritz of non-stick spray on each tortilla and air fry at 350 for 3 minutes
While tortillas heat up, shred fish
Once done, remove tortillas and put together your tacos!
NOTES:
– You can use any white fish – but I like tilapia the best
– Shredding the fish makes it go further and create more tacos
– If you don't have cabbage, you can also use lettuce
Recommended Products:
Philips Air Fryer
Spicy Ranch
Mojo Criollo Marinade