I was invited to Hocking Hills with a group of bloggers last month and we got to stay
and dine
at the
Inn and Spa at Cedar Falls
. After our lovely stay – we headed over to
Hocking Hill Canopy Tours
(just a few minutes away) for some adventure (thanks to them for providing these free of charge to us).
We were going to split into two groups and do an advanced level Segway Tour and a ZipLine tour. I've done
Segway Tours
– I love Segways. They're so much fun. Yeeha for the Segway.
Then we have…the Zip Line.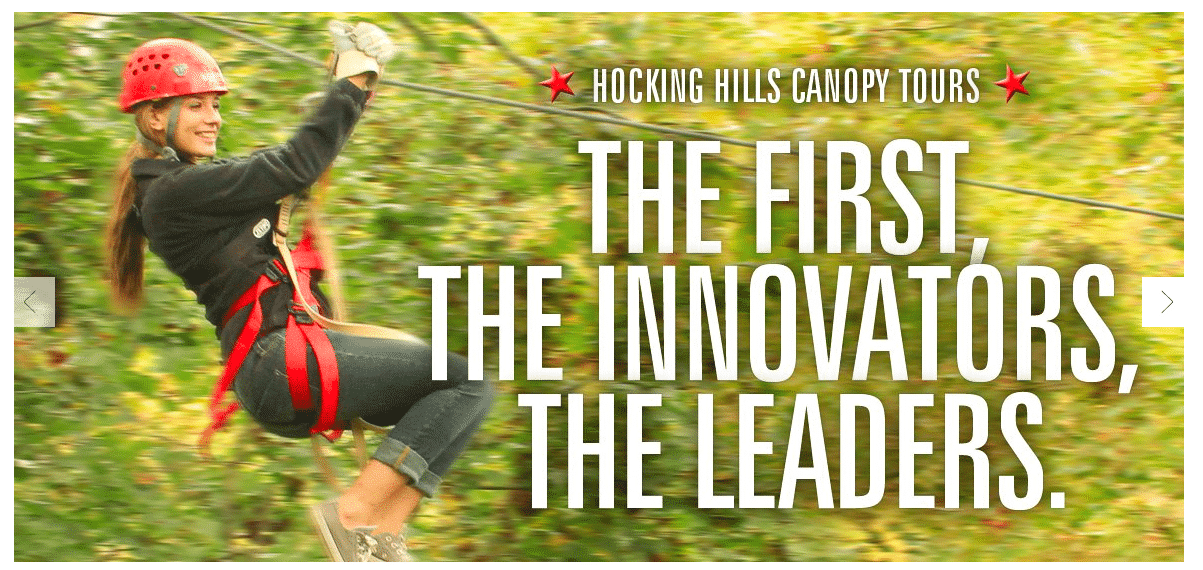 Look at her – she looks so relaxed and happy. Yeah – well you know what – she can bite my a$$. 🙂 More on that later.
First the Segway – I was the veteran on my leg so I went last and let all the newbs get their practice time in. I told everybody – I'm a clutz and yet I picked it up in about 10 minutes. My friend Danielle had never done it before but she's a natural athlete. Within about 2 minutes she was breaking speed records on hers.
This was an advanced tour – we were on the big wheeled Segways because we were off-roading. It's a little more difficult than pavement – mainly because of the gravel and the hills. I'm not a speed demon on them but I hang in the middle of the pack. I just like to enjoy the scenery and the breeze – it's a great time.
If you've never ridden – it's a leg work out for sure. It's all in the pressure on your feet – put pressure on the front of your foot – you go forward. Put pressure on the heel – you go backwards. All the newbs were commenting about how sore they were within about 5 minutes. Oh yeah – your feet WILL CRAMP. But once you're comfortable – you figure it out.
We took a break and went down to the creek where we saw some canoers going by – they even had their pup with them!
Across the road was a cave we went into and then saw one of the zip lines. Oh it looks so easy. (LIES LIES LIES)
Here we are – zipping around – oh wait – what's that on the left? The tower we have to climb to do the first zip. (Prayers began at this point.)
Here's our group picture in the middle of our Segway Tour. You can buy these in their shop after your tour.
Now…the Zip Line.
I'm TERRIFIED of heights. Like it's not even funny how scared I get. Our guides (Elijah and Shad) were there for us. They taught us how to zip – on a line just a few feet off the ground. They were funny – a little cocky (Elijah…you know I'm talking to you). They told us not to take our cameras – which is basically like making me go naked – but I relinquished and left my phone. Thus I only have one picture…but that in a minute.
I got up there – climbed that huge tower – and was faced with it. Jumping off a platform. Mind you – just climbing the hill and platform had exhausted me. I'm not kidding myself or anyone – I'm obese. So there I was EXHAUSTED – finally catching my breath. And I start sobbing. SOBBING. I was a complete and utter train wreck.
I get up on the little steps and Elijah – who had been super cocky – takes my hand and looks at me (while wearing completely ridiculous sunglasses) and asks why I'm scared. I said (between snivles, gasps, sobs and snorts) I was scared of heights and my weight. Elijah took his time with me. He said the zip holds 4500 pounds and said "You don't weigh 4500 pounds – right?" Okay – fear one – done. Then the heights – Elijah told me to just look at his stupid sunglasses and breath. I looked away – and he scolded me – "Hey – I said – look at my dumb glasses!" So I did. He said – lean back, close my eyes and lift up my feet.
Wheeeeeeeeeeee! There I went. Now I will say – the flying was the best part. It was really fun to fly. Here is when I opened my eyes and stopped crying.
But then – I had to land. This was by far the worst part. With my size – I just couldn't get my footing once I got to the other side. Here is when I started crying again.
It was awful. The fear of heights when I went to jump off combining with the guilt and shame of being fat and really awkward in front of people. It was too much. I was a wreck at every platform.
But Shad (I adore you) and Elijah (I adore you even more) were the best. They hugged me before and after every zip. I know I was slowing the group down – but everybody was encouraging the whole way. And when I say the whole way – I mean – for 3 zips. After 3 – Shad looked at me and said, "Heather – there's an escape route on this platform. Do you want to get down?"
And that's when the one and only photo was taken of me by another zipper:
HALLE-FREAKIN-LUJAH – THIS SHIT IS OVER!!!!!
You can't see the tears but they were still there. Oh Mylanta – I was so done. I wanted off that stupid platform and back on the ground. As I was going around the platform to the zip to the ground, another woman on the zip said, "Oh and you can always come back and do it again another day!" I looked at her and said "Are you f*%#@ng kidding me???? I'm NEVER doing this again!!" I then did one last zip to the ground and got a ride back to the office. I was a happy girl. They also said I wasn't the worst – they've had people quit at the tower and after 1 zip. So hey – at least I did 3!
Again – I have to say thank you to our two guides. Shad on the left and pretty sure that's Elijah on the right. I know his name was Elijah – I was scouring the internet to find pics of them. I could not have even done those 3 zips without them. Seriously – a hug before and after each zip – that's the best medicine for a sobbing 40+ year old.
And – I can't believe I'm going to say this – but if I can lose a chunk of weight – I would like to do it again. The fear of heights was rough – but by the 3rd one – I was starting to get over the jumping off part. Now – I'm sure when Shad and Elijah read this – they'll make sure they're off work that day – because I was high maintenance! But that's okay I still love 'em.
So thanks to Hocking Hills Canopy Tours for giving me the opportunity to try this. I'm not sure I conquered my fear – but I took a step in the right direction.