Bruegger's Bacon Scallion Cream Cheese is my absolute favorite cream cheese flavor. Your favorite cream cheese filled with meaty bacon bites and crunchy scallions – yum!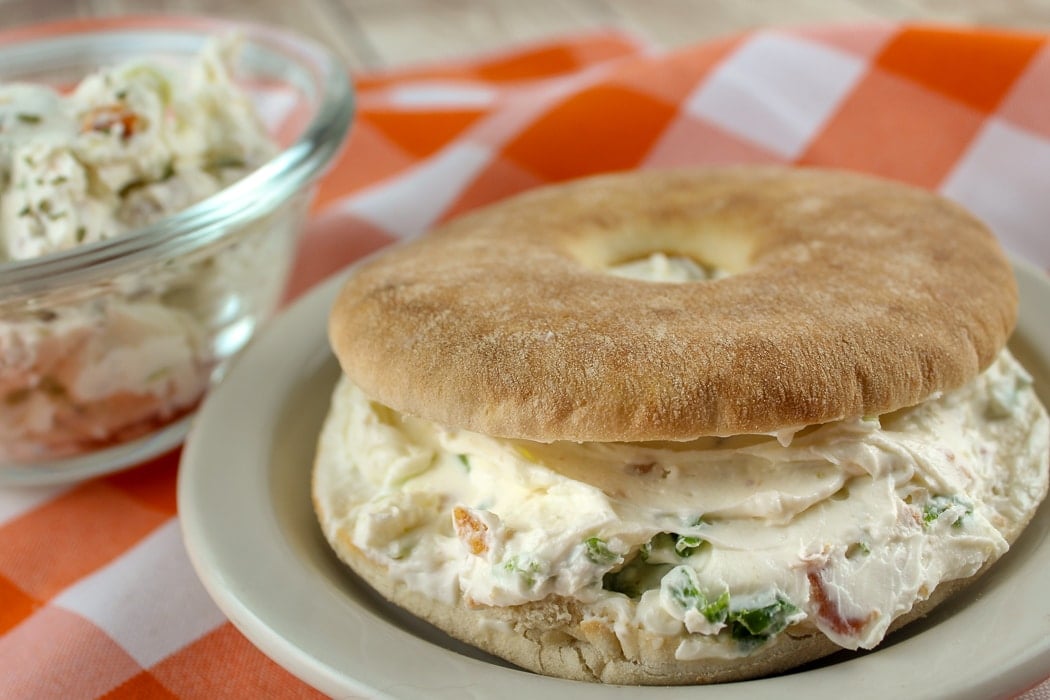 This bacon scallion cream cheese recipe is super easy and only three ingredients. Since I'm still trying to make healthy choices – I went for the bagel slims that are half the bread. Yum!
How do you make Bacon Scallion Cream Cheese?
It's super easy – leave out your cream cheese for 15 minutes so it gets softened. Don't open the package or anything – just leave it on the counter. While the cream cheese softens, you can cook your bacon (I did my bacon in the air fryer of course!) and dice up your scallions. Then stir together and you're done!



It's silly when you think about how easy flavored cream cheese recipes are! This bacon cream cheese recipe is so simple! And any of your other favorites would be too! Garden veggie = carrots and scallions, Honey walnut = a few tbs honey and some diced walnuts – WHY DO WE GO OUT AND PAY FOR IT? HAHAHA
If you're looking for other ideas for bagels – I've got them in spades! You could do pizza bagels (even in the air fryer), an awesome leftover sandwich or even a breakfast casserole (just swap the donuts for bagels!)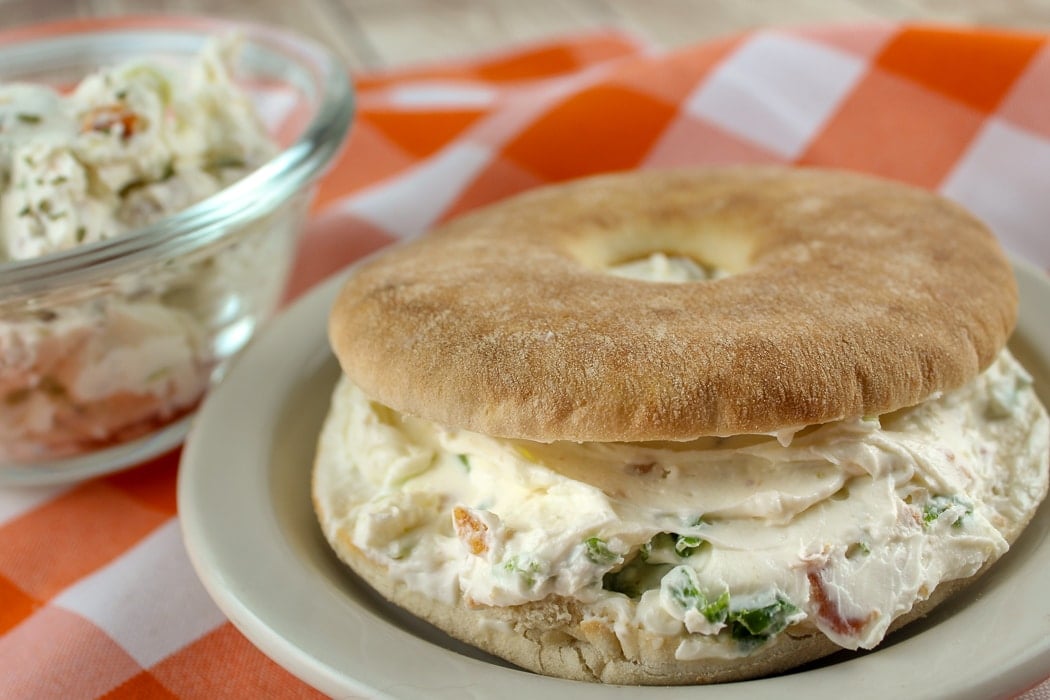 Copycat Bruegger's Bacon Scallion Cream Cheese
prep time: 15 M
cook time:
total time: 15 M
Bruegger's Bacon Scallion Cream Cheese has ALWAYS been my favorite flavored cream cheese. It's full of smoky bacon and the scallions give it a nice crunch. The perfect way to celebrate national bagel day!
ingredients:
1 brick cream cheese
3 slices bacon, cooked and roughly chopped
3 scallions/green onions, diced
instructions:
How to cook Copycat Bruegger's Bacon Scallion Cream Cheese
Let cream cheese soften for about 15 minutes on the counter
In a bowl, mix together cream cheese, bacon and scallions until combined
Using a spatula, place cream cheese mixture into a bowl
Store for up to a week with an air tight lid
Recommended Products:
Cream Cheese Spreader
Bacon
Everything Bagel Seasoning
Did you make this recipe?
Tag
@foodhussy
on instagram and hashtag it #foodhussyrecipe