So for those that don't know – I'm originally from Iowa and every time I go home – I force my friends to go to Carlos O'Kellys. It's a completely not-authentic Mexican place that I adore. They have the VERY BEST QUESO and I've been obsessed with it for 30+ year. And then I got the recipe!!!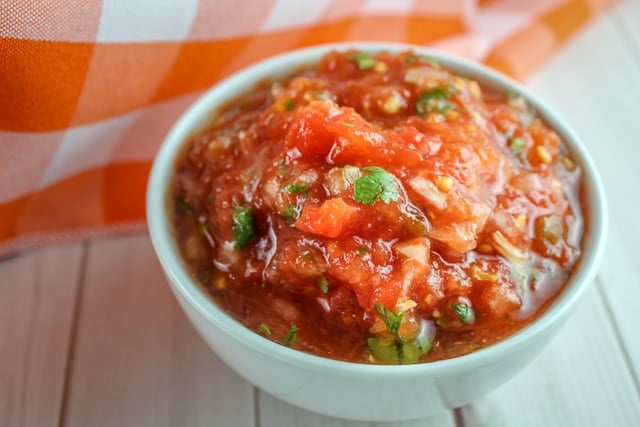 Right next to that delicious queso on every visit – is a bowl of their amazing salsa! And yes – I got that recipe too!!!! So now – when I go home to Iowa – I can actually try NEW places because I have the recipes for my two favorite things!!!!

You will love this salsa – it's got a kick and it takes less than 15 minutes to put together! You should let it marinate for at least 12 hours before you serve it – so it's best to make it the day before. I also found that using a food processor makes it so much easier. I don't use a food processor much – so I just have a small little 3.5 cup version and it was perfect for this.
The recipe uses a large can of whole peeled tomatoes, a small onion, canned jalapenos and green chiles and some seasonings. When you're using the food processor – be sure to pulse it and keep an eye on it – you don't want to puree it – you still want chunkiness and texture.


Now if you don't have a food processor – you can do this all by dicing – it'll just be a little messier with the tomatoes. But at $40 – the mini chopper is pretty cheap! You could also probably use a blender if you chopped things in small batches. I know they make the BIG full-size restaurant version in the giant blendery thing!
I know you're going to love this salsa recipe as much as I do! It's not too spicy and it makes just the right amount for a party! This is PERFECT for all those March Madness parties we all have coming up!

Don't miss out on their Copycat Chicken Fajita recipe either!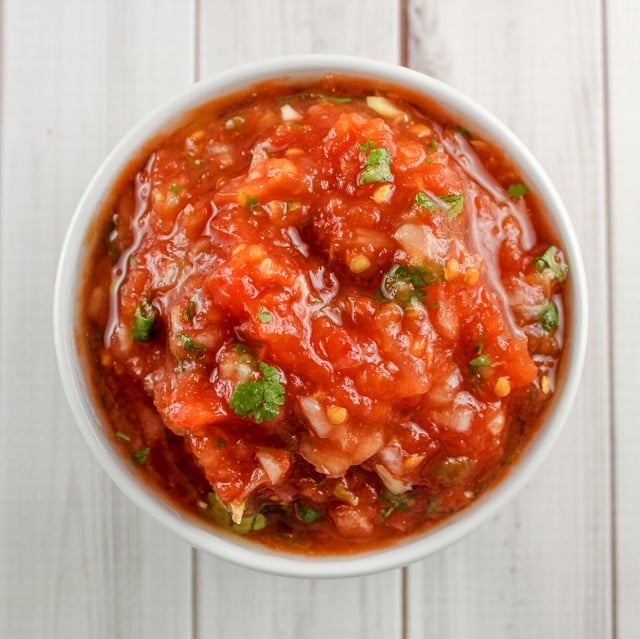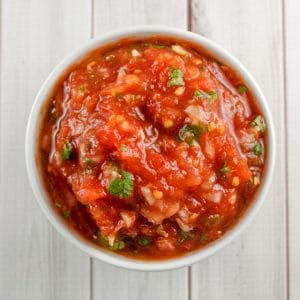 Carlos O'Kellys Salsa
Carlos O'Kellys is my absolute favorite restaurant in Iowa – it's American Mexican food but I love it! Their queso and salsa is the best! And I have the authentic recipes for them and am sharing them with you!!!!
Ingredients
1

28 oz

whole peeled tomatoes

drained

1/2

large onion

finely diced in food processor

2

oz

canned green chiles

diced

1

oz

canned jalapenos

diced

2

sprigs

cilantro leaves

finely minced

1/2

tsp

garlic powder

1

tsp

coarse sea salt
Instructions
Chop onion into chunks and add to food processor – then add garlic, cilantro and salt – pulse until onion is minced and all cilantro is incorporated – you do NOT want to puree this!! pulse it on chop mode a half dozen times – and check often.

1/2 large onion,

2 sprigs cilantro leaves,

1/2 tsp garlic powder,

1 tsp coarse sea salt

Pour onion mixture into a large bowl

Take drained whole tomatoes and put in food processor – pulse on chop setting the big chunks of tomato are broken up. again – you do not want to puree this but you want it more than diced.

1 28 oz whole peeled tomatoes

Add tomatoes to onion mixture

Stir in chilies & jalapeño

2 oz canned green chiles,

1 oz canned jalapenos

Refrigerate for at least 12 hours