So I've been OBSESSED with Carlos O'Kellys Chile Con Queso FOREVER! It's my favorite thing to get when I go back home. For 15 years – I've made my friends go to Carlos every single visit. And now – I don't have to do it. Why? Because I can make my favorite food on the planet in my own home!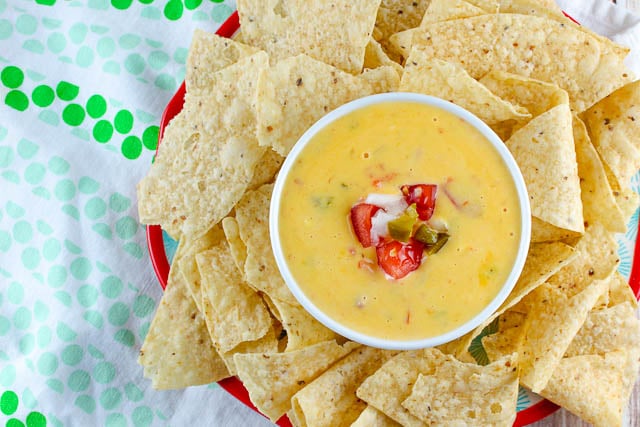 Now I've tried to make a version of this before – and it was good – but then a magical friend that used to work at Carlos told me a few secrets – and now I have the recipe!!!!! Let me tell you – it's easy and it DOESN'T use Rotel tomatoes! What????? I know! It's so much better. I will never ever ever make another queso again – and you won't either!
What makes this queso so good? It's creamy and chunky – and it's because you actually saute the veggies in butter BEFORE you add in the cheese! The other key is low and slow – with the veggies and the cheese. So don't fire that stove on high for pete's sake! Take your time – it's all of five minutes and it's worth it!
The restaurant version is made on a double boiler but I have a little mini-crock pot that I got for like $5 from Kohl's around Christmas. It was so simple this way and I was anticipating that first bite – would it be the same? Would it take me home? Would my search finally be over?????
Yes!!!! The search is over – this is perfection!!!! This is creamy and chunky and depending on how many jalapenos you put in – it's spicy or not! It is queso perfection! You will never make another queso again! Making this with fresh veggies makes it so much better! You will thank me!!!


Don't miss my other favorite Copycat recipes for Carlos O'Kellys! I love their salsa and their chicken fajitas!
Copycat Carlos O'Kellys Queso
I finally have the actual recipe for my favorite queso on the entire planet! For 15 years, everytime I go home to Iowa – I have made my friends go to Carlos O'Kelly's – just so I can eat this queso. Now – I CAN MAKE IT MYSELF! I had to share!!!
prep time: 10 mins
cook time: 1 hour
total time: 1 hours and 10 mins
ingredients
2 Tbsp of butter
1 Tsp garlic powder
3/4 cups diced onion (approx. 1/2 onion)
1/2 cups diced tomato (approx. 1/2 tomato)
2 Tbsp diced jalapeños canned
1 lbs Velveeta
2/3 cup sour cream
instructions
Melt butter in saute pan
Add garlic powder and all veggies
Cook until soft on a low temperature (the longer and slower the better)
Cut Velveeta into cubes and put in a mini crock pot – add veggies.
Cook on low until Velveeta melts and then add sour cream – stir and keep at low to serve