I tried the Avocado Egg Rolls at Cheesecake Factory and loved them! Crunchy and limey – filled with avocado and tomato. I decided to recreate these at home by making vegan avocado wontons in the air fryer!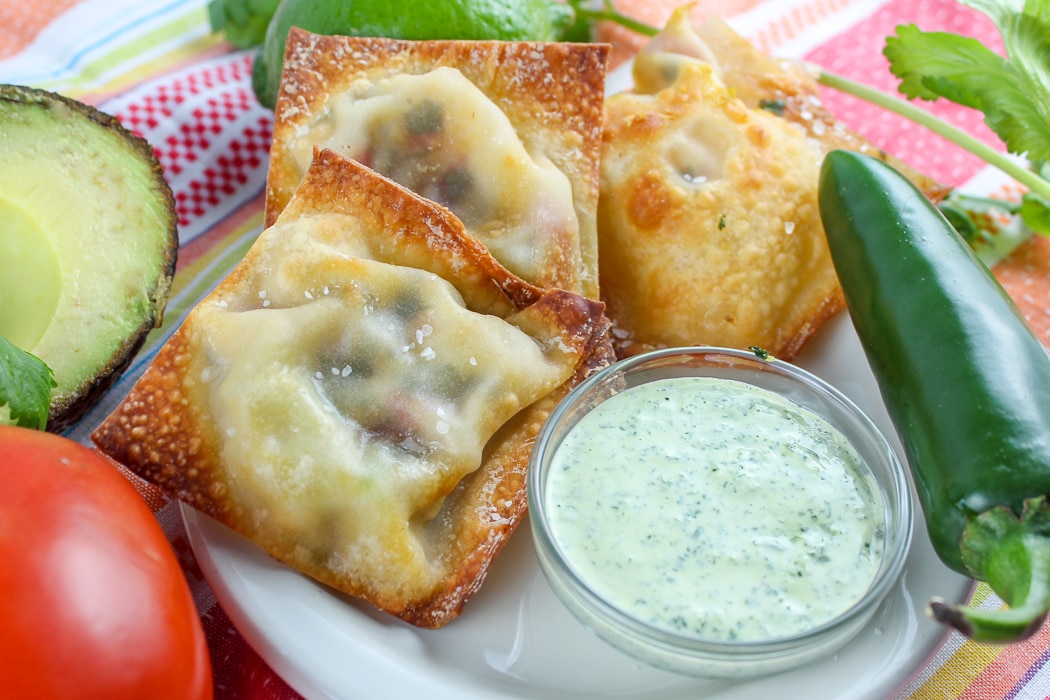 The avocado egg rolls from Cheesecake Factory are served with a cilantro dipping sauce. Now you're saying – those aren't egg rolls! Well there's a reason for that!
How to make avocado egg rolls like the Cheesecake Factory?
First step to making these crispy treats is to buy EGG ROLL wrappers and not wonton wrappers! Haha – but hey – when life gives you wonton wrappers – make wontons!
I started out by making the cilantro dipping sauce and putting that in the refrigerator. Then you mix together your avocado/tomato filling ingredients.
Spoon a bit of your avocado mixture onto a wonton wrapper. The easiest way for me to make these is to dab a little water around the edges and lay another wrapper on top and then press the edges together. Then you're done! No fancy rolling, edges, etc.
Now I know – they're not just like the egg rolls at the Cheesecake Factory – but come on – same wrapper – same filling – roll with it!
Are these avocado egg roll wontons vegan?
Nasoya makes vegan egg roll and wonton wrappers and that happens to be the brand I use – so these avocado egg roll wontons are vegan! The sauce is NOT vegan – it is vegetarian though.
What is in avocado egg rolls?
These vegan avocado egg roll wontons have a delightful mix in the filling made with avocados, roma tomatoes, sweet onion, cilantro, limes and salt & pepper.
The Cilantro Dipping sauce is made with cilantro, sour cream, a jalapeno, mayo, garlic, lime and salt & pepper.
If you're looking for other vegetarian air fryer appetizer recipes – I've got you covered! I love these Buffalo Cauliflower Wings – they're so spicy and cravable! I love these deep fried deviled eggs too – they're so crunchy and creamy! And last – but certainly not least – these Jalapeno Cheddar avocado fries! I make them all the time!


I've got more air fryer recipes on my site and my Facebook group!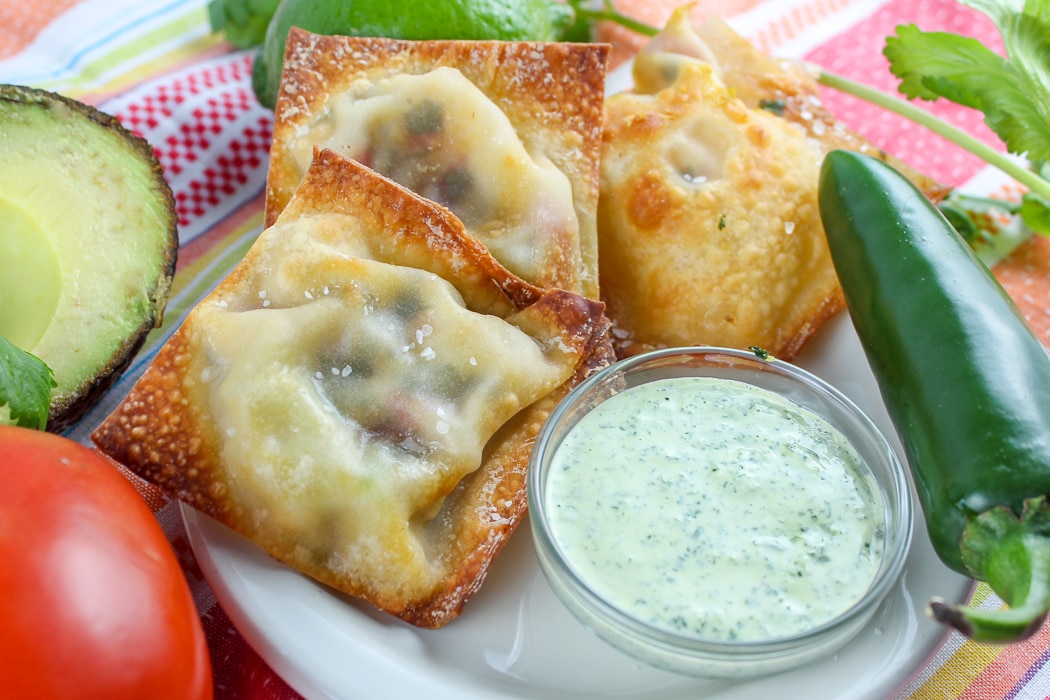 Copycat Cheesecake Factory Avocado Egg Roll Wontons
prep time: 20 M
cook time: 15 M
total time: 35 M
Cheesecake Factory is famous for their Avocado Egg Rolls and I love them! They're really easy to make too – and of course – I had to do them in my air fryer!
ingredients:
Avocado Egg Roll Wontons
2 Medium-Large Avocados, Halved
1 Roma Tomato, Diced
1/4 Cup Sweet Onion, Finely Diced
2 Tablespoons Fresh Cilantro, Roughly Chopped
Juice Of 1 Lime
Salt & Pepper, To Taste
16 Wonton Wrappers
Cilantro Dipping Sauce
3/4 Cup Fresh Cilantro, Roughly Chopped
1/3 Cup Sour Cream
1 Jalapeno Pepper, Seeded and Deveined
2 Tablespoons Mayonnaise
1 Clove Garlic, Minced
Juice of 1 Lime
Salt and Pepper, To Taste
instructions:
How to cook Copycat Cheesecake Factory Avocado Egg Roll Wontons
Mix together dipping sauce ingredients and place in refrigerator until serving (you can make this ahead of time)
Mix together all egg roll ingredients
On a large cutting board, lay out 8 individual wonton wrappers
Grab a small bowl with 1/3 cup water
Spoon 1.5 Tablespoons of avocado filling onto center of a wonton wrapper
Touch edges of wonton wrapper with water
Place 2nd wonton wrapper on top of avocado filling and press edges to seal
Once sealed, spray with olive oil spritzer
Air fry in a single layer at 350 for 5 min
Flip, sprinkle with coarse sea salt, air fry 2 min more
(Probably need to do 2 batches)
Serve with refrigerated dipping sauce
Recommended Products:
PAM Spray Pump Olive Oil
Wonton Wrappers
Dough Press
Did you make this recipe?
Tag
@foodhussy
on instagram and hashtag it #foodhussyrecipe