I've started back up on my Intermittent Fasting and while this is a pretty good "diet" for me on its own – but I do try and make good choices when I'm eating out and when I'm cooking at home.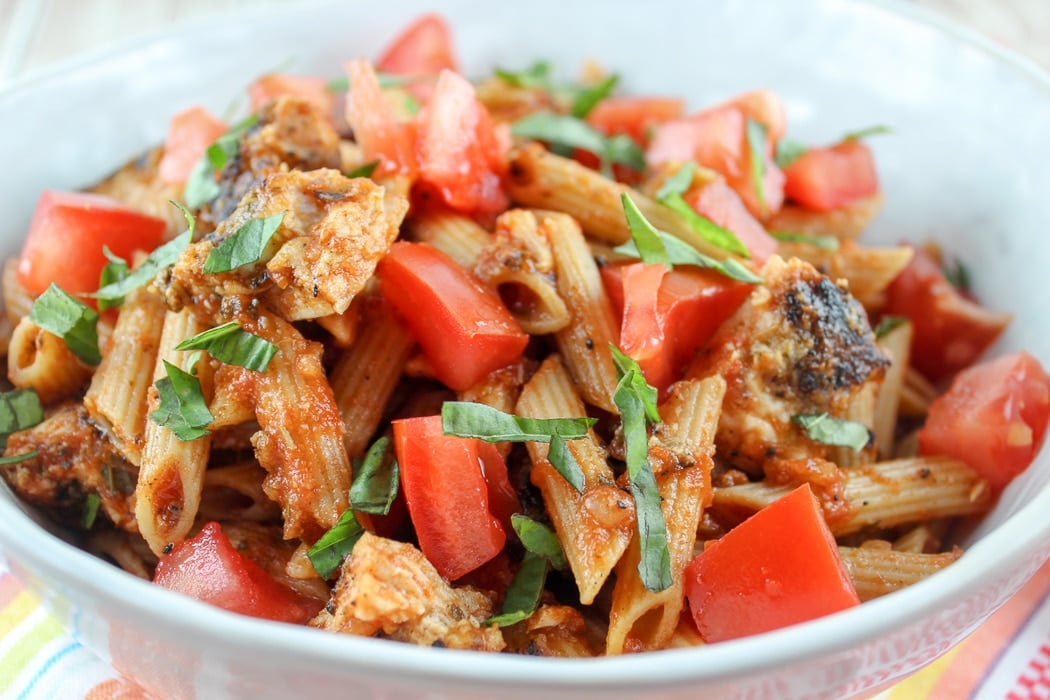 I love when restaurants have a healthy menu – and The Cheesecake Factory has a whole Skinnilicious menu! One of my favorites is the Skinnilicious Chicken Pasta and I decided to make it at home!
Here's a pic of the Skinnilicious Chicken Pasta dish at the Cheesecake Factory!
So
what ingredients are in the Skinnilicious Chicken Pasta?
The ingredients are pretty simple: pasta, chicken, fresh tomato, marinara and fresh basil. They list that it has Penne but that pic is Rigatoni – so let's just go with a tubular pasta! 😉
How many calories in Skinnilicious Chicken Pasta?
The restaurant version has 590 calories – which is still "Skinnilicious" – but mine only has 327 calories! One serving of pasta is 2 oz – and that's a little skimpy – so you could add more pasta – or cook two chicken breasts instead of one – and still have less calories than the restaurant version!
How to make The Cheesecake Factory Skinnilicious Chicken Pasta
This is definitely a quick and easy recipe but you have to juggle the parts all at once. Start your water boiling – then pound out your chicken. Once you put the pasta in the boiling water – start sauteeing the chicken. While those are cooking – dice up a tomato, heat up your marinara sauce and chop your fresh basil. Then drain the pasta, dice your chicken and toss with the sauce, tomato and basil! It only takes about 10 minutes!
Favorite Copycat Recipes
The first ten years of my blog were filled with restaurant reviews – so I love remaking some of my favorite dishes at home! Here are some of my favorite copycat recipes: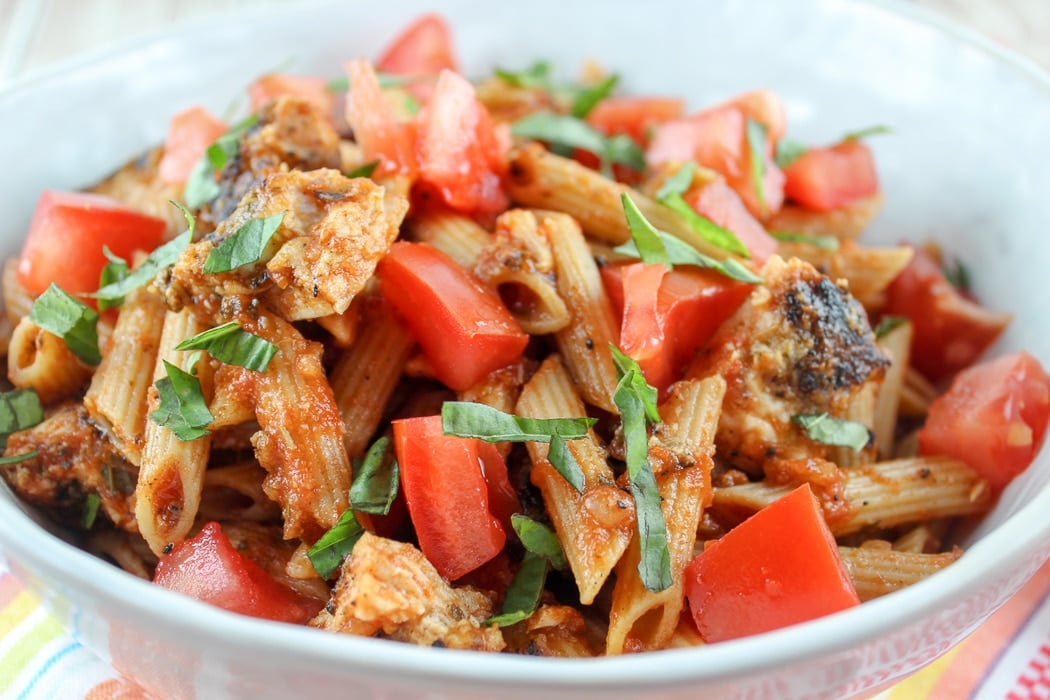 Copycat Cheesecake Factory Skinnilicious Chicken Pasta
prep time: 10 M
cook time: 10 M
total time: 20 M
The Cheesecake Factory really does have the most gigantic menu of any restaurant! I love their Skinnilicious menu because I choose to go healthy on my entree and then splurge on cheesecake for dessert! That works – right? This Skinnilicious Chicken Pasta will satisfy you for sure and still leave room for a little splurge on dessert.
ingredients:
4 oz whole wheat penne pasta (1 cup dry)
1 chicken breast
1 tbsp olive oil
2 tbsp flour
2 tsp garlic & herb seasoning (or italian seasoning)
1/2 tomato, diced
2 cups marinara
5-6 leaves fresh basil
instructions:
How to cook Copycat Cheesecake Factory Skinnilicious Chicken Pasta
heat water on stove and boil penne
when you add penne to the water, heat oil in a non-stick skillet
rinse chicken breast and pat dry. pound with smooth side of a meat tenderizer to even thickness
coat both sides of chicken with flour and garlic herb seasoning
place chicken in hot skillet and cook for 3-5 minutes, flip and cook 3-5 minutes more (temp to 165)
while chicken is cooking, dice tomato and heat 2 cups marinara sauce on stovetop
drain pasta and remove chicken from skillet
slice chicken into bite sized pieces
chop fresh basil
in large bowl, toss pasta, chicken, marinara, fresh tomato and fresh basil and split into two bowls
NOTES:
– the original dish has rigatoni – i wanted to use a whole wheat pasta to add nutritional benefits
– If you want to "un-skinny" this a little – you can add a little parmesan cheese or even mini-fresh mozzarella balls
Recommended Products:
Garlic & Herb Seasoning
Copper Chef Cookware
Meat Tenderizer/Mallet
Original: 590 calories
Did you make this recipe?
Tag
@foodhussy
on instagram and hashtag it #foodhussyrecipe