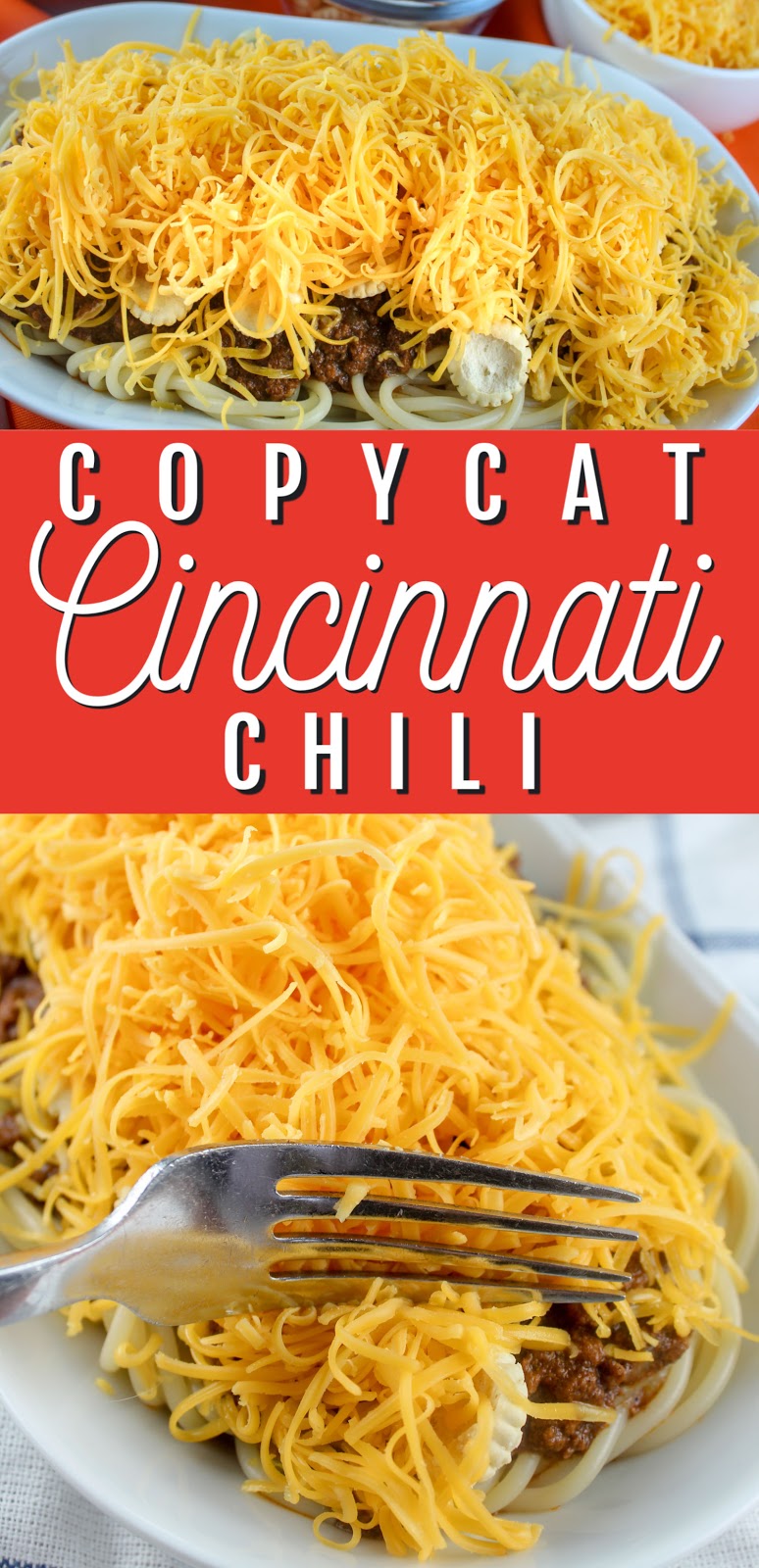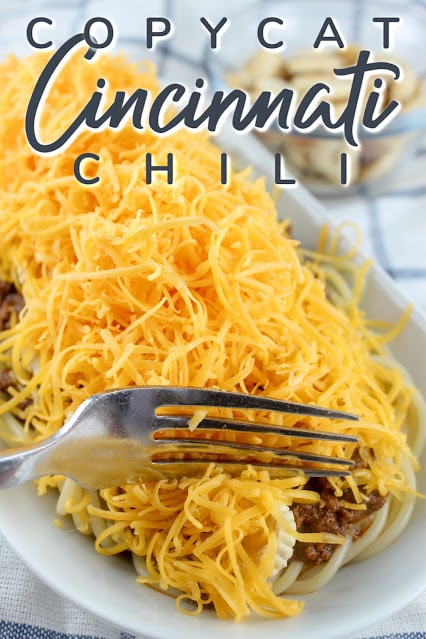 Cincinnati Chili is one of the most interesting dishes you'll ever taste! It's not like any chili you've ever had! But after you try it – you'll want it constantly!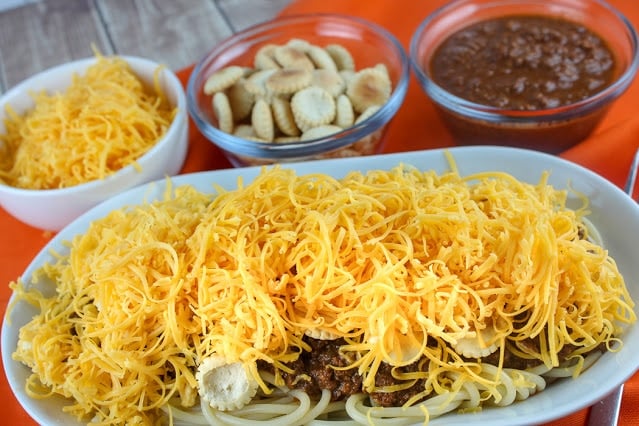 I found a postcard with an original recipe for Cincinnati Chili and decided to finally try making my own at home – instead of going out to eat – it's super simple, makes a ton and is delicious! I made a few tweaks to the postcard recipe – and love it!
How is Cincinnati Chili different?
Cincinnati chili is very runny – and not chunky. This homemade version is a bit more meaty than what you'll find in the restaurant – but the flavor is the same. Cincinnati chili has a LOT of spices – really it's much more a sauce than something you would eat a bowl of. It's a Greek recipe from folks that moved to Cincinnati and started various chili parlors.
Just trust me – the first time you try it – put the word "chili" out of your mind – just take a few bites and enjoy!
How do you eat Cincinnati Chili?
First the basics are most people have their Cincinnati chili a few different ways: on spaghetti, on hot dogs or in a burrito. For the spaghetti – you can have a 3-way, 4-way or 5-way – three way is spaghetti, chili, mild cheddar cheese (finely grated – and do it fresh – don't buy the bagged kind!). Then you can add rinsed, drained kidney beans and diced onion for a four-way or five-way.
A Cincinnati Cheese Coney is a bun and hot dog topped with Cincinnati chili and cheese. Also – the cheese – it should be FLUFFY and STACKED HIGH! 2 inches high – at least! Skyline Chili – one of the big two – actually has specially made hot dogs with very little flavor so you focus on the chili.
The last delicious way to eat Cincinnati Chili is in a burrito! My favorite is a Go-Rito from Gold Star Chili (the other big chili parlor) – it's got Gold Star Chili, sour cream and Fritos corn chips! Yum!!
The other things you will ALWAYS see with Cincinnati chili are oyster crackers and hot sauce – those are the appetizer and the toppings! 🙂 Don't ask me why – it just is!
Is Cincinnati Chili good?
Of course!!!! I wouldn't make it at home if it wasn't!
Funny thing is – the first time I tried it when I moved here – I did not like it! But then about a year later – I tried it again – and LOVED IT! I think I was hung up on the "chili" name – or the water got into my brain. hahaha
How do you make Cincinnati Chili from scratch?
There are lots of ways to make Cincinnati Chili. You can buy a Cincinnati Chili Mix in the store, you can buy Skyline Chili or Gold Star Chili at Walmart online – but below you can find my recipe for Cincinnati Chili from scratch.
Before the seasonings – you do something that is going to see really odd – you get 4 cups of water in a pot and put a pound of hamburger in the water. Raw hamburger – don't brown it!!! Then add all your seasonings and get to mashing and breaking up the hamburger. It will come to a boil/simmer and then you let it go for a couple of HOURS. That is key!!! It cooks down and turns from red to a more brown color and becomes so amazing.
As you're cooking it down – you're going to want to come back and continuously break up the hamburger. I used a potato masher and just kept mashing and mixing every 30 minutes for the whole two hours.
Does Cincinnati Chili have chocolate? Does Cincinnati Chili have cinnamon?
Yup. There's a load of seasonings to put together like cumin, cinnamon, cocoa powder (yes!! you heard me right), onion powder, all spice and more – there's some liquid seasonings too like Worcestershire, Liquid Smoke and cider vinegar.
What goes with Cincinnati Chili?
100% – you have to serve three things with Cincinnati Chili: mild cheddar – freshly grated with the FINE grate, oyster crackers and hot sauce. It's just how it's done. I also like to have a salad with it – since there's really no veggies to speak of – other than some tomato paste.
How do you make Vegetarian Cincinnati Chili?
The best way to make a Vegetarian Cincinnati Chili would be to do what Gold Star Chili does for their vegetarian chili – use a product like Beyond Meat. It's got the texture of ground beef but is made from a pea protein.
Cincinnati Chili vs. Texas Chili
There's no comparison – it's not even the same food group. Cincinnati Chili has totally different seasonings, you eat it on spaghetti and smother it in cheese. Texas chili is spicy and chunky. They're different but they're both delicious!
Regional Favorites Recipes
If you're looking for other regional favorites – I can't help much in Ohio – but I have a lot of Iowa favorites!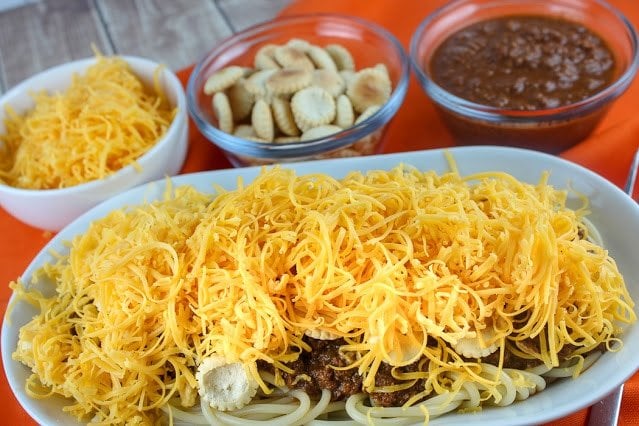 Copycat Cincinnati Chili
Cincinnati Chili is one of the most interesting dishes you'll ever taste! It's not like any chili you've ever had – with cinnamon, cocoa powder and tons of other spice – it's served on spaghetti with a whole lotta cheese! I love it!
Instructions
Crumble raw ( do not brown ) hamburger into water, add all ingredients.

3.5 cups water,

1 lb lean ground beef

Add all remaining ingredients.

1 tsp cinnamon,

1 tsp cocoa powder,

1/2 tsp cumin,

1 onion,

1/2 tsp onion powder,

1/2 tsp Worcestershire sauce,

1 tsp minced garlic,

3 tsp chili powder,

1/2 tsp black pepper,

1/4 tsp red pepper flakes,

1 tsp salt,

3/4 tsp allspice,

3 oz tomato paste,

1 1/2 tsp apple cider vinegar,

1/2 tsp liquid smoke,

2 bay leaves

Simmer for 2 hours, stirring and mashing with potato masher every 30 min.

For a three-way, serve over spaghetti and top with shredded mild cheddar cheese.

For a four-way, add drained kidney beans or diced onions – for a five-way add both!

Also can be served over hot dogs and buns for a Cincinnati Coney!
Nutrition
Serving:
0.5
cup
Calories:
120
kcal
Carbohydrates:
5.1
g
Protein:
15.8
g
Fat:
4.1
g
Saturated Fat:
1.8
g
Cholesterol:
43
mg
Sodium:
429
mg
Potassium:
365
mg
Fiber:
1.5
g
Sugar:
2.1
g
Calcium:
28
mg
Iron:
2
mg