My favorite fast-food breakfast sandwich has always been the Hardee's Loaded Omelet Biscuit. I've loved it for years – but the problem is – there's no Hardee's near me!!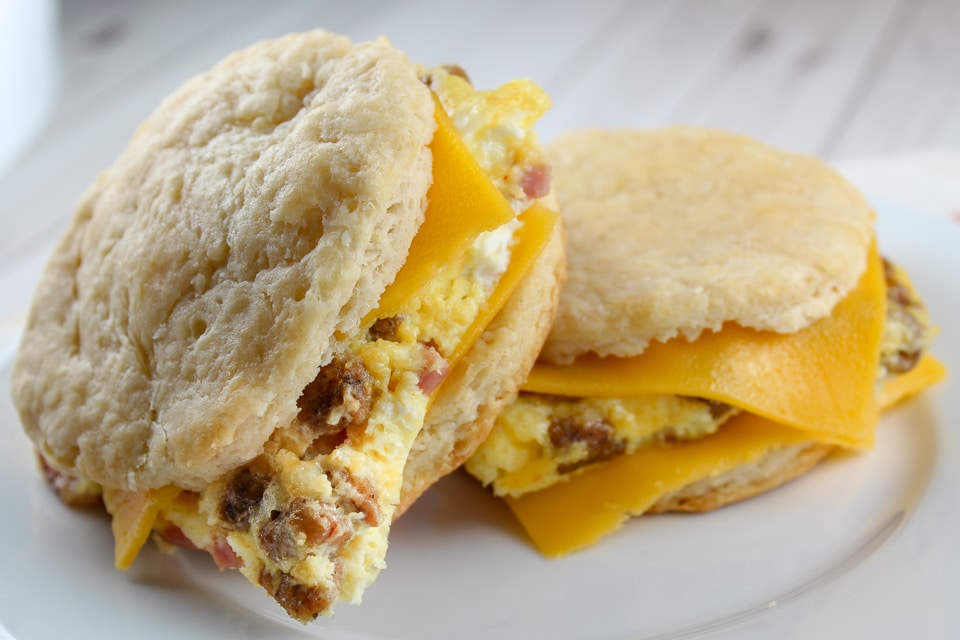 So I made my own!! I even went all out and made my own biscuits! This was a delicious breakfast and was so filling – I skipped lunch! You'll never need to do the drive thru again!
What's in the Hardee's Loaded Omelet?
The Hardee's Loaded Omelet Biscuit has sausage, ham, bacon and cheddar cheese folded into an omelet and then sandwiched in one of the delicious Hardee's Biscuits along with a slice of American cheese.
I made my biscuits from the Ruby Slipper recipe. The full biscuit recipe makes 6-8 biscuits so I just made half to have 3-4 biscuits. You could also use canned refrigerator biscuits.
How to copy Hardees Biscuit's? How do you make the Hardee's Loaded Omelet Biscuit?
The Ruby Slipper biscuit recipe was super simple – so I used that. I added a little melted, salted butter on top of the biscuits once they came out of the oven.
For the "omelet" – rather than make a traditional omelet – I used my baked scrambled eggs recipe and just added the meats & cheese to it! I like doing this because then the eggs are in a square and easy to cut and put on top of the biscuit. I used a 4×8 pan – which is about the size of a loaf pan – to make eggs for 2 biscuits.
After those are done – you just assemble your copycat Hardee's Loaded Omelet biscuit!
What are other great copycat breakfast recipes?
– Taco Bell Breakfast Crunchwrap
– IHOP Oreo Pancakes
– Sunliner Diner Corned Beef Hash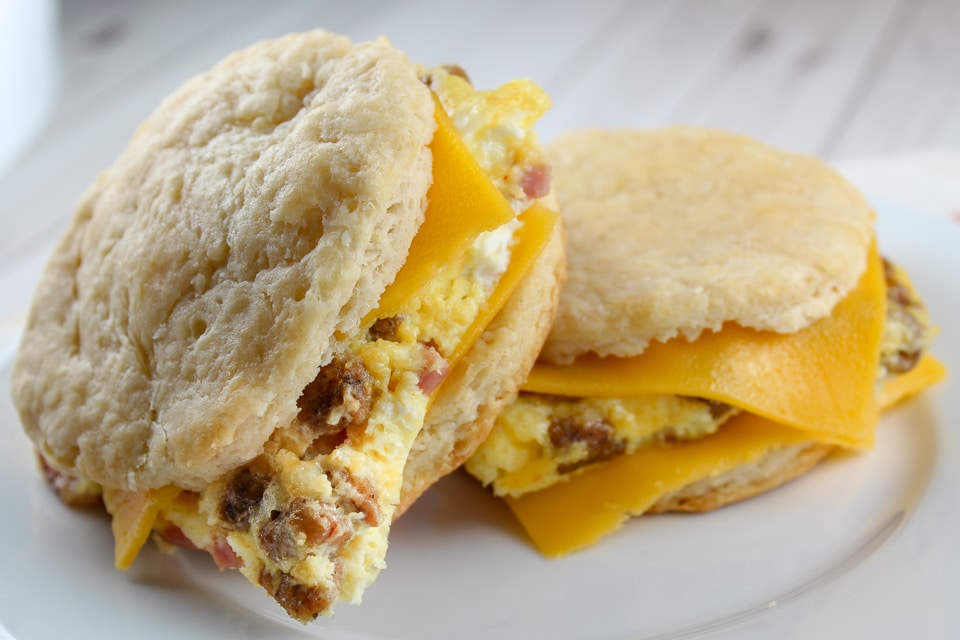 Copycat Hardee's Loaded Omelet Biscuit
prep time: 30 M
cook time: 15 M
total time: 45 M
Hardee's Loaded Omelet Biscuit has ALWAYS been my absolute favorite fast food breakfast sandwich! But there just aren't very many Hardee's around any more – so I made my own copycat version and it was DELICIOUS! #hardees #copycat #loadedomelet
ingredients:
3 eggs
1/4 cup diced ham
1/4 cup sausage crumbles
2 slices cooked bacon, diced
1/4 cup cheddar cheese, shredded
2 tbsp butter
salt
1/2 Ruby Slipper buttermilk biscuit recipe(makes 3-4 biscuits) – or you can use canned biscuits
2 slices of American cheese
instructions:
How to cook Copycat Hardee's Loaded Omelet Biscuit
Make 1/2 Ruby Slipper Buttermilk biscuits recipe
Melt 2 Tbsp butter
Once biscuits are out of the oven, baste top of biscuit with melted butter (save rest of melted butter for eggs)
Keep oven at 350 from biscuit recipe
Spray baking dish (approx 4×8)
Pour remaining melted butter in baking dish
While oven is pre-heating, cook bacon and dice (a little underdone)
When you remove bacon from pan, add sausage and ham to pan and saute for 2 min
Put diced bacon, ham & sausage in a bowl
Scramble eggs in a bowl add 1/4 tsp salt
When oven is preheated, add eggs to preheated dish
Bake for 6 minutes
Add meat and cheese to eggs and stir
Bake for 6 minutes more
Remove from oven
Split 2 biscuits and add a slice (or two) of American cheese to each biscuit
Slice omelet into two pieces and top each biscuit with half of omelet
NOTES:
– If you make 1/2 my biscuit recipe – you'll have a biscuit or two leftover – but they're so delicious – they won't last long!
– You can also use canned biscuits if you want to take a shortcut – the homemade though are really easy and only take 5 minutes to put together!
– I used precooked sausage and diced ham to save time. you could also use precooked bacon
– To make this for 4 people – just double the recipe and bake the eggs in an 8×8 pan
Recommended Products:
Self Rising Flour
4×8 baking pan
Silicone Basting Brush