I've been looking for a simple baked apples recipe – I love enjoying them at the first sign of fall – especially with a big dollop of whipped cream on top!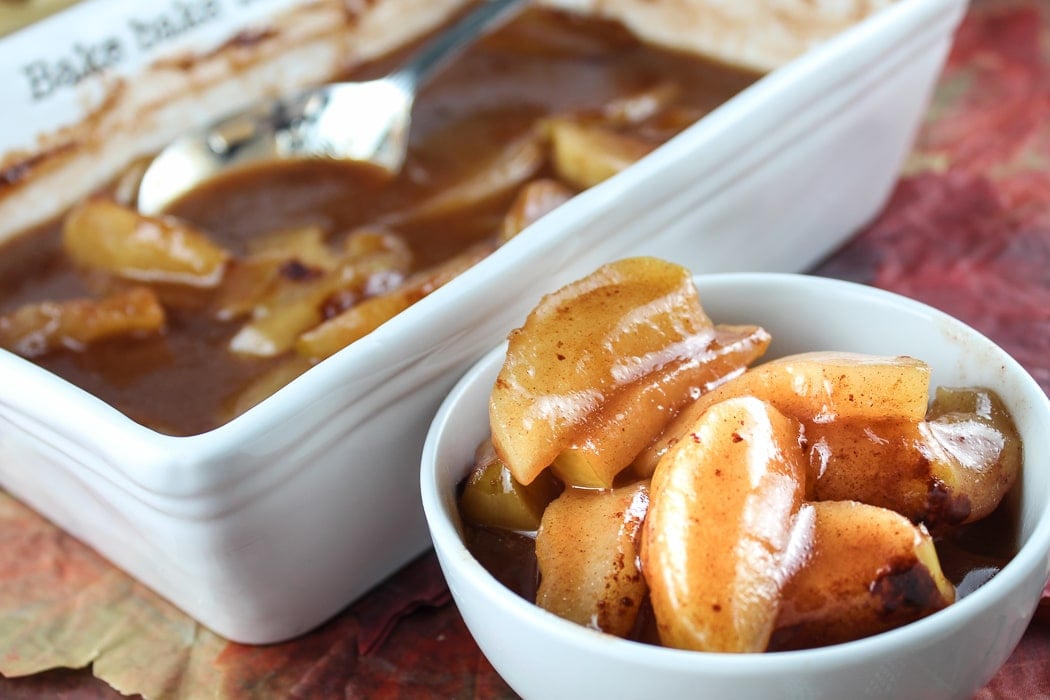 My favorite Baked Cinnamon Apples are the ones at HoneyBaked Ham! They bake granny smith apples with cinnamon and sugar along with an easy sauce and they are delicious! So I set out to make them at home!
How do you make Baked Cinnamon Apples
They are so easy!!! You just peel and slice up 4 Granny Smith apples and put them in a baking dish. Mix together cornstarch, water and butter to make a slurry and pour that over the apples. Then top with loads of brown sugar and cinnamon! Then you bake them and they get magically delicious!
Speaking of baking dishes – I got a cute set of baking dishes and this fun spoon at Bunches of Bows in Fort Thomas KY. They have the cutest holiday gift ideas – this was a set by Mud Pie. They're really cute!
My Baked Cinnamon Apples are quickly and easily made in the oven and taste just like the ones I got at HoneyBaked Ham! I can't wait for you to try them. It's a super easy dessert that the whole family will love!


If you're looking for other holiday desserts – you have to try these other favorites of mine:


– Mom's Secret Ingredient Pumpkin Pie
– 10 Minute Pumpkin Tiramisu
– Crustless Apple Pie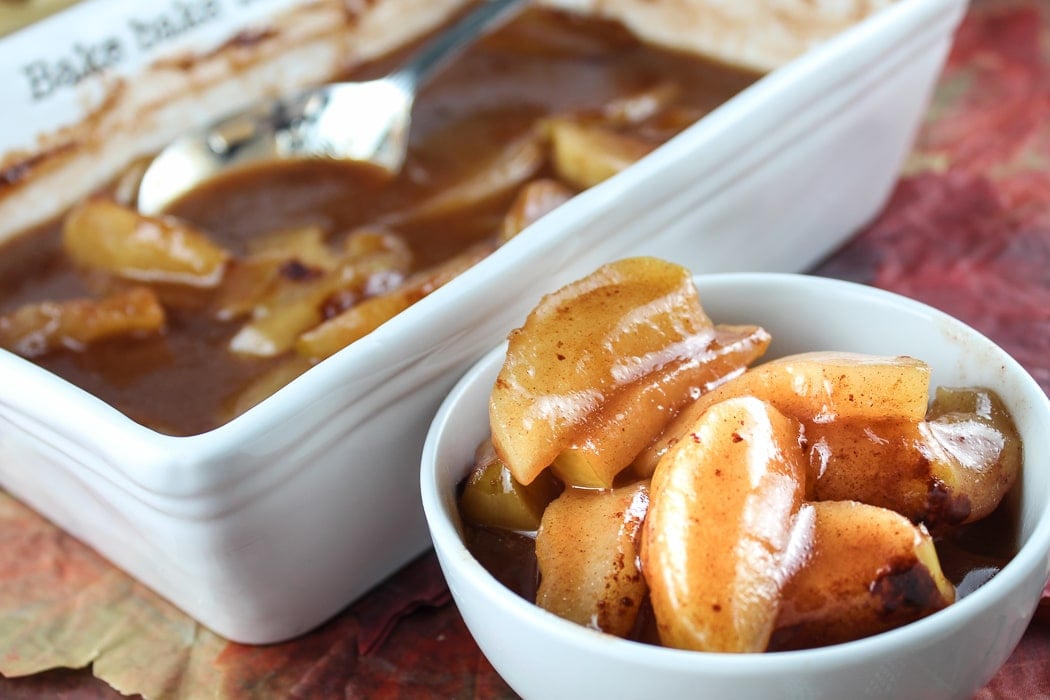 Copycat Honey Baked Ham Baked Cinnamon Apples
prep time: 15 M
cook time: 40 M
total time: 55 M
Honey Baked Ham is one of my favorite holiday dinner stops – and those Baked Cinnamon Apples are my absolute must-have. But guess what? They're so easy to make it's ridiculous!! I'll never buy store-bought ones again – these are so cheap and simple – it's goofy! Top with a little whipped cream and you've got a delicious dessert anytime of year!
ingredients:
4 Granny Smith Apples
2/3 cup water
1 Tablespoon cornstarch
2 Tablespoons butter, melted
1/2 cup brown sugar
1 teaspoon Saigon cinnamon
instructions:
How to cook Copycat Honey Baked Ham Cinnamon Baked Apples
Preheat oven to 350 degrees
Peel and core the apples. Cut each one into slices and arrange the slices in a small baking dish
In a small bowl, combine the water with the cornstarch and melted butter and stir until the dry ingredients are dissolved and not lumpy
Pour the butter mixture over the apple slices
Crumble brown sugar over the apples and sprinkle top with cinnamon
Cover the dish with foil, and bake for 40 minutes.
Stir the apples after 20 minutes.
NOTES:
– Saigon cinnamon is tasty and has a high concentration of essential oils! You can always use regular cinnamon as well.
Recommended Products:
Mud Pie Baker
Saigon Cinnamon
Dessert Bowls
Did you make this recipe?
Tag
@foodhussy
on instagram and hashtag it #foodhussyrecipe