I've been going to Olive Garden for at least 25 years – it has always been a favorite! My go-to order is either the salad or the pasta fagioli to start and then Chicken Scampi for my entree – always Chicken Scampi!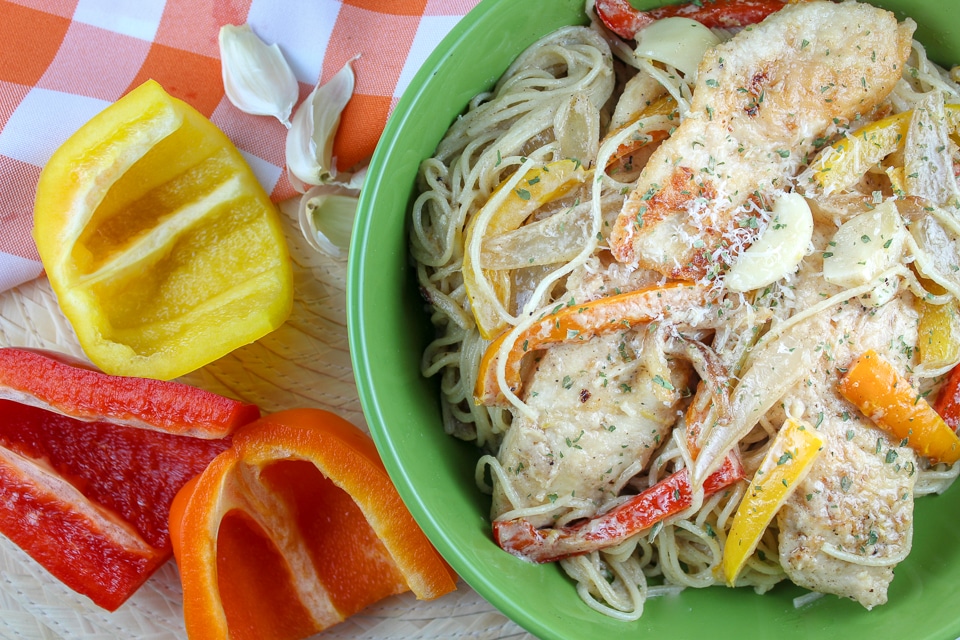 Chicken Scampi has always been my favorite – this copycat recipe is simple too! The chicken is lightly breaded and it's a dish full of onions and peppers all on top of angel hair pasta and a delicate white wine with cream sauce. It's comfort in a bowl! I love it!
Can you make Chicken Scampi without wine?
What I love about this Chicken Scampi recipe is the garlic white wine sauce from Olive Garden. It's very light and I'm not a wine drinker – so I actually bought a four-pack of those mini-bottles of wine and used one.


You can make this without wine though – just substitute chicken broth – it still tastes delicious!
How do you make Olive Garden Chicken Scampi at home?
Olive Garden Chicken Scampi isn't a difficult recipe – there are a few steps to it. While you're making the dish – boil your pasta – it only needs a couple of minutes since it's angel hair.
Then, saute your chicken – then your peppers and onions – and lastly make the sauce. It's fairly easy – but delicate – it's butter, garlic, wine, lemon and cheese – all my favorites!
This is definitely my favorite Olive Garden dish and I'll continue to order it – but I'll have it a lot more often now that I can make it at home!
Other Delicious Olive Garden Copycat Recipes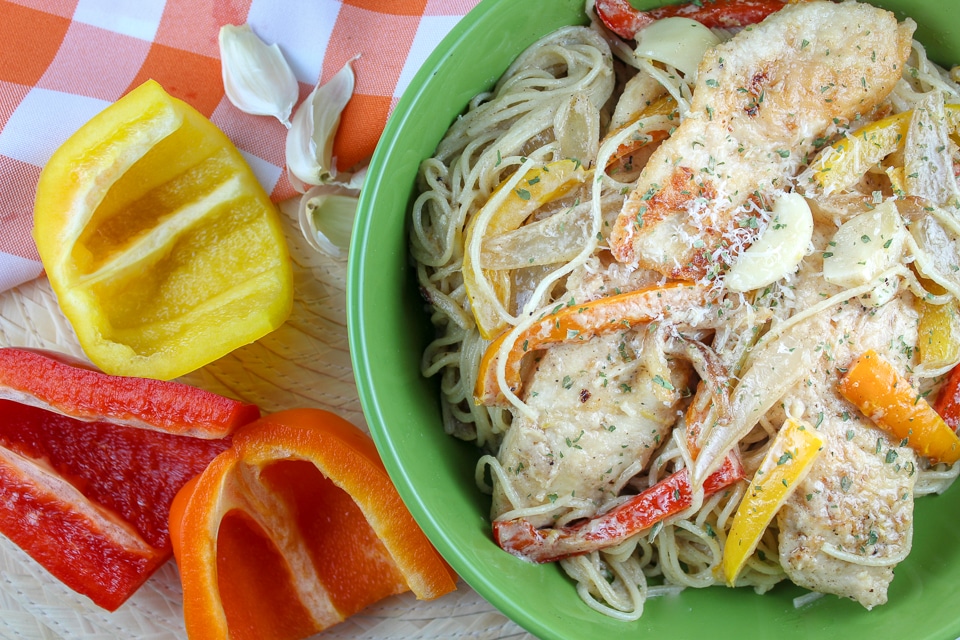 Copycat Olive Garden Chicken Scampi Recipe
prep time: 10 M
cook time: 20 M
total time: 30 M
I've been going to Olive Garden for 30 years! Their Chicken Scampi has always been my go-to order – and now I can make it at home! The chicken is lightly breaded and sauteed – and then it's filled with tri-color peppers, lots of garlic and a little bit of cream – all on top of light angel hair pasta! I'm drooling just thinking about it!
ingredients:
6 THIN cut chicken tenders
1 cup flour
salt and pepper
2 tbsp olive oil
4 tbsp butter
6 cloves garlic
1/2 orange, 1/2 yellow, 1/2 red bell pepper, sliced
1/2 medium onion, sliced
1/2 small lemon, juice & zest
1 cup heavy cream
1 mini-bottle Sutter Home white wine (187 ml – approx 3/4 cup)
1/4 cup chicken broth
3/4 cup shredded parmesan
12 oz. angel hair
instructions:
How to cook Copycat Olive Garden Chicken Scampi
Boil pasta until al dente (2-3 minutes)
Place flour in a shallow dish and season with 1 Tbsp Salt and 1 Tbsp pepper and stir
Dredge chicken in flour.
Heat 2 tbsp olive oil in large skillet.
Place chicken in skillet and cook over medium high heat for 2-4 minutes. Flip and cook for 2-4 more minutes. Remove to a plate.
Add 4 tbsp butter to skillet and scrape put the brown bits from the chicken.
Add peppers and onions. Season with salt and pepper. Saute for about 5 minutes. Remove to a plate.
Add cream, wine, broth, garlic cloves, lemon zest & juice. Bring to a simmer.
As it simmers and reduces – add cheese – grate right into pan a few tablespoons at a time and whisk into sauce.
Cook down to about 1/2 the volume and whisk in remainder of cheese. Taste it – see how you like it!
Add chicken, veggies and pasta tossing to coat well. Season with salt and parsley