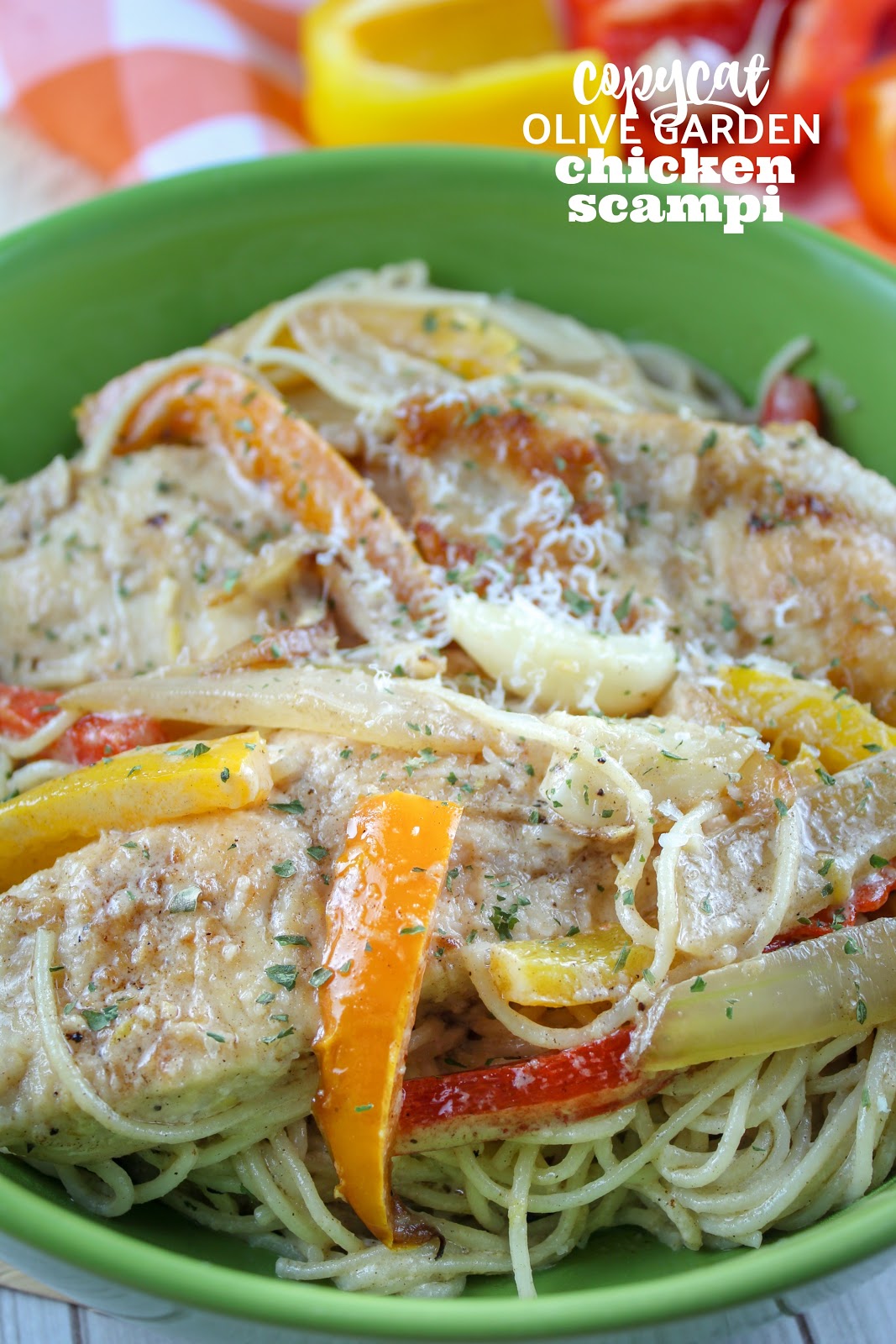 I've been going to Olive Garden for at least 25 years and this Olive Garden Chicken Scampi has always been a favorite! My go-to order is either the salad or the pasta fagioli to start and then Chicken Scampi for my entree – always Chicken Scampi!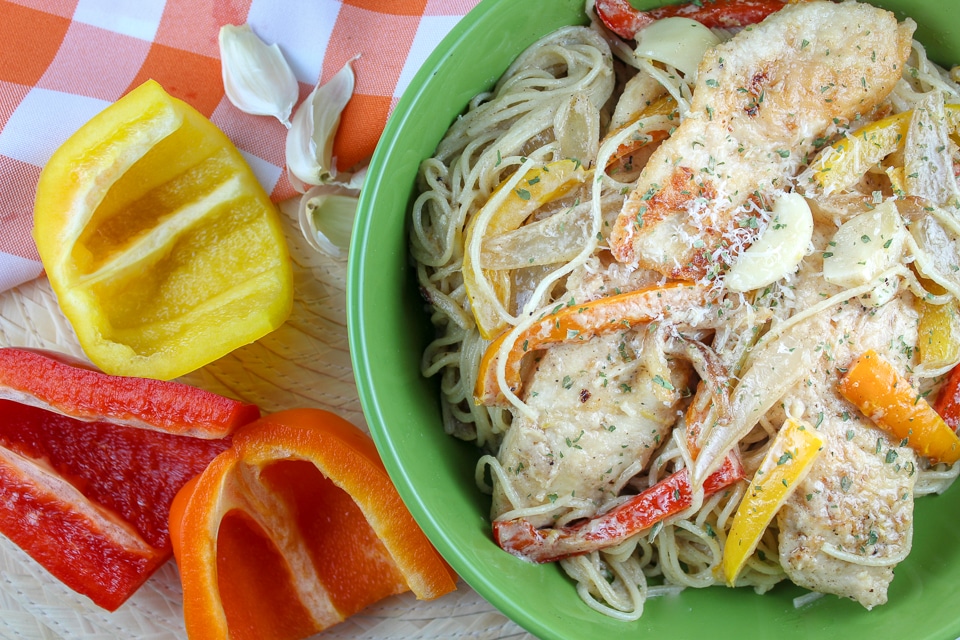 This copycat Olive Garden chicken scampi recipe is simple too! The juicy chicken is lightly breaded and it's a dish full of red onions, bell peppers and garlic – all on top of angel hair pasta and a delicate creamy garlic white sauce. It's comfort in a bowl! I love it!
Ingredients for Chicken Scampi
6 THIN cut boneless, skinless chicken tenderloins
1 cup all purpose flour
salt and black pepper
2 tbsp olive oil
4 tbsp butter
6 cloves garlic
2 tbsp Italian seasoning blend
1/2 orange, 1/2 yellow, 1/2 red bell pepper, sliced – you can also use green peppers if you like – I just like the others better
1/2 medium red onion, sliced
1/2 small lemon, juice & zest
1 cup heavy whipping cream
1 mini-bottle Sutter Home white wine (187 ml – approx 3/4 cup)
1/4 cup chicken broth
3/4 cup shredded parmesan cheese
12 oz. angel hair
OPTIONAL: if you want a little spice, sprinkle in red pepper flakes
Can you make Scampi sauce without wine?
One of my favorite things about this chicken scampi pasta is the creamy sauce! It's much lighter than an alfredo sauce. Also – I'm not a wine drinker – so I actually bought a four-pack of those mini-bottles of wine and used one for this white wine sauce. You can use pinot grigio or sauvignon blanc – any light white wine will do. But yes – if you want to make this without wine just substitute chicken broth – it still tastes delicious!
How do you make Olive Garden Chicken Scampi at home?
Olive Garden's Chicken Scampi is definitely a very popular dish from Olive Garden and I'll continue to order it – but I'll have this pasta dish a lot more often now that I can make it at home! Here's how to make this delicious creamy wine sauce has so much flavor and lots of veggies & garlic!
Boil pasta until al dente (2-3 minutes)
Cut peppers and onion and separate head of garlic into individual cloves
If chicken tenders aren't thin, lay them between pieces of parchment paper and pound them to an even thickness (1/4-1/2″)
Place flour in a shallow dish and season with 1 Tbsp Salt and 1 Tbsp pepper and stir
Dredge chicken breast in flour (discard excess flour)
Heat 2 tablespoons of olive oil in large skillet.
Place chicken in hot skillet and cook over medium-high heat for 2-4 minutes. Flip and cook for 2-4 more minutes. Remove to a plate.
The best way is to just loosely cover with aluminum foil
Add 4 tablespoons butter to skillet and scrape up the browned bits from the bottom of the pan (all the flavor!).
Add peppers and onions. Season with salt and pepper. Saute peppers for about 5 minutes. Add to plate with chicken.
Add cream, wine, broth, garlic cloves, lemon zest & juice. Bring to a simmer and lower to medium heat.
As it simmers and reduces – add cheese – grate right into pan a few tablespoons at a time and whisk into sauce.
Cook down to about 1/2 the volume and whisk in remainder of cheese. Taste it – see how you like it!
Add chicken, veggies and pasta tossing to coat well. Garnish with coarse sea salt and fresh parsley
How do you store and reheat leftovers?
The pasta dish makes enough for 2-3 people. I make it for myself all the time and always have leftovers. If you do to – store in an airtight container and refrigerate up to a week – or freeze up to three months. Reheat in the microwave for 2-3 minutes.
Other Delicious Olive Garden Copycat Recipes
This family favorite isn't the only delicious Olive Garden Recipe I have – here's a few more favorites:
More yummy chicken & pasta recipes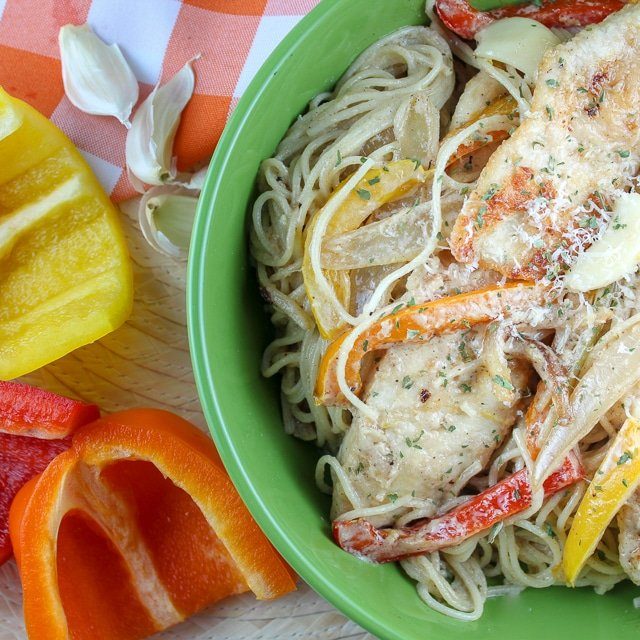 Copycat Olive Garden Chicken Scampi
I've been going to Olive Garden for at least 25 years and this Olive Garden Chicken Scampi has always been a favorite!
Ingredients
6

thin cut boneless skinless chicken tenders

1

cup

all purpose flour

salt & pepper

2

tbsp

olive oil

4

tbsp

butter

6

cloves

garlic

1.5

bell peppers, mix of colors

sliced

1/2

red onion

sliced

1/2

lemon

juice & zest

1

cup

heavy cream

1

mini bottle

Sutter Home white wine

1/4

cup

chicken broth

3/4

cup

shredded Parmesan cheese

12

oz

angel hair pasta
Instructions
Boil pasta until al dente (2-3 minutes)

Cut peppers and onion and separate head of garlic into individual cloves

6 cloves garlic,

1.5 bell peppers, mix of colors,

1/2 red onion

If chicken tenders aren't thin, lay them between pieces of parchment paper and pound them to an even thickness (1/4-1/2")

6 thin cut boneless skinless chicken tenders

Place flour in a shallow dish and season with 1 Tbsp Salt and 1 Tbsp pepper and stir

1 cup all purpose flour,

salt & pepper

Heat 2 tbsp olive oil in large skillet.

Place chicken in skillet and cook over medium high heat for 2-4 minutes. Flip and cook for 2-4 more minutes. Remove to a plate.

Add 4 tbsp butter to skillet and scrape put the brown bits from the chicken.

Add peppers and onions. Season with salt and pepper. Saute for about 5 minutes. Remove to a plate.

Add cream, wine, broth, garlic cloves, lemon zest & juice. Bring to a simmer.

1/2 lemon,

1 cup heavy cream,

1 mini bottle Sutter Home white wine,

1/4 cup chicken broth

As it simmers and reduces – add cheese – grate right into pan a few tablespoons at a time and whisk into sauce.

3/4 cup shredded Parmesan cheese

Cook down to about 1/2 the volume and whisk in remainder of cheese. Taste it – see how you like it!

Add chicken, veggies and pasta tossing to coat well. Season with salt and parsley
Notes
**We are not dietitians and recommend you seek a nutritionist for exact nutritional information. The information in the nutrition box are calculated through a program and there is room for error. If you need an accurate count, I recommend running the ingredients through your favorite nutrition calculator.**
Nutrition
Serving:
1.5
cup pasta
Calories:
1182
kcal
Carbohydrates:
66.2
g
Protein:
66.2
g
Fat:
72.3
g
Saturated Fat:
37.3
g
Cholesterol:
323
mg
Sodium:
806
mg
Potassium:
376
mg
Fiber:
4.4
g
Sugar:
7.4
g
Calcium:
477
mg
Iron:
5
mg