I never thought I liked grits…until I had these grits. There's a really nice restaurant here in the Cincinnati area called Otto's and they have a Shrimp and Grits recipe that I just had to share with you!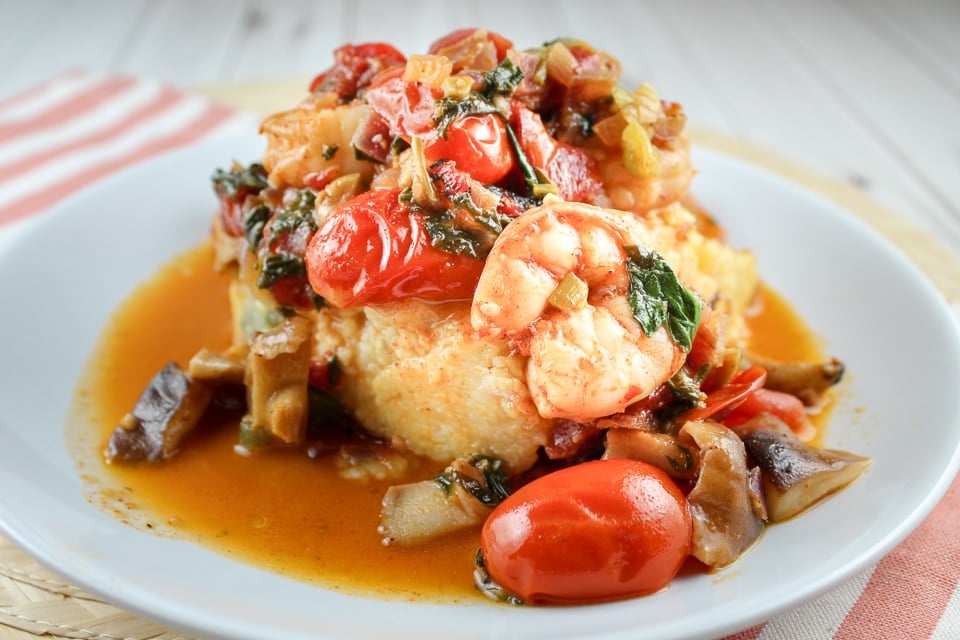 The thing I love about these grits is that they're full of cheese and bacon! But if you're looking for a healthy shrimp and grits recipe – you could easily leave that out and it's still going to taste AMAZING! I promise – it's THAT GOOD!
My friends Ron & Randy invited me over for dinner and Randy shared this recipe with me. Otto's published it in a Kentucky cookbook and Randy was kind enough to share it with me!
How to Make Shrimp and Grits
These shrimp and grits are really easy to make but there are a few steps. First you make the grits – which are SO easy! It's basically water and grits in a saucepan! Then you refrigerate them so they set up like a "cake". When you're ready for dinner – you make the shrimp and tomatoes to go on top. That shrimp topping only takes 15 minutes to make – it's crazy how easy it was! You'll saute shrimp, tomatoes, mushrooms and some other goodies and pour over your grit cakes!
This shrimp and grits recipe does have bacon but if you want to make shrimp and grits with no bacon or no cheese – this recipe is good enough you could just leave them out! The shrimp & tomato topping is so flavorful – you will still love it! Also – leaving out the bacon and cheese would make this a pretty healthy recipe!
Can you freeze shrimp and grits?
You can easily cut this recipe in half and make shrimp and grits for two. I would just make the grits in mini loaf pans so it would set up. I actually made the whole grits cake recipe and froze the 2 leftover grit cakes. I would not freeze the shrimp topping. I just made half the shrimp topping and split it into dinner two nights!



What to Serve with Shrimp and Grits?
Normally I would say to make vegetables to serve with shrimp and grits but this recipe is full of vegetables that you don't need to add anything to it!


If you are not a fan of tomatoes and mushrooms, you could easily swap out other vegetables to this shrimp and grits recipe such as zucchini, yellow/orange peppers or broccoli. I do like the tomatoes because they're juicy.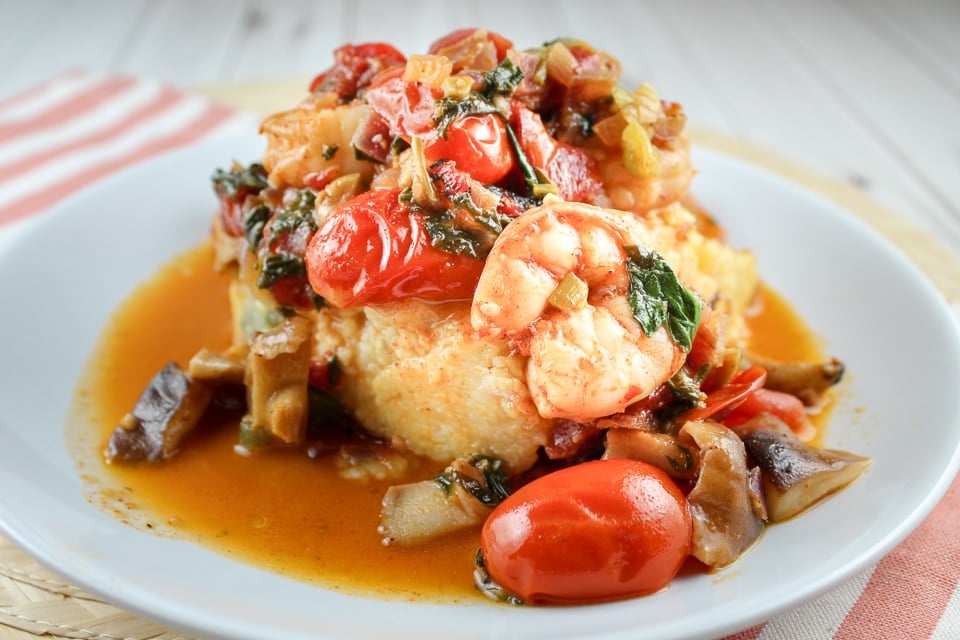 Copycat Otto's Shrimp & Grits
prep time: 4 hour
cook time: 15 M
total time: 4 H & 15 M
This Shrimp & Grits recipe is a favorite around Cincinnati and it will be a favorite in your house too! The grits are filled with cheese and bacon and then topped with sauteed shrimp and tomatoes. It's decadent and delicious! Best of all – it's easy!!! #shrimpandgrits #copycat
ingredients:
Grits Cake
3 1/2 cups water
2 tbsp butter
1 1/2 tsp salt
1/4 tsp pepper
1 cup plus 2 Tbsp yellow grits
1/2 cup shredded cheddar cheese
1/3 cup blue cheese crumbles
1/4 cup chopped cooked bacon (3 slices)
1/4 cup chopped green onion (2 onions)
1/4 cup flour
1/4 cup vegetable oil
Shrimp & Tomatoes
1 1/2 tbsp olive oil
3 Tbsp chopped red onion
3 tbsp chopped yellow onion
1 cup sliced shiitake mushrooms
3 tbsp chopped roasted red pepper
1 cup cherry tomatoes, halved
16 large shrimp, peeled & deveined
1 Tbsp capers
1 1/2 tbsp blackening seasoning
1 1/2 tbsp minced garlic
2 cups dry white wine
1 cup thinly sliced spinach leaves
3 tbsp diced green onion
4 tbsp butter, cut into slices
1/4 tsp salt
1/4 tsp pepper
instructions:
How to cook Copycat Otto's Shrimp & Grits
Grits Cake
grease 9x9x3pan
in saucepan combine the water, butter, salt and pepper bring to a boil
gradually stir in the grits and continue to stir until all the water is absorbed and the grits become thick but are still smooth, about 5 min
add the cheeses, bacon and green onion
stir until thoroughly mixed
while hot pour the grits into the prepared pan
refrigerate to cool and allow the grits to set up (at least a few hours)
Shrimp & Tomatoes
in a large skillet, heat olive oil over high heat
add red onion, yellow onion and mushrooms
allow to caramelize slightly, about 5 min
add the red pepper, tomatoes, shrimp, capers and blackening seasoning.
stir to coat and keep the skillet moving around
once the shrimp is seared on both sides, add the garlic and saute for 10 seconds
stir in the wine to deglaze
allow wine to reduce for about 3 min until slight thickened
remove from heat
stir in spinach, green onion and butter
stir until butter is melted and sauce appears glossy
add salt & pepper to taste
Assembly
just before serving, cut the grits into four squares
coat both sides of each cake in flour
preheat the veg oil in a non-stick skillet over medium high heat
pan fry the grits cake until golden brown and hot – about 3 min per side
place one grits cake in a shallow bowl and cover with the shrimp sauce
NOTES:
– You can easily cut this in half and make it for two
– You could even put the grits cake into muffin tins or mini loaf pans
– I'm not much of a wine drinker, so I bought a 4-pack of mini-bottles of white wine and use those for cooking
– Always buy raw shrimp! I take the tails off before cooking.
– Be sure to use a non-stick skillet for heating grit cakes
– Don't have capers? Dice up a few green olives!
Recommended Products:
Pioneer Woman Square Baking Dish
Non Stick Skillet
Saucepan