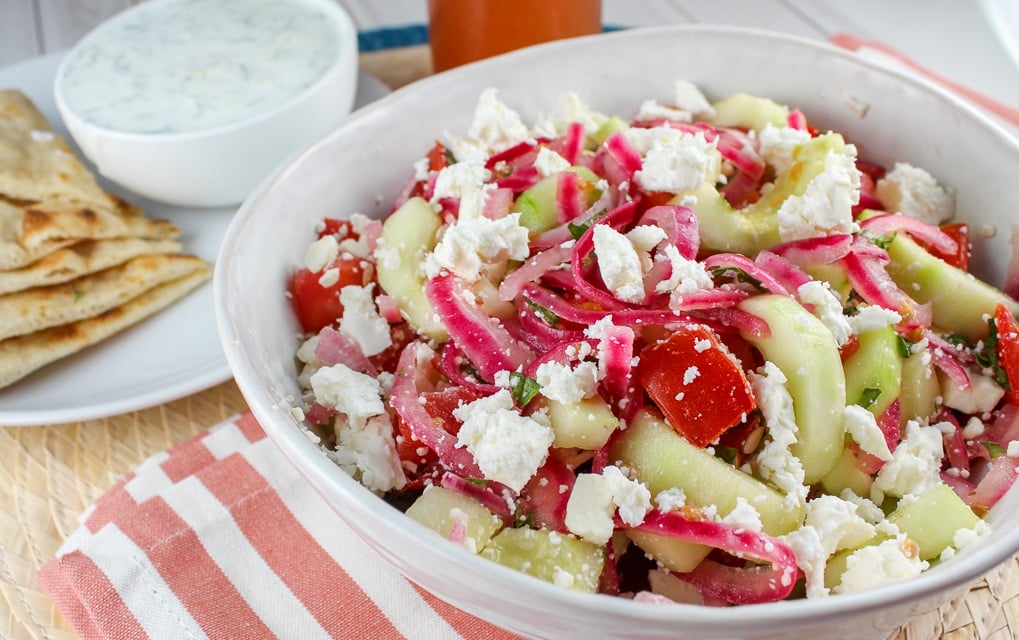 One of the dishes that captured the attention of my growling stomach was their Tomato-Cucumber salad. It's so refreshing and full of zing and feta – plus pickled red onions!


They sell it by the PINT in the restaurants and you can order it online. But I came home and made my own – just to tide you over!



What's in Cucumber Tomato Salad?
Uh – cucumber and tomatoes…hahaha! Besides the obvious – this Greek cucumber tomato salad has an easy marinade for the pickled onions. Then you just add the onions, basil, feta and salt. You will love this delicious side dish!
Can Greek Tomato Cucumber Salad be made ahead?
Partially – you can marinate the red onions ahead of time and that's really the only time-consuming part of this healthy cucumber tomato salad recipe. I would wait until you're going to serve the salad to put the rest of it together. Cucumbers and tomatoes are watery vegetables so you don't want this to be together too much in advance otherwise it will get watery and mushy. But it goes together really quickly after that!



How long will Tomato Cucumber Feta salad keep?
Greek Cucumber Tomato Salad leftovers will keep for 3-4 days in the refrigerator. What I like to do is drain the leftovers before refrigerating. There is extra dressing – so you can always re-dress it before you serve the leftovers. Add the feta sparingly as well – you can always add more before serving.
What to eat at Taziki's Mediterranean Cafe?
My friends at Taziki invited myself and a friend in to try all the food when they opened near Kenwood Mall here in Cincinnati. As you can see above – we tried EVERYTHING! Here are my favorites:
– Chicken Kebobs – I don't normally get chicken but this was so juicy – my #1 pick!
– Whipped Feta – it's a summer special not to be missed!
– Baklava – their baklava is literally the BEST I've ever had!
I love Taziki's because their food is all made fresh in the restaurant – no microwaves here! The vegetables are so fresh and everything has FLAVOR! It's also very healthy!
What to serve with this Healthy Tomato-Cucumber Salad?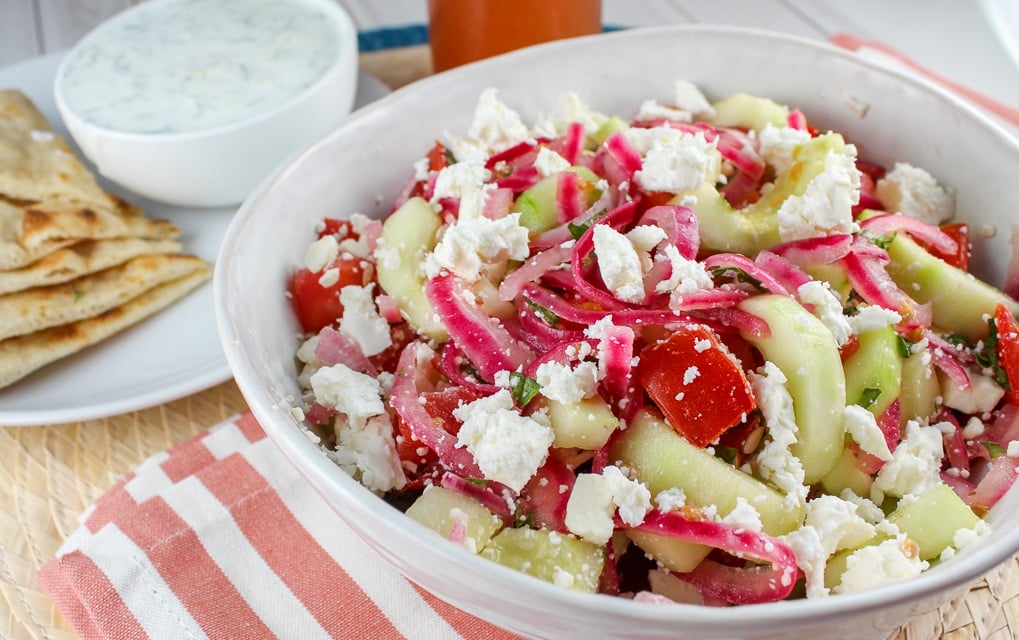 Copycat Taziki's Tomato-Cucumber Salad
prep time:
cook time:
total time:
Taziki's Mediterranean Cafe has the best food! It's light, healthy and delicious. I tried their Tomato-Cucumber Salad and LOVED it so much I had to make it at home! It's tangy and has so much flavor! It's a perfect side dish for any meal. #sidedish #salad #greekfood
ingredients:
Pickle Marinade
1 cup white wine vinegar
1 cup water
1 Tbsp sugar
1 Tbsp salt
1 Tbsp Greek seasoning
Salad
1/2 cup olive oil
1/2 large red onion
1 1/2 cucumbers (approx 6″ long)
1 large tomato, diced
7-8 fresh basil leaves, thinly sliced
1 Tbsp coarse sea salt
4 oz feta, crumbled
instructions:
How to cook Copycat Taziki's Tomato-Cucumber Salad
Night before
Mix together marinade
Thinly slice red onion and separate all rings
Place red onion in marinade and cover
Refrigerate at least overnight
Next Day
Peel cucumbers and slice lengthwise
Scoop out center of cucumbers (seeds/juice)
Slice hollowed out cucumber into 1/2″ thick slices
Place cucumber in large bowl
Scoop onions out of marinade – do NOT discard!
Add onions, tomatoes, basil and salt to bowl with cucumbers
Toss vegetables together lightly
Add olive oil to marinade mixture and whisk to make vinaigrette dressing
Pour 1/4 cup of dressing over salad right before serving and toss
Top with crumbled feta
NOTES:
– I like to use chunk feta and break it up myself so I can have larger chunks of feta
– You can keep extra dressing and use on salads for up to 2 weeks
– Do not add dressing to vegetables until you are ready to serve
– Be sure to scoop out the insides of the cucumbers so your salad is not too watery
– Marinate the onions for up to 2 days – the longer, the better! The more pickled they will be!
Recommended Products:
Measuring Cup Bowl with Lid
Whisk Set
Fun Patterned Serving Bowl