I'm a big fan of pumpkin bread – especially this time of year – I'll make anything if it's got pumpkin in it. But I still want a little extra punch of sweetness – so I added chocolate!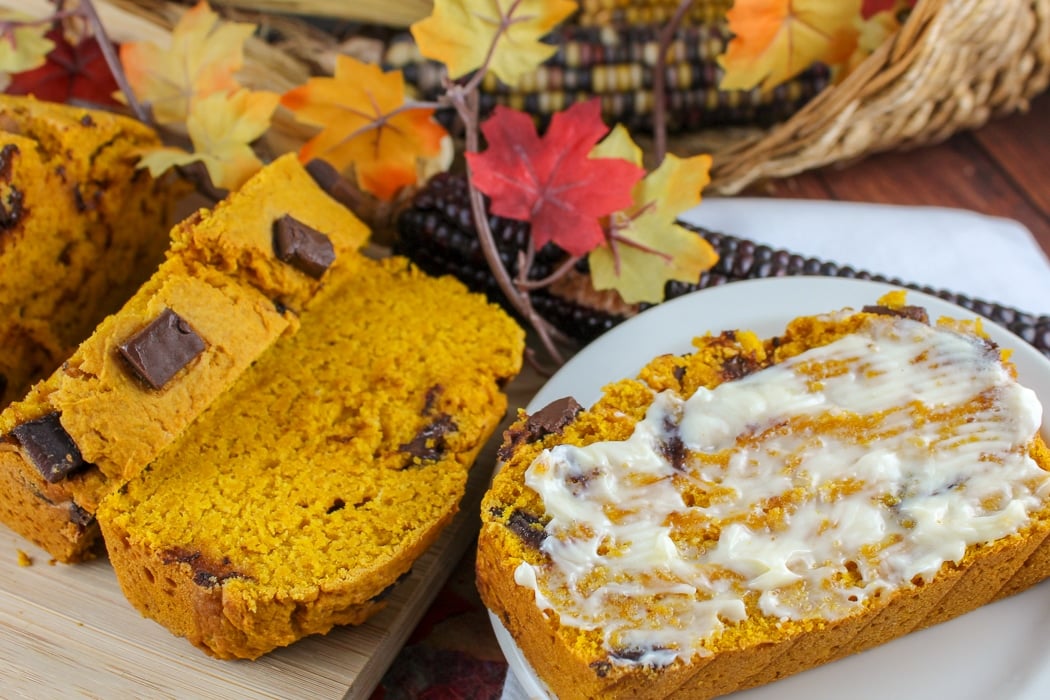 I love this recipe because it's egg-free and super simple – one can of pumpkin, one little dish of applesauce and you're good!
How do you make pumpkin bread without eggs?
It is so easy – I used my egg-free banana bread recipe and just swapped out the bananas for a can of pumpkin! You definitely need the applesauce with this version – otherwise it was just too dry to even stir/pour into the pan.
This egg free pumpkin bread had such a beautiful orange pumpkin color and a great flavor. I went with chocolate chunks this time just for something fun and different. They were so chocolatey! But you could easily use chips or swap in chopped pecans if you'd rather have crunch than sweet. 🙂



My favorite thing to do is slice this egg free, milk free pumpkin chocolate chip bread up into slices – then I put two pieces in small freezer bags and put all those bags into a larger bag and pop them in the freezer. Then on a Sunday morning when I'm sleepy and want something warm and cozy – I grab a bag and heat up some pumpkin chocolate chip bread!
Be sure to check out some of my other egg-free dessert recipes – you'll love them!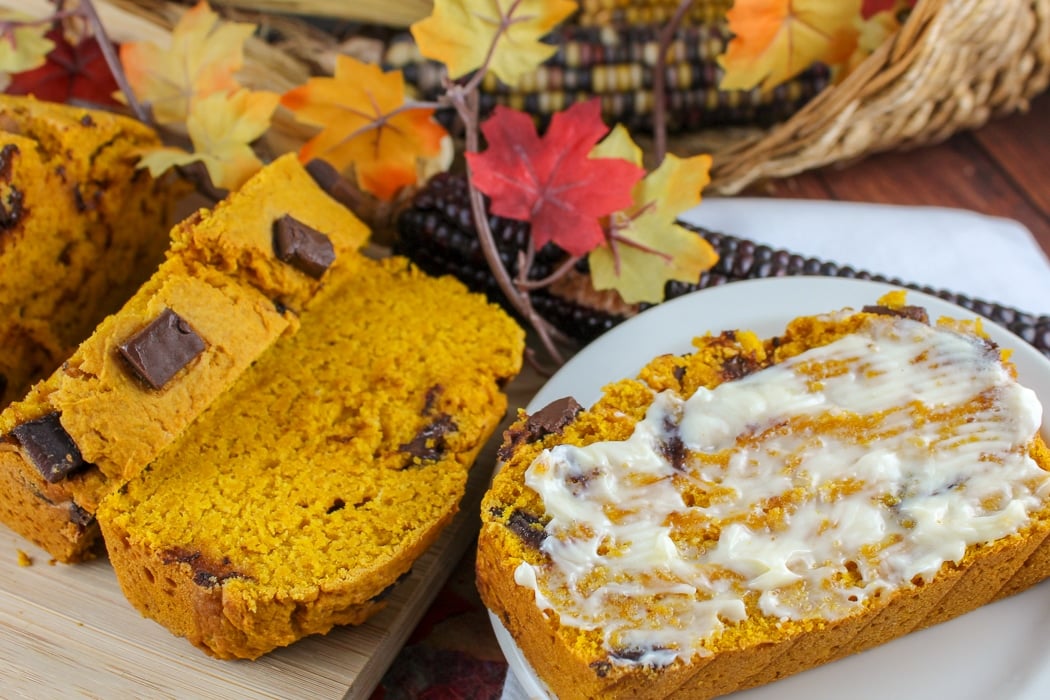 Egg Free Chocolate Chip Pumpkin Bread
prep time: 15 M
cook time: 50 M
total time: 65 M
I love pumpkin bread – especially in the fall. I amped up this pumpkin bread by adding chocolate chunks and making it egg-free! This pumpkin bread isn't overly sweet but it's very moist. I make this every fall!
ingredients:
6 Tbsp softened butter
2/3 cup sugar
2 cups all purpose flour
1 tsp baking powder
1/2 tsp baking soda
pinch salt
1 15 oz can pumpkin
1/2 cup applesauce
1/2 cup chocolate chunks
instructions:
How to cook Egg Free Chocolate Chip Pumpkin Bread
Preheat oven to 350.
Cream together butter & sugar with a mixer.
In a separate bowl, combine flour, baking soda, baking powder & salt.
Add dry mixture to the butter/sugar mixture and combine.
Add the pumpkin and chocolate chips and mix together.
Depending on how dry the mixture is – add applesauce gradually. It should mix together completely and be thick and not quite pourable. You may not need all of the applesauce.
Pour into a greased loaf pan and bake for 50 minutes. Check doneness with a toothpick and be sure it comes out clean.
Remove from pan and cool on a rack – be gentle with your delicious loaf of eggless chocolate chip pumpkin bread!
Recommended Products:
KitchenAid Mixer
Loaf Pan
Spatula Set
Did you make this recipe?
Tag
@foodhussy
on instagram and hashtag it #foodhussyrecipe