This post is sponsored by Liberty Center. All opinions are my own.
On any given night you can do wine tasting, catch a flick at the CineBistro (and eat in your seat while watching the movie!), laugh your behind off at the Funny Bone or check out the latest bar from 4EG! That's right – this weekend –
The Roosevelt Room
opens! They're having a big grand opening this weekend – so if you like being at THE PLACE TO BE – you should probably head up there Saturday night.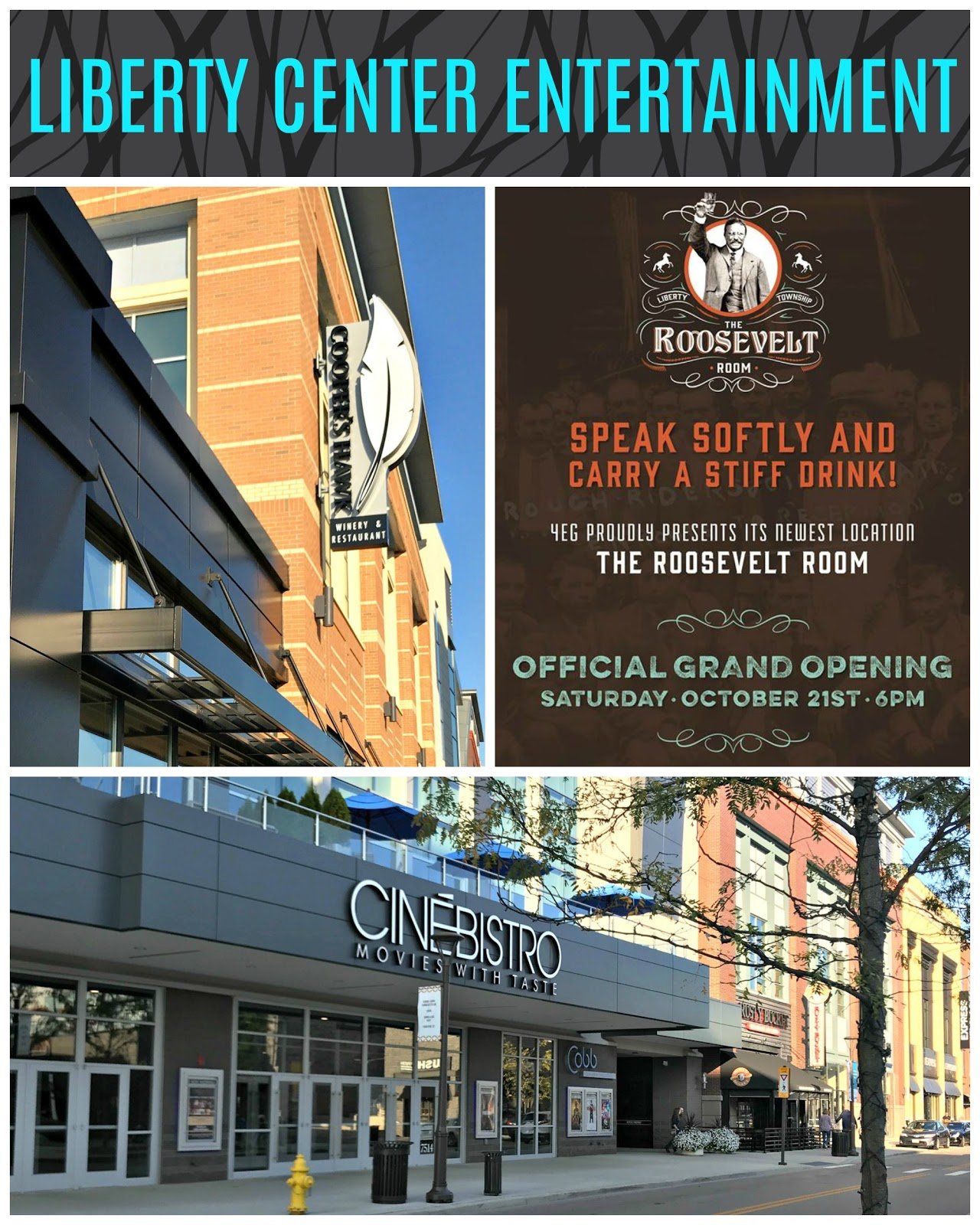 A former coworker and I decided to check out
Coopers Hawk Winery & Restaurant
. We'd heard a lot about it but hadn't had the chance to go – so it seemed like a nice time to get together and catch up!
They offer wine tasting in the Tasting Room right when you walk in any time – there's a huge selection and all the wines are Cooper's Hawk. They also have a retail area where you can pick up gifts for the wine lovers in your circle.
We headed out to the patio for our dinner and it was a gorgeous night – perfect for sitting outside! Dawn got the Classic Sangria ($7.25) while I got all fancy with a Flight of Sparkling Wines – with a Blanc de Blanc, Rose, Almond and Raspberry ($13.99). The Rose was my favorite – it's very Lisa Vanderpump of me! I didn't care for the Almond – you have to really love almonds for that one! Neither of us are big drinkers so it was a splurge for us.
We were torn on the appetizers but chose the Mexican Drunken Shrimp – bacon wrapped with a tequila lime butter sauce and fresh guacamole ($13.99). The shrimp were perfectly cooked but underseasoned – the guac made up for it though and we gobbled these guys up.
They also brought out bread – which is always a favorite – but then when it's pretzel bread – with soft butter – this girl was happy as a clam.
Dawn got the Filet Mignon ($33.99) – I told her dinner was on me so she should splurge and get something she wouldn't usually get – so she did! She really enjoyed it and it was very tender.
I went for the Red Wine Braised Short Ribs ($25.99) with mustard sauce and oven-roasted vegetables. I'm normally a huge fan of short ribs – they're always so tender and if they're on a menu – I can't pass them up. These were not very good. They were tough and you HAD to use a steak knife to cut them – which isn't the way I've ever had short ribs before. 🙁
Instead of the traditional Mary's Potatoes side, I went for the Classic Mac & Cheese and this was perfect! The cheese sauce was piping hot, super cheesy and very creamy. Definitely no leftovers of this coming home with me!
Finally, we decided to split dessert and neither of us were in a mood for anything heavy so we chose the Salted Caramel Creme Brulee ($7.99). This was pretty good – it was light and not too heavy on the caramel flavor. A nice end to a wonderful evening with a good friend.
We'll definitely be heading back to Liberty Center for more shopping and dining. I still need to check out the CineBistro! I just need to wait for Daddy's Home 2 to come out – I'll watch anything with John Cena! 😉
– Healthy Eating
– Summer Fun
– Farmers Market
– Back to School Shopping