I love having easy side dishes that go with pretty much any meal and these Dijon Parmesan Potatoes are perfect any day of the week! It's such a quick and easy idea and they taste so much better than just plain potatoes!!!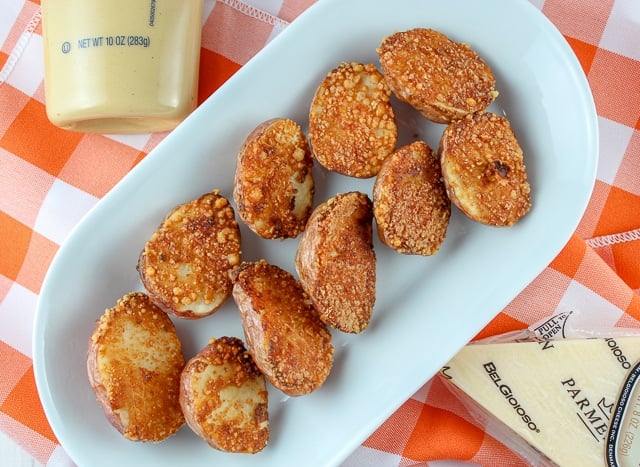 I came across something similar when I tried a meal from Plated (those meal delivery boxes) and they used fingerling potatoes but I love red potatoes. Really any small little potatoes will do!
I made these little delights in the air fryer because I was cleaning my oven – but you can make them in either. I provided bake time for either.


You just slice your potatoes and dip these little guys in dijon mustard and then grated Parmesan cheese. The outcome is a crispy nugget you'll love! Since they're small – they bake pretty quickly and get really crispy on the outside and soft on the inside. I love the dijon mustard is great too – and really lay it on thick so it bakes into the potato!
Here's what I made for dinner Saturday night! I tried these new Johnsonville Chicken Apple Sausages along with these Home Chef Sous Vide Green Beans I came across at the store. I also did the sausages in the air fryer along with the potatoes (6 minutes on those!)


You can find more ideas in my Air Fryer Recipes section or in my Air Fryer Facebook group!

Yield: 2
Dijon Parmesan Potatoes
This is a perfect side dish for any meal – you can bake it in the oven or the air fryer – and it's so simple! A little mustard, a little cheese and you're good! They're crispy, tangy and cheesy! Yum!
prep time: 5 mins
cook time: 18 mins
total time: 23 mins
ingredients
10-15 baby red potatoes (or golden, fingerling, etc – anything small)
3-4 Tbsp dijon mustard
3-4 Tbsp grated Parmesan cheese
Olive Oil
Salt & Pepper
instructions
Slice potatoes in half
Place mustard and cheese in separate small bowls
Dip cut-side of potato in mustard and be sure it's all covered – lay it on thick!
Dip mustard-side in grated parmesan cheese
Place cut-side down on non-stick cookie sheet
Drizzle a touch of olive oil over potatoes and sprinkle with salt & pepper
Oven Method: Preheat to 425 – roast cut-side down for 15-17 minutes
Air Fryer Method: Turn to 350 – air fry for 12 minutes cut side up, flip to cut side down and go 6 minutes more