We love salmon – it's one of my husband's favorite dinners – and whenever I want to make salmon – it's super easy – I just look in the veggie drawer and whatever is in there – is what we make with it.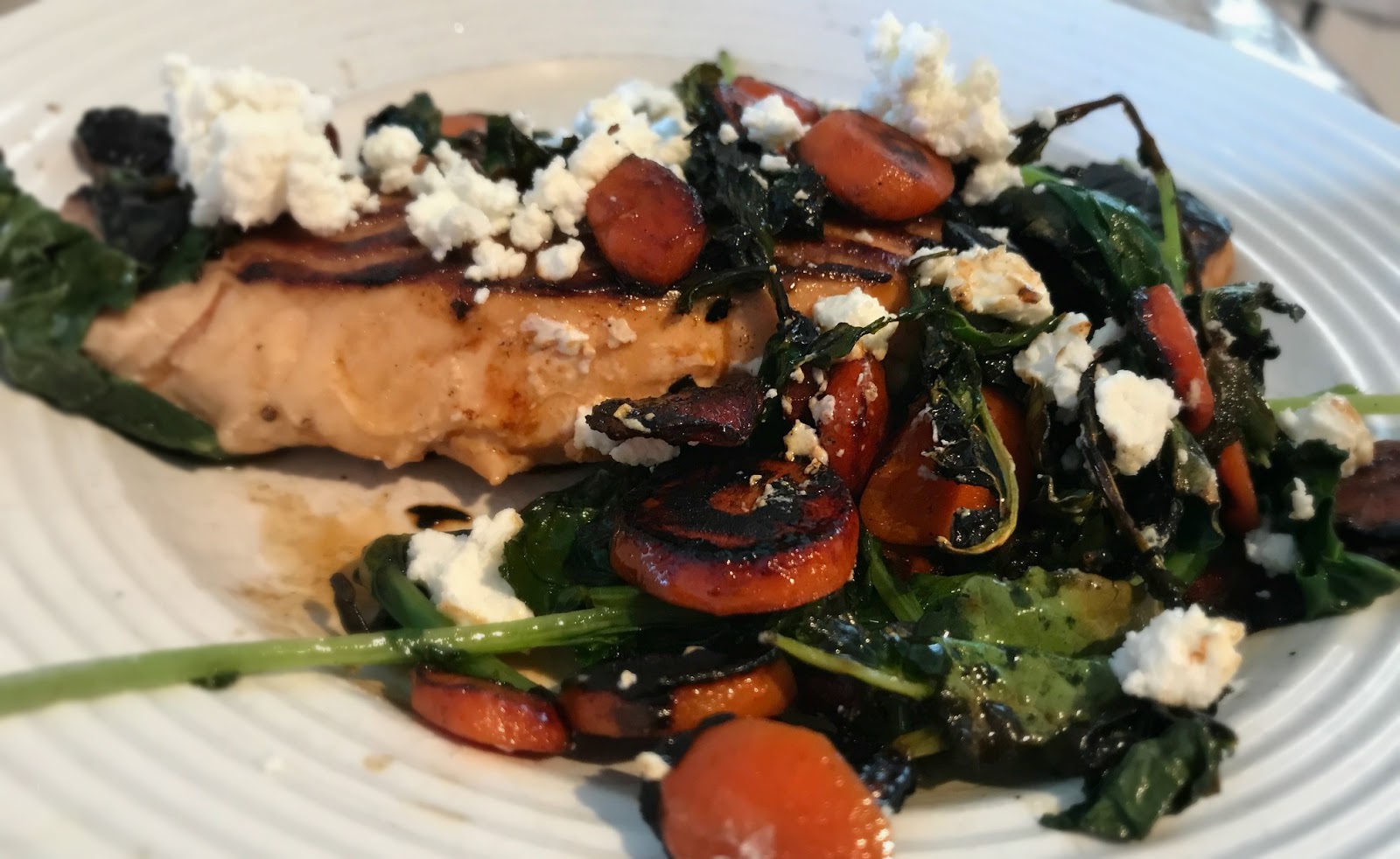 On this night we had carrots and Swiss chard – so that was good for me! I figure lots of veggies and super packed salmon is a start to a good meal.
I first had "burnt carrots" at Metropole downtown and couldn't believe how much I loved them! Since then – I've been making them on my own all the time. It's super easy – you just fry carrots until they get carmelized and a little "burnt". The only way we ever had carrots as a kid was boiled and this way is mind-blowing!!! It's so much more delicious! Even my husband – who doesn't care for veggies most times – admitted he liked them.
This is one of those dinners you can play around with and start with what you have in the fridge – so if you have sweet potatoes instead of carrots – or broccoli instead of Swiss Chard – go with it! Mix and match!
I also like to throw in a bit of acid while at the end of the cooking to give it some zing. You've started with olive oil and seasoning (salt & pepper) – so the acid brings balance to the meal. The easiest way to do this is with balsamic vinegar – just a few splashes adds a LOT of flavor. You can splash some in and you will definitely know it's there.
I had been to a specialty olive oil store and picked up a few varieties and had this Serrano Honey in the cupboard and it seemed like a good match. Honey & salmon? Yes!
And in less than 30 minutes – you've got a healthy veggie filled dinner on the table. Swiss chard is similar to spinach in that you can add a big pile to the pan and it deflates quickly and you wonder where it all went!
Then – once you plate – top it with some goat cheese crumbles. Feta would also be good but very different on this. I love goat cheese because it gets so soft and creamy when you add it to the hot food. Plus the acidity of the vinegar with the creaminess of the cheese is a beautiful balance! Goat cheese and burnt carrots are my favorite! The salmon and Swiss Chard are just to make it healthy!
Grilled Salmon with Burnt Carrots & Goat Cheese
So delicious!
Prep time: 15 minutes
Cook time: 15 minutes
Total time: 30 minutes
Ingredients
.75 lb




salmon, portioned into 2 fillets

4-5




medium sized carrots, peeled and sliced

1/2 bunch




swiss chard, torn




olive oil




salt




pepper

splashes




of your favorite balsamic vinegar (approx 1-2 tsp – I used Serrano Honey)




goat cheese crumbles
Cooking Directions
Heat skillet or grill pan to medium high with 1-2 tablespoons oil
Add sliced carrots
Season with salt & pepper
Fry carrots until slightly burnt and carmelized (approx 5 min) – when you test a carrot it should be fork tender
Season salmon with salt & pepper (and anything else you like)
Add salmon to pan and get nice sear – cook 2-3 minutes
Flip salmon and add chard to pan – cook 2-3 minutes
While chard is reducing (quickly wilts) – season with salt, pepper and balsamic vinegar
Plate salmon, carrots & chard and top with goat cheese crumbles