I'm a peach fanatic! I absolutely love peach season and am always coming up with new ways to use these juicy gems.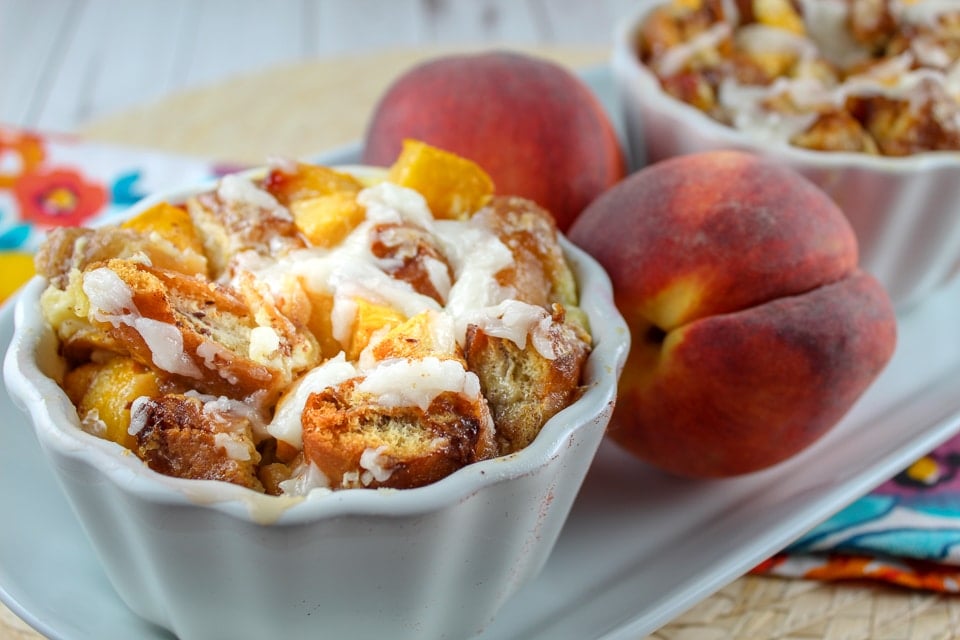 One of my favorite desserts is bread pudding – I have a pretty standard recipe I use – so I thought – lets add some peaches!
How do you make bread pudding?
I like to use day old donuts for my bread pudding. I found a good deal on some cinnamon glazed donuts at Meijer. So then I just dice those up into bite size pieces. I layered the donuts with diced peach and put them in ramekins. After that you mix up what is basically a French Toast batter (eggs, half & half, vanilla, lemon juice, cinnamon). Pour that over the donuts & peaches and bake!



Can you use frozen, fresh or canned peaches in bread pudding?
I recently made a recipe for air fryer grilled peaches and in that recipe – you need to use fresh peaches. But for this recipe and my peach cobbler you can use frozen, fresh or canned peaches. If it's late summer though – always use fresh. ALWAYS!
For this recipe I had a ripe peach and just peeled it then did a fairly small dice – maybe 3/4″ pieces. I layered them with the donut pieces in the ramekins.
What to do with raw peaches?
The first thing I'd say to do with raw peaches is EAT THEM! Your peach is ripe if it's got a little dent when you push on it. You don't want it to mush – but it should have a little squeeze. If not – it's not ripe.


If you've eaten all the fresh peaches you can – then my favorite recipes would be my Air Fryer Grilled Peaches and my Mom's Peach Cobbler. Beyond that – dice them up and put them on ice cream! Enjoy!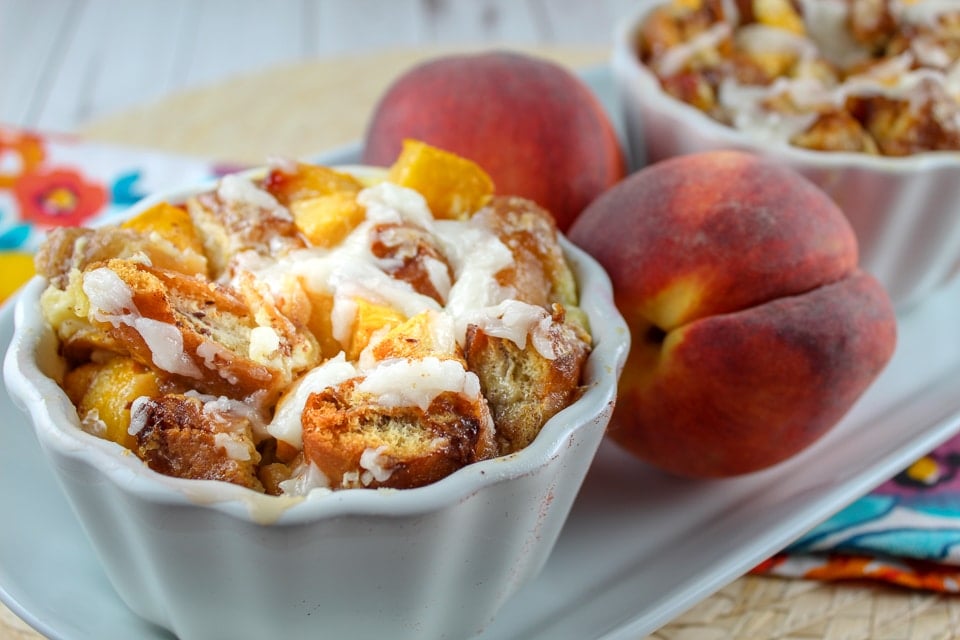 Peach Donut Bread Pudding
prep time: 5 M
cook time: 45 M
total time: 50 M
I love bread pudding!! It's my favorite dessert and it's amazingly easy! With peach season here – you will LOVE this peach bread pudding! It's comfort food with bright, juicy bites of peach with every spoonful! #peach #breadpudding
ingredients:
2 cinnamon glazed donuts, cubed
1 peach, peeled and diced
1/2 cup half and half
1/2 cup heavy cream
1/4 teaspoon vanilla extract
2 eggs
1/4 cup sugar
1/4 tsp cinnamon
1/2 tablespoon lemon juice
Vanilla frosting
instructions:
How to cook Peach Donut Bread Pudding
Preheat oven to 350°F.
Layer cubed donuts and diced peaches together in a bowl. Divide mixture between 2 greased ramekins and set aside.
In a medium bowl, whisk together half and half, heavy cream, vanilla, eggs, sugar, cinnamon and lemon juice.
Pour over donut mixture. Do not pour egg mixture to top! Leave 1/4 inch at top. This mixture will inflate!
Set ramekins on a sheet pan.
Bake for 45 minutes or until a knife inserted comes out clean.
Drizzle vanilla frosting over each bread pudding and enjoy!