I'm not a vegetarian by any way, shape or form – that said – sometimes I like to eat like I am. Plus – I think it's fun to explore new foods and new techniques.
I was recently introduced to Beyond Meat – which is a soy-free, gluten-free beef-free crumble. The crumble comes in two varieties: Beefy & Feisty – I purchased the Feisty.
I decided to try it out on the hubby and see if he would notice that it wasn't beef. This was not going to be easy – he's a meat & potatoes kinda guy. So I decided to create a meat & potatoes casserole just for him!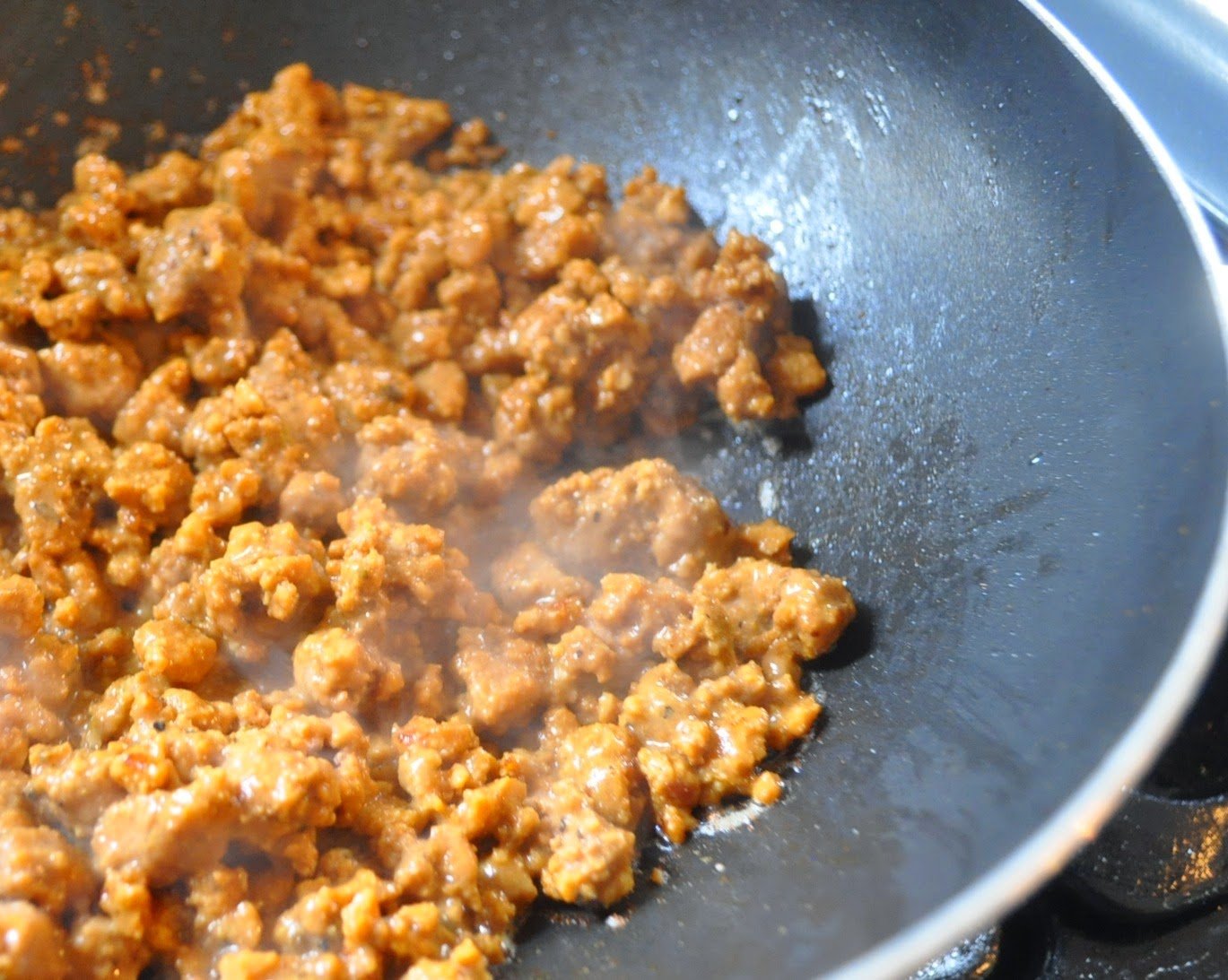 First thing you do is saute the crumbles – I just put a little vegetable oil in my pan and heated it through (from frozen). It cooked up quickly – I tried a bite and yes – I could tell – it has a grain texture – but it wasn't too bad. For hubby though – he wasn't tasting yet!
I love love love mushrooms – so I grabbed a can and threw them in as well – and heated them through.
Now if you're wondering what Beyond Meat is – I've got the answer – but it's more than the ingredients. They wanted to perfectly replace animal protein with plant protein, as well as improve human health, positively impact climate change, conserve natural resources and respect animal welfare.
But with the actual crumbles – firs they took a look at meat. What is meat? It's amino acids, fats, carbs, minerals and water. Beyond Meat take these inputs from plants and then – through cooking techniques – they combine together like animal protein.
Next up – I added ketchup, Worcestershire, salt & pepper – be sure to TASTE as your cooking. You're going to know if it needs something or if you like it as is. I ended up adding a bit of garlic powder as well. The ketchup and Worcestershire almost make a barbecue sauce flavor. Once that is cooked through – then spread it into a glass 8×8 baking dish. (Oven preheated to 375.)
Something else to know is that Beyond Meat is made with 100% Non-GMO Pea Protein with no cholesterol, saturated or trans fat – plus it has 10 grams of protein!
So since Beyond Meat is non-GMO – I decided to check out some non-GMO cheese as well. I found both at Whole Foods ($5.49) – you can
check their store locator
to find out where you can get Beyond Meat in your area. (BTW – the cheese was delicious!!!!)
I mixed the cheese with hashbrowns (from the refrigerated section) and melted butter – then laid them on top of the Beyond Meat mixture.
After 40 minutes in the oven (at 375) – the hashbrowns were getting crispy and the bbq sauce was bubbling! I was looking forward to digging in!
As I yelled for Larry to come up for dinner – I quickly hid the packaging. #hidetheevidence 🙂 I wanted him to try it without knowing…
And? Success! He gobbled it up! I have to admit – it was really good. And knowing that it's not full of trans fats and still has a healthy amount of protein – I liked it even more!
BBQ "Beef" Hashbrown Casserole
Ingredients:
1 package Beyond Meat Feisty Crumbles
2 Tablespoons vegetable oil
1 small can mushrooms, drained
2 Tablespoons ketchup
3 Tablespoons Worcestershire Sauce
1/2 teaspoon salt
1/2 teaspoon garlic powder
1/4 cup butter, melted
1 cup shredded cheddar cheese
1/2 bag shredded hash browns
Instructions:
Preheat oven to 375. Heat oil in a skillet over medium high heat. Add Beyond Meat to the skillet and heat for 3-5 minutes. Add mushrooms and heat for 1-2 minutes. Add ketchup, Worcestershire, salt and garlic powder to Beyond Meat mixture and stir. Heat 2-3 additional minutes.
While mixture is heating, spray 8×8 baking dish with non-stick spray. In a separate bowl, mix together hash browns, cheese and butter. Stir until mixed.
Remove the Beyond Meat mixture from heat and spoon into the bottom of the baking dish. Layer the potato mixture on top. Bake for 30-40 minutes until hash browns begin to brown.