I'm in love with my air fryer – it's the one kitchen appliance that I've bought and used super frequently! I bought some of the "freezer snacks" and they cook up great of course – but I thought – why not make MY OWN?! So I decided to start with mozzarella sticks – cuz duh – cheese!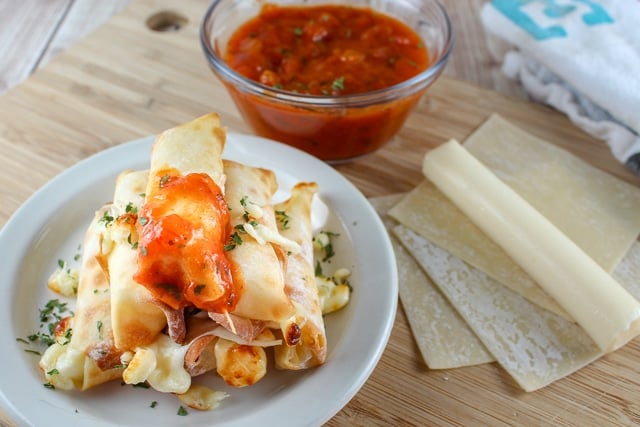 Now you can do Mozzarella sticks in the air fryer two ways – you can bread them or you can use wonton wrappers – that's the route I went. I also added some special flavor that I love too – so you'll have to check it out!
How do you make Mozzarella Sticks in the air fryer
It's really easy – you can either do a breading mixture (eggs and breadcrumbs) or what I did – I used wonton wrappers. These are so easy and take just seconds to put together! Before wrapping them though – I sprinkled garlic salt on them – it added a punch of flavor!
How long do you cook mozzarella sticks in the air fryer?
These air fryer mozzarella sticks with wonton wrappers are also super quick to make! They just need 6 minutes in the air fryer and you flip them half way through.



Do you have other cool air fryer recipes?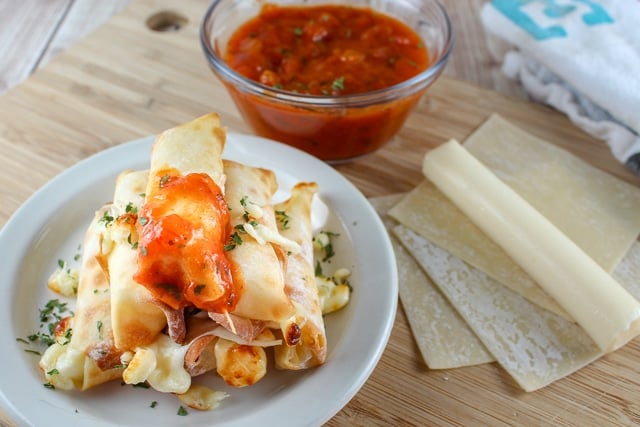 Air Fryer Mozzarella Sticks
prep time: 5 M
cook time: 6 M
total time: 11 M
My air fryer is getting overtime usage – I love it so much. It's great for all those freezer apps – but you can also make your own really easily! I made mozzarella sticks in just a few minutes. And when you make them yourself – you can add as much garlic as you want! 🙂
ingredients:
3 mozzarella string cheese sticks – cut in half
6 wonton wrappers
small bowl water
garlic salt
instructions:
How to cook Air Fryer Mozzarella Sticks
Take one wonton wrapper and lay your half cheese stick on it
Sprinkle cheese stick and wonton with garlic salt
Wrap like a burrito – tucking the sides in
Dab corners of wonton with water to seal
Heat at 350 in air fryer for 6 min – flip halfway through
Recommended Products: