Last week I tried menu planning and picking out some recipes then buying the stuff at the store to make them. It sort of worked and sort of didn't. I got all the stuff but only made 1-2 of the items. Bonus was – I didn't have to grocery shop this week so I saved money!
I get two cooking magazines –
Everyday Food
and
Cooking Light
. They both are so packed full of goodness – I really look forward to getting them every month.
I found one in Everyday Food I had to try – and I already had the flank steak in the freezer for it!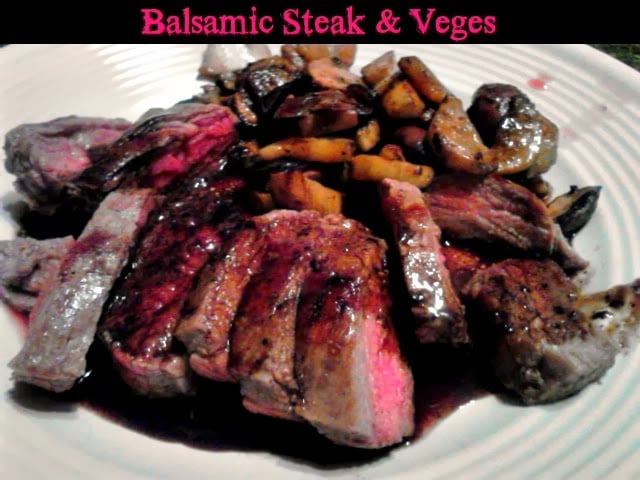 This was DELICIOUS! I never think about using balsamic but when I do – I'm always amazed at how delicious it is. This time, when I saw this recipe, I knew I had to try it. It was super simple to make and delicious! I added in mushrooms because I love them. The best part was that Larry ate not only the steak but the vegetables – and he HATES mushrooms – but I think the sauce was so good – he didn't care! I will definitely be making this one again and again!
Balsamic Steak with Garlic Zucchini
Ingredients
2 tablespoons olive oil, divided
5 cloves garlic, thinly sliced
3 medium zucchini, cut into thin half-moons
Coarse salt and pepper
1 1/2 pounds skirt steak, trimmed and cut into 4 pieces
3/4 cup balsamic vinegar
Directions
In a large skillet, heat 1 tablespoon oil over medium-high. Add garlic and zucchini, season with salt and pepper, and saute until zucchini is tender and browned in spots, about 6 minutes. Transfer to a bowl.

Add remaining tablespoon oil to skillet. Season steak with salt and pepper and cook until browned, 4 to 5 minutes per side. Transfer to a plate and loosely tent with foil.

Discard fat from skillet, then add vinegar, 1/2 teaspoon salt, and 2 teaspoons pepper. Cook, stirring, until reduced by half, about 2 minutes. Slice steak; add any accumulated juices from steak to skillet and stir to combine. Drizzle steak with sauce and serve alongside zucchini.