This post is sponsored by Ale-8-One. All opinions are my own.
The Kentucky Derby is just around the corner and the parties will be a happening! I'm getting ready a little early trying out some recipes to see what I'll be making and this one is a hit!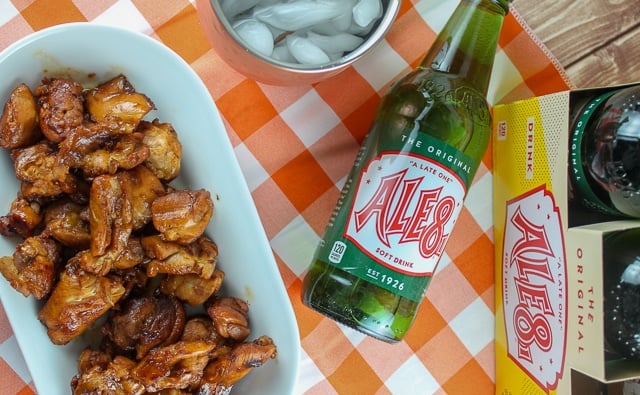 These Citrus Glazed Chicken Bites will be gone in a minute! These are a great appetizer because they're bite-sized and zingy and not messy! They'll be gone before the race is over. 🙂
How to Make a Citrus Glaze for Chicken?
I went for a two-step process in making this Citrus Glaze for the chicken thighs. First I marinated the chicken in orange, lemon, and lime juice along with garlic and olive oil. Then after that – I pan seared the chicken thigh pieces and added Ale-8-One (you say it like "A Late One") Ginger Citrus Soda and Worcestershire Sauce until the liquid is thick and saucy.
Ale-8-One is made in Winchester Kentucky (home to Brittany from Vanderpump Rules!!) and has been family owned since 1902. It's also a delicate combination of Ginger and Citrus – which made it a perfect pairing for this Citrus Glazed Chicken!



Now if we're talking the Kentucky Derby – we have to also think about some Kentucky Bourbon! Ale-8 is a perfect pair for Bourbon with the Jubil-8 cocktail. My friend Josh has a great recipe for it – Bourbon, Ale-8-One, Mint and Simple Syrup – yum! I took a little shortcut with my version and just used a bottled simple syrup – still yummy!
What can I serve with Citrus Glazed Chicken?
– Jarlsberg Dip
– Wedge Salad Dip
– Beef & Cheddar Party Sliders
I loved chicken thighs for these because they're so much juicier and more flavorful than chicken breasts – but you could easily use chicken breast if you prefer – or even a combination of the two!
This will be a great appetizer for your Kentucky Derby party – or even for dinner (serve it with veggies over rice!).
Citrus Glazed Chicken Bites
prep time: 2 hour
cook time: 15 M
total time: 2 H & 15 M
The Kentucky Derby is the biggest event around in May and everybody here in Cincinnati has a party! These Citrus Glazed Chicken Bites are so easy to make and pack a punch of flavor with a citrus and mint marinade and a sweet ginger glaze! #citrusglaze #kentuckyderby #marinatedchicken
ingredients:
1 lb boneless, skinless chicken thighs, 2 inch dice
1 orange – juiced
1 lemon – juiced
2 limes – juiced
1 tsp minced garlic
2 Tbsp olive oil
5-6 mint leaves
3 Tbsp butter
1 bottle Ale-8-One ginger citrus soda
3 Tbsp worcestershire sauce
instructions:
How to cook Citrus Glazed Chicken Bites
In a large gallon-size ziploc bag, add juice from orange, lemon and lime, garlic, olive oil and mint.
Shake marinade in bag and mix thoroughly.
Add diced chicken thighs to the marinade and refrigerate for at least 1 hour (preferably 4 hours)
Over medium-high heat, melt butter
Remove chicken from marinade and add to hot skillet (Discard marinade)
Brown chicken thigh bites on all sides (3-5 minutes)
Add Ale-8-One and Worcestershire sauce to pan
Cook down for 10 min or so until it's a thicker glaze
Remove from heat and plate chicken bites
Pour remaining pan sauce over chicken bites