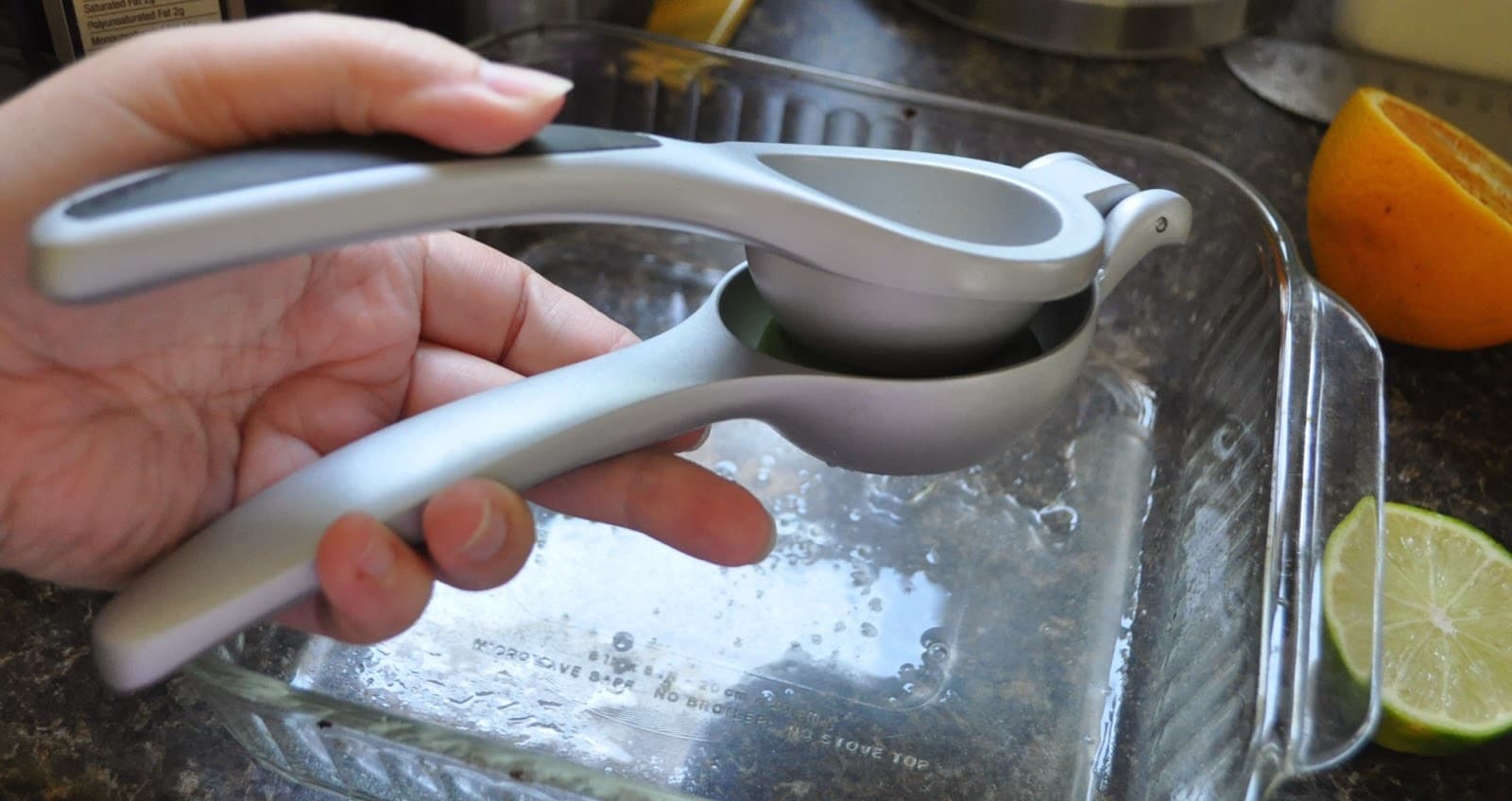 For Christmas I wanted a juicer. I'm simple like that – I have always wanted one. My BFF came through and got me this great OXO Good Grips Citrus Squeezer! I wasn't sure at first which way you put the fruit in – it seems like you'd put it in to match the squeezer shape – but no – I just saw Martha do it and you put it in opposite of that! You put your fruit in flat side down – then the juicer gets all the good stuff out!
What should I make today with my wonderful juicer? Citrus Marinated Flank Steak sounds good!
Whisk the juice and zest from oranges & limes plus olive oil, garlic, chili powder, cumin and salt.
Marinate for a couple of hours…
Then onto the grill pan (or grill) you go! I had to cut mine in half because the flank was long.
Flip once – don't mess with your meat (that's what she said) – then press on it. If it's tender like the inside of your thumb – that's medium rare. (For a visual & more info – click here.)
Take the steak off the heat and let it rest 5-10 minutes and then slice. This was perfectly medium rare (my favorite!)!
Citrus Marinated Flank Steak
Ingredients
The juice & zest of 1 orange
The juice & zest of 2 limes
¼ cup extra virgin olive oil
2 garlic cloves, roughly chopped
1 tablespoon chili powder

1 teaspoon ground cumin

1 teaspoon salt
2 pound flank steak
Instructions
With a small, sharp paring knife score the steak on both sides.
Combine the orange juice, lime juice, olive oil, garlic, chili powder, cumin and salt in the bowl of a food processor or blender; puree until smooth. Place the steak in a large, resealable plastic bag and pour the marinade over it. Press out the air, seal the bag and marinate at room temperature for at least 2 hours.
Prepare the coals on the grill until they are glowing red with a white ash around them. Drain and discard the marinade and place the steak 4 inches over the coals; sear quickly, about 3 to 4 minutes on each side.
Move the steak away from the direct heat, cover the grill and continue to cook until the internal temperature reaches 135 F, about 7 to 10 minutes longer. Remove the steak from the grill and allow to rest for 10 minutes before slicing and serving.
Around The Web
'); script.type = 'text/javascript'; script.src = 'http://widget.crowdignite.com/widgets/31877?v=2&_ci_wid=_CI_widget_'+_CI.counter; script.async = true; ref.parentNode.insertBefore(script, ref); })();