A couple of months ago – I went to
Sweets & Meats BBQ
here in Cincinnati. Oh My My! They started out as a pop-up shop, then a food truck and now a brick & mortar location in Mt Washington. I got to sample the entire menu and it was delightful! I had brisket, pulled pork, greens, slaw and…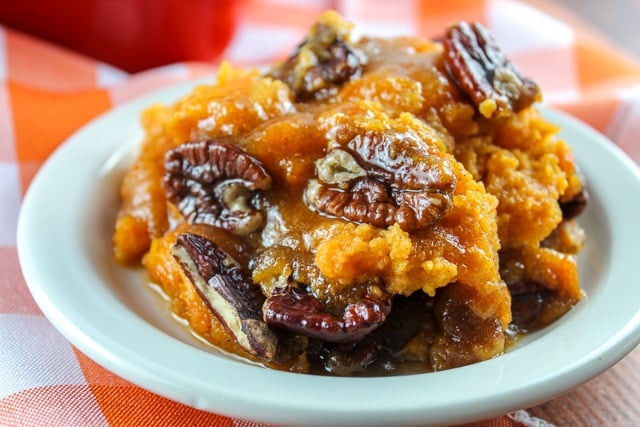 Sweet Potato Casserole!
This stuff was BEYOND – I can't even tell you how amazing it was!!! I knew I had to come home and make it for myself. Kristen was kind enough to give me MOST of the ingredients – but no recipe and she told me there was a secret ingredient she wouldn't share. Off we go to "copycat" land!

I knew this was going to be decadent – I mean the main ingredients are sweet potatoes, butter and brown sugar. Start there and you can't go wrong. This casserole is so light and fluffy – it's not going to make you feel like you ate a lead brick!
I also tried a couple ways of cooking the potatoes – I boiled 2 and microwaved one – both turned out light and fluffy – so you could go either way. This recipe also gave me a chance to break out my KitchenAid Mixer! I bought it at a flea market but had never used it! NOW I HAVE! It was so easy and worked like a charm.
Now THIS is the Sweet Potato Casserole from Sweets & Meats…
And THIS is mine!
IDENTICAL RIGHT???? I mean – I think I nailed this one – even if I do say so myself!!! Not to mention the taste – it was decadent! A lot of recipes call for you to add flour to the topping – but I didn't do that – theirs didn't have a crumbly topping – so I stayed true to that. This recipes used three LARGE sweet potatoes – like THE BIG ONES – and it was great.
I really can't wait for you to try this – and you know – Easter is just around the corner. What better dish could you bring to family dinner?!!! Bring this and my Mom's Pineapple Stuffing and your family will love you forever!!!!
Copycat Sweets & Meats Sweet Potato Casserole
prep time: 30 M
cook time: 35 M
total time: 65 M
I recently tried this sweet potato casserole at Sweets & Meats here in Cincinnati and it was my goal to remake it at home – and I think I got it! It's so delicious and light and fluffy…and full of butter and brown sugar – duh!
ingredients:
Potatoes
3 large sweet potatoes – peeled & diced
⅔ cup sugar
½ cup butter, softened
2 eggs, lightly beaten
1 teaspoon vanilla
1 teaspoon pumpkin pie spice
⅓ cup milk
Topping
⅓ cup butter, melted
1 cup brown sugar
1 cup halved pecans
instructions:
Boil sweet potatoes.
In Beat in sugar, butter, eggs, vanilla, pumpkin pie spice and milk until smooth and creamy.
Put in greased baking dish.
To make topping, combine melted butter and brown sugar together in a small bowl. Stir and mix to combine. Pour over sweet potatoes.
Top with pecans
Bake at 350 for 35 minutes.