Banana bread is one of the easiest dessert/side dishes you can make! My ex-husband was allergic to eggs so I perfected making dishes to fit his allergy and this egg-free banana bread was one of his favorites.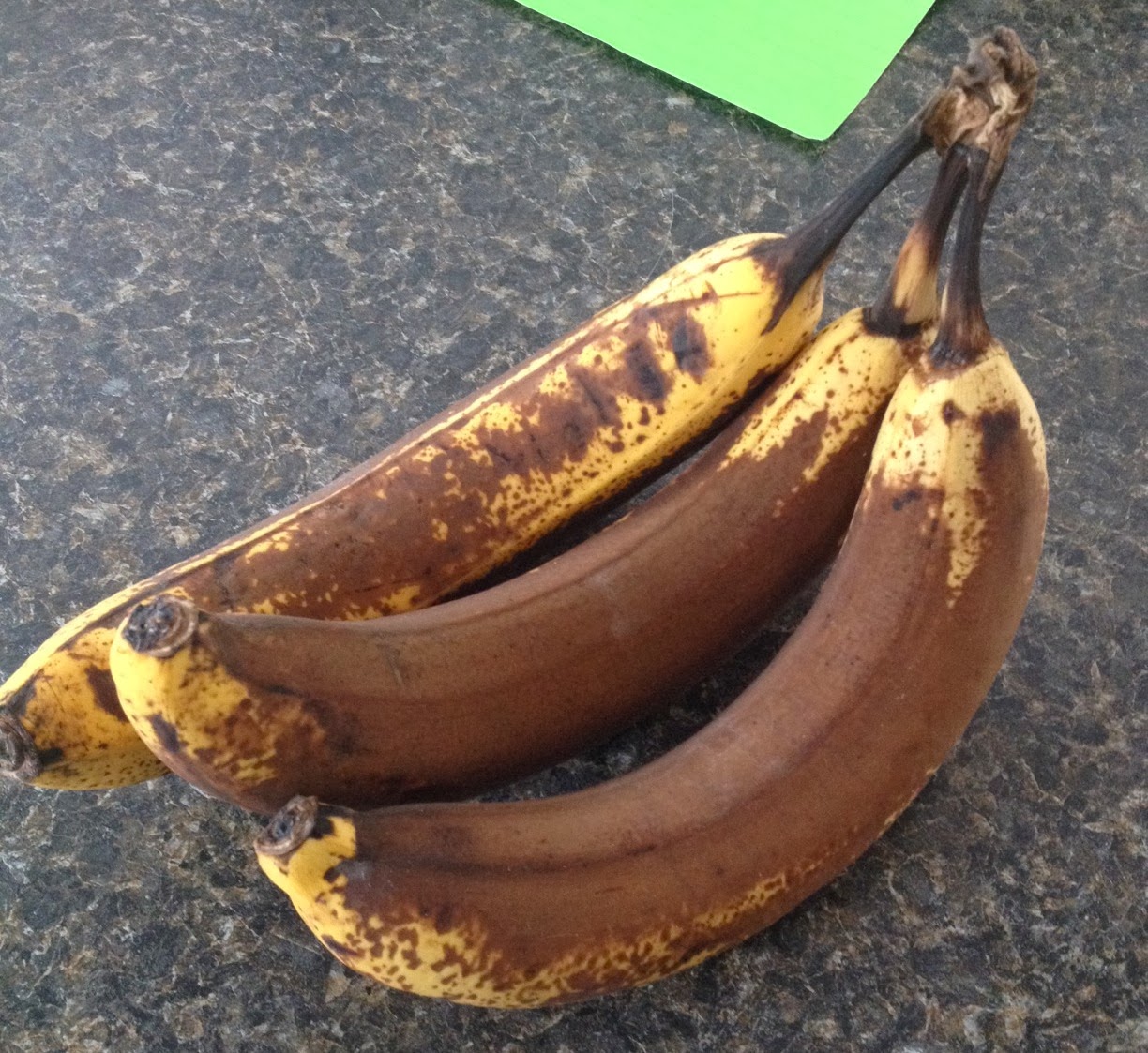 Maybe I should have just put eggs in them…I mean – he's my ex for a reason! hahahahaha
He loved bananas – but every now and then – he wouldn't eat them in time so I would end up with some sad overripe bananas – so banana bread was getting made.
What do you do with old bananas?
Because my ex-husband is allergic to eggs, when I started making banana bread – I had to make banana bread without eggs. And luckily – it's really simple to replace the eggs in a regular recipe and still come out with a moist and delicious eggless banana bread!
How do you make banana bread without eggs?
First – you mash up your old bananas. If you have bananas that are not overripe – you can microwave them for 30 seconds and it basically liquifies them so they're just right!
Then I creamed sugar & butter – not difficult to do. I always try and use softened butter for this – and then beat it for a few minutes.
I'm a novice baker to say the least – I don't even have a mixer! Well I have a hand blender that has a wisk attachment. I've been pretty shocked at how well it works! And it's less than $30! I got it as a gift after a fundraiser and didn't think I'd ever use it – but it's been awesome! You just pop the attachment on and go!
So then you mix together your banana, butter/sugar and dry ingredients – mix mix mix and you're ready to go into the pan (or muffin tin).
You bake your eggless banana bread for 45 minutes and it's crusty on the outside, soft and delicious on the inside. This egg-free banana bread is ready for you and your loved ones! You can also add nuts or chocolate chips – if you're feelin froggie!
What are other breads and desserts with no eggs?
egg-free, allergy, banana, banana bread
Egg-free Banana Bread
prep time: 20 MINS
cook time: 40 MINS
total time: 60 mins
My husband loves banana bread and this one is egg-free so he can eat it! Yahoo!
ingredients:
2 cups

all purpose flour

1/3 cup

softened butter

2/3 cup

sugar

1 teaspoon

baking powder

1/2 teaspoon

baking soda

pinch

salt

3 ripe

bananas
instructions:
Mash the bananas and set aside. Preheat oven to 350.
Cream together butter & sugar with a mixer.
In a separate bowl, combine flour, baking soda, baking powder & salt.
Add dry mixture to the butter/sugar mixture and combine.
Add the banana and beat together.
Pour into a greased loaf pan and bake for 40-45 minutes.
Cool on a rack.