This post is sponsored by the Ohio State Fair. All opinions are my own.
Who has weird food quirks? Here's mine. I hate bananas but I LOVE banana bread! I just don't like the texture of bananas – but I love the flavor. The Ohio State Fair is coming up and I've always wanted to enter a recipe in their baking competitions – so I decided this was the year!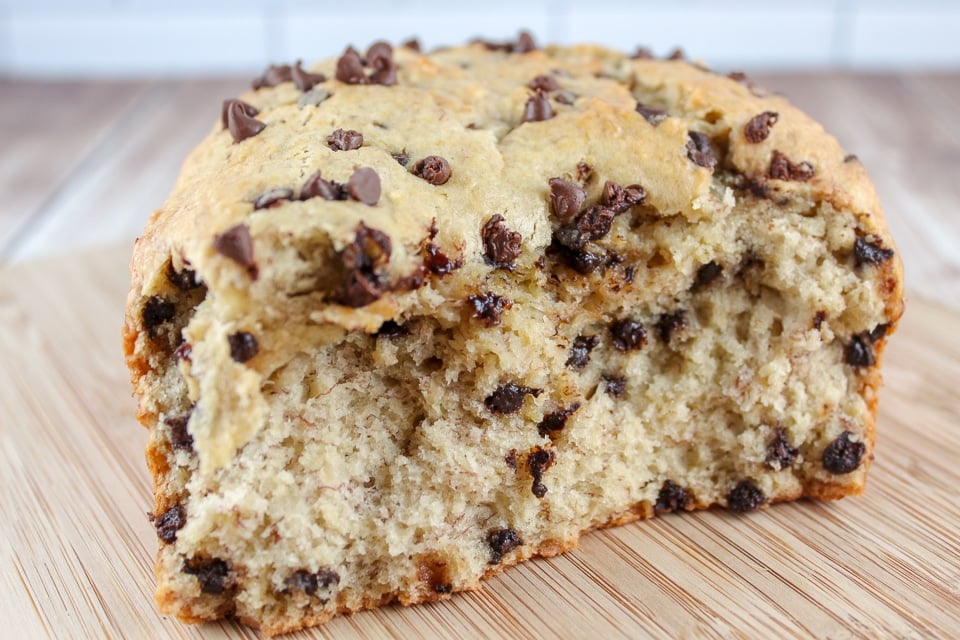 I'll be entering my Eggless Chocolate Chip Banana Bread! Looks good – right? But before the State Fair gets to try it – you can have it for yourself!
How do you make banana bread without eggs?
Well my ex-husband was allergic so I always had to account for that – and with this amazing banana bread recipe – I couldn't change a thing! Well – except for adding chocolate! Besides being egg-free – there's also no milk! (It's not vegan because there is butter in it.)
Really the moisture comes from the bananas – making sure they're over ripe and then add a little applesauce for the rest! I love making this easy recipe for banana bread with applesauce and chocolate chips – egg-free and delicious!
This chocolate chip banana bread recipe with no eggs will be your favorite! I used the mini chocolate chips so they weren't too overpowering and not in every bite – you still have that banana flavor. You could also add nuts to this if you like…I left them out today.
How do you make banana bread muffins?
You could also make these into muffins – just cut down the baking time. I would start with 35 minutes and check them with a toothpick to see if it comes out clean. If not – add more time in five minute increments.
How do you enter a recipe into the Ohio State Fair?
It's super easy! Head to the Ohio State Fair Culinary Arts website and pick your category! You have until June 20 to enter! This is going into the quick bread – fruit loaf category. You can even drop your entry off and enjoy the rest of the day at the fair.
They have a ton of categories – so if you have an amazing recipe – especially an heirloom recipe – check it out! You could win a little something – really I'm just in it for the ribbon!!!
And while you're there – be sure to get all the foods on my Ohio State Fair Bucket List!!! The pork wings at the Ohio Pork Council booth are my favorite – well and the deep fried oreos. 🙂
Eggless Chocolate Chip Banana Bread
prep time: 10 M
cook time: 50 M
total time: 60 M
I love banana bread and have a delicious recipe that I decided to jazz up with chocolate chips. It just makes it even more delicious – yum!! It's got great banana flavor with little mini chips throughout – so rich and delicious. And it's eggless!
ingredients:
1/3 cup softened butter
2/3 cup sugar
2 cups King Arthur all purpose flour
1 tsp baking powder
1/2 tsp baking soda
pinch salt
3 ripe bananas
1/3 cup applesauce
1/3 cup mini chocolate chips
instructions:
How to cook Egg-free Chocolate Chip Banana Bread
Mash the bananas and set aside. Preheat oven to 350.
Cream together butter & sugar with a mixer.
In a separate bowl, combine flour, baking soda, baking powder & salt.
Add dry mixture to the butter/sugar mixture and combine.
Add the banana and chocolate chips and mix together.
Depending on how dry the mixture is (depends on your bananas) – add applesauce gradually. It should mix together completely and be thick and not quite pourable. You may not need all of the applesauce.
Pour into a greased loaf pan and bake for 50 minutes. Check doneness with a toothpick and be sure it comes out clean.
Remove from pan and cool on a rack – be gentle with your delicious loaf of eggless chocolate chip banana bread!