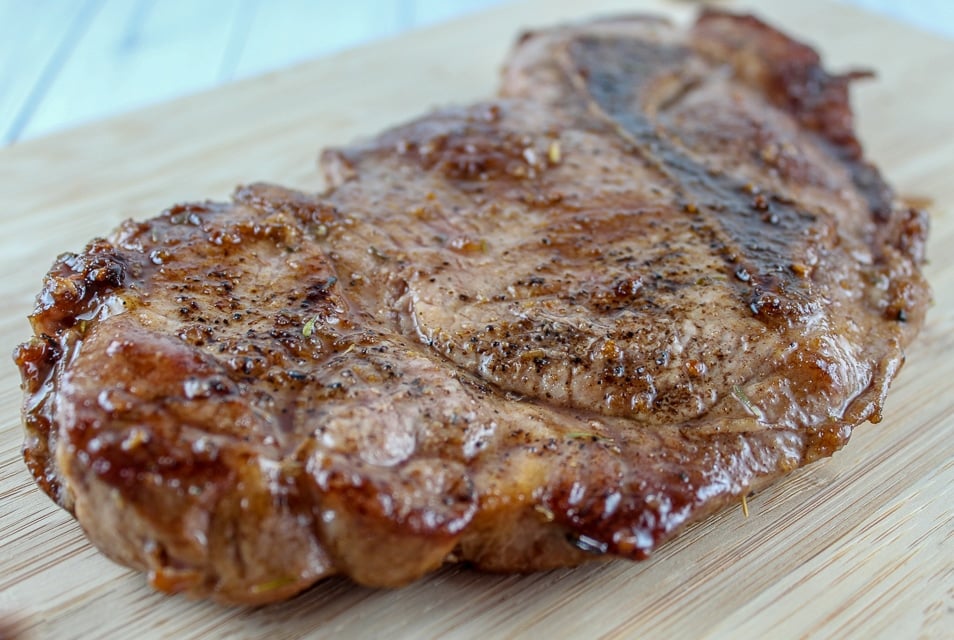 Keep reading and I'll share exactly how I made the PERFECT pork chops that might just make you forget about steaks! With a sweet & zingy garlic brown sugar glaze – you'll thank me for it!

How to cook pork chops on the stovetop?
So look at that perfect blush of pink on the pork chop. What does that mean? It's cooked PERFECTLY! Here are my tips for cooking pork chops on the stove top:
– Sear for 1-2 minutes on each side on high heat
– Be sure to use bone-in pork chops – they're juicier and more flavorful
– Get an instant read meat thermometer – they make a world of difference!!!
What temp should you cook pork chops to?
I do a lot of work with the Ohio Pork Council and have learned a lot about how pigs are raised. I know it's safe to eat pork at 145 degrees – like you would a medium rare steak. It has that blush of pink and is perfection!
I actually take my chops off the heat around 135 because with the heat inside – they'll continue to heat to 145. If you've always thought pork was dry – you're overcooking it. Eat it like this and you'll thank me!!
Want to know more about pork? Check out this post about 5 Pork Myths Busted!
What to serve with Garlic Brown Sugar Pork Chops:
Garlic Brown Sugar Pork Chops
prep time:
cook time: 12 M
total time: 12 M
My Garlic Brown Sugar Chicken Thighs were so popular I had to try the same recipe with pork chops! The pork chops are coated with a thick brown sugar and honey glaze and it's got a nice punch of garlic.
ingredients:
2 bone-in pork chops
salt and freshly ground black pepper, to taste
4 tablespoons salted butter, divided
4 cloves garlic, minced
1/4 cup brown sugar, packed
1 tablespoon honey
1/2 teaspoon dried oregano
1/4 teaspoon dried thyme
1/4 teaspoon dried basil
instructions:
How to cook Garlic Brown Sugar Pork Chops
Season pork chops with salt and pepper, to taste.
Melt 2 tablespoons butter in a large oven-proof skillet over medium high heat. Add pork chops and sear both sides until golden brown, about 2-4 minutes per side.
Temp pork chops – remove from heat at 135 degrees (trust me!)
Melt remaining tablespoon butter in the skillet. Add garlic, and cook, stirring frequently, until fragrant, about 1-2 minutes. Remove from heat.
Stir in brown sugar, honey, oregano, thyme and basil until well combined.
Return pork chops to the skillet and heat for 1-2 minutes more. Flip chops so they are coated in the sauce.
Serve immediately and pour sauce over chops.