When I was a kid – we had an old school Betty Crocker recipe box and my favorite recipe was Chicken and Dumplings. I literally haven't had this in probably 25 years – but I was ready to enjoy it again. It's definitely comfort food and so tasty!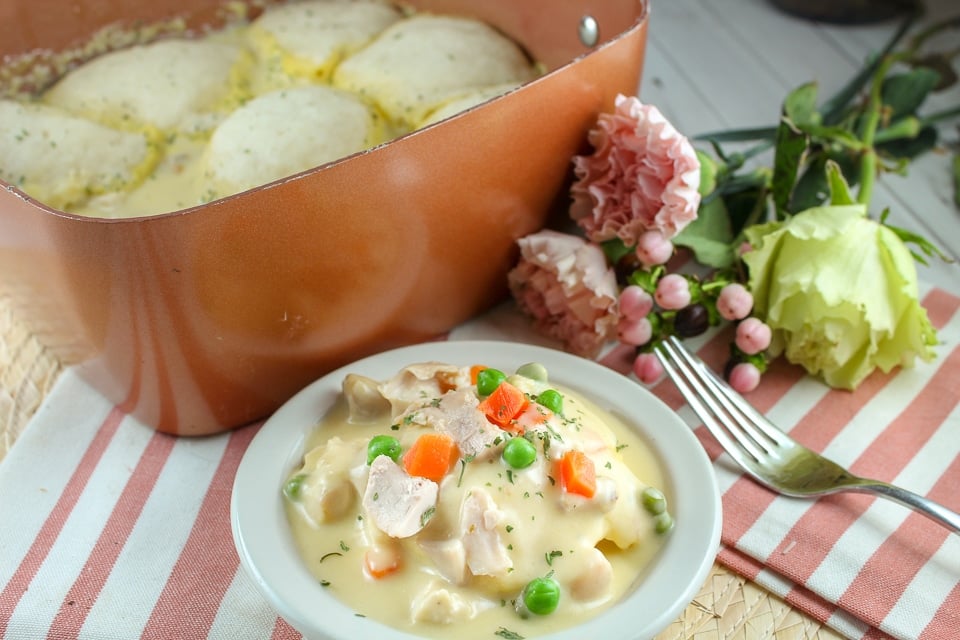 The problem with the original recipe was there was never enough gravy – so my parents always doubled the gravy and that is the perfect balance. We made the OG in an electric skillet with a cut up chicken – but in honor of convenience – I used half a rotisserie chicken and it was perfect (and less work!)
How do you make chicken and dumplings with Bisquick?
I was so excited to dig into my Mom's Chicken and Dumplings! She always made the dumplings with Bisquick and they are so light and fluffy! The recipe couldn't be easier – mix together milk, frozen peas and carrots, rotisserie chicken and soup. Then you make the dumplings with just Bisquick and milk – drop them on top and let it simmer. I know this recipe is the EASIEST and BEST chicken and dumplings recipe I've ever tried – it's why I'm sharing it with you!
Can you freeze Chicken and Dumplings?
I probably wouldn't – I think the gravy/chicken/veggies would be fine but I really like the dumplings best when they are fresh!
Can Chicken and Dumplings be reheated?
Yes! Obviously – I'm a single lady right now – I couldn't eat that whole pan of the best chicken and dumplings – so I had to do something with the leftovers! I did give each of my dogs a plate – haha – it's part of my weight loss plan. 😉 But the rest I packaged up and took to work and I'll say – they heated up great! Just make sure you heat it long enough as the dumplings take a little longer to reheat than the chicken/gravy. Cold dumplings are not good dumplings! haha
What goes with Chicken and Dumplings?
I know you'll love my Mom's Chicken and Dumplings as much as I do! I definitely won't be waiting 25 years to make it again!
Mom's Chicken & Dumplings
Yield: 4-6
prep time: 5 M
cook time: 30 M
total time: 35 M
Mom's Chicken & Dumplings was my favorite dish as a kid – it was in a Betty Crocker recipe box – and was one of the first things I learned how to make! Comfort food at its finest and the dumplings are so light and fluffy – and LOTS of gravy to smother it all! #chickenanddumplings #rotisseriechicken
ingredients:
2 cups milk
1 cup frozen peas & carrots
1/2 rotisserie chicken, meat chopped into bite-sized pieces
2 cans (10 3/4 oz) condensed creamy chicken mushroom soup
1 cup Bisquick
1/3 cup (plus a splash) milk
instructions:
How to cook Mom's Chicken & Dumplings
In 3-quart saucepan, heat 2 cups milk, frozen peas and carrots, chicken and soup to boiling.
In small bowl, stir together Bisquick® mix and 1/3 cup milk until soft dough forms. If it's a little dry – add the splash of milk. Drop dough by 9 spoonfuls onto chicken mixture.
Cook uncovered over LOWEST heat 10 minutes. Cover and cook 10 minutes longer.