I met up with my great friend Nate from
WannaBite
and decided to grab some tacos from the nearby
Gomez Salsa
. It's a fairly new taco window (and yes – literally – a window) in OTR.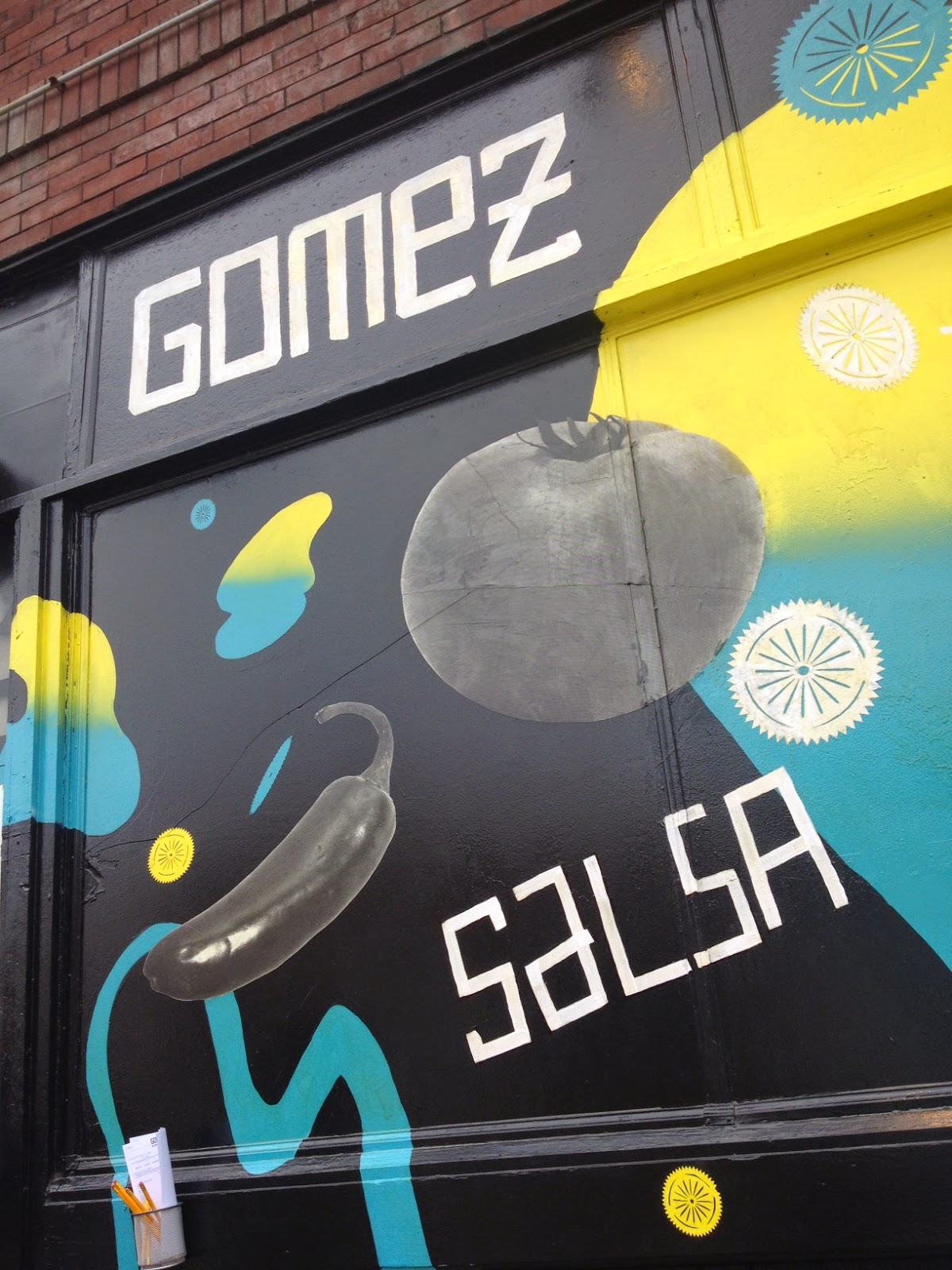 It's easy to find where Gomez Salsa is by the brightly painted side board – what's not as easy is figuring out how and where to order! So here's the 411 for you non-OTR folks (like me!)
There actually is a door there – and if it's closed – knock! They open the window portion and will help you. Do not walk by the bar and the windows there 14X like I did! Next to the door is a holder with menus and pencils. Mark up your order and write your name on it – then give it to whoever is at the window. Then hang out for 5-10 minutes and wait for your name to be called. Follow these tips and you'll have burritos in your belly in no time!
Nate got the Turtle Shell ($8) which is a burrito stuffed with rice, beans, sour cream, lettuce, salsa, meat, veggies and cheese – they even seal it with cheese! Nate loves this and tells me how awesome it is – if I go back – I'm trying that. They crisp it up like a tostada and I have to say – it looks pretty awesome.
Here's a big list of the topping choices: chicken, barbacoa, carnitas, vegetarian, fish, slaw, lettuce, cheese, guacamole, sour cream, rice, black beans and pinto beans. The salsas are: gomez, kowabunga, corn, verde and pineapple.
I did two soft shell tacos ($8 – tacos & turtles come with chips/salsa & drink). I got carnitas and pineapple salsa in one and fish with gomez in the other. I didn't care for the fish taco at all – I couldn't tell if it was grilled or fried and it tasted really mushy. I liked the pork & pineapple better. It was okay – but I still like Taqueria Mercado or La Mexicana better. (I still need to try Mazunte.)
I was there during World Cup and in Cincinnati – during World Cup – you find people like this eating tacos with you. After I got over being scared – I grabbed a selfie with my new friend. 🙂
Why Should You Go?
Well – I hear the turtle is amazing – and next time – that's what I'll get. The tacos were just ok. Not a bad price though…
Around The Web
'); script.type = 'text/javascript'; script.src = 'http://widget.crowdignite.com/widgets/31877?v=2&_ci_wid=_CI_widget_'+_CI.counter; script.async = true; ref.parentNode.insertBefore(script, ref); })();