Every once in a while – I get an idea in my head for a blog post. Sometimes I should not listen to those ideas! (haha – just kidding). I had an idea to take a helicopter ride with
Stratus Helicopters
– thing is – I'm scared of heights!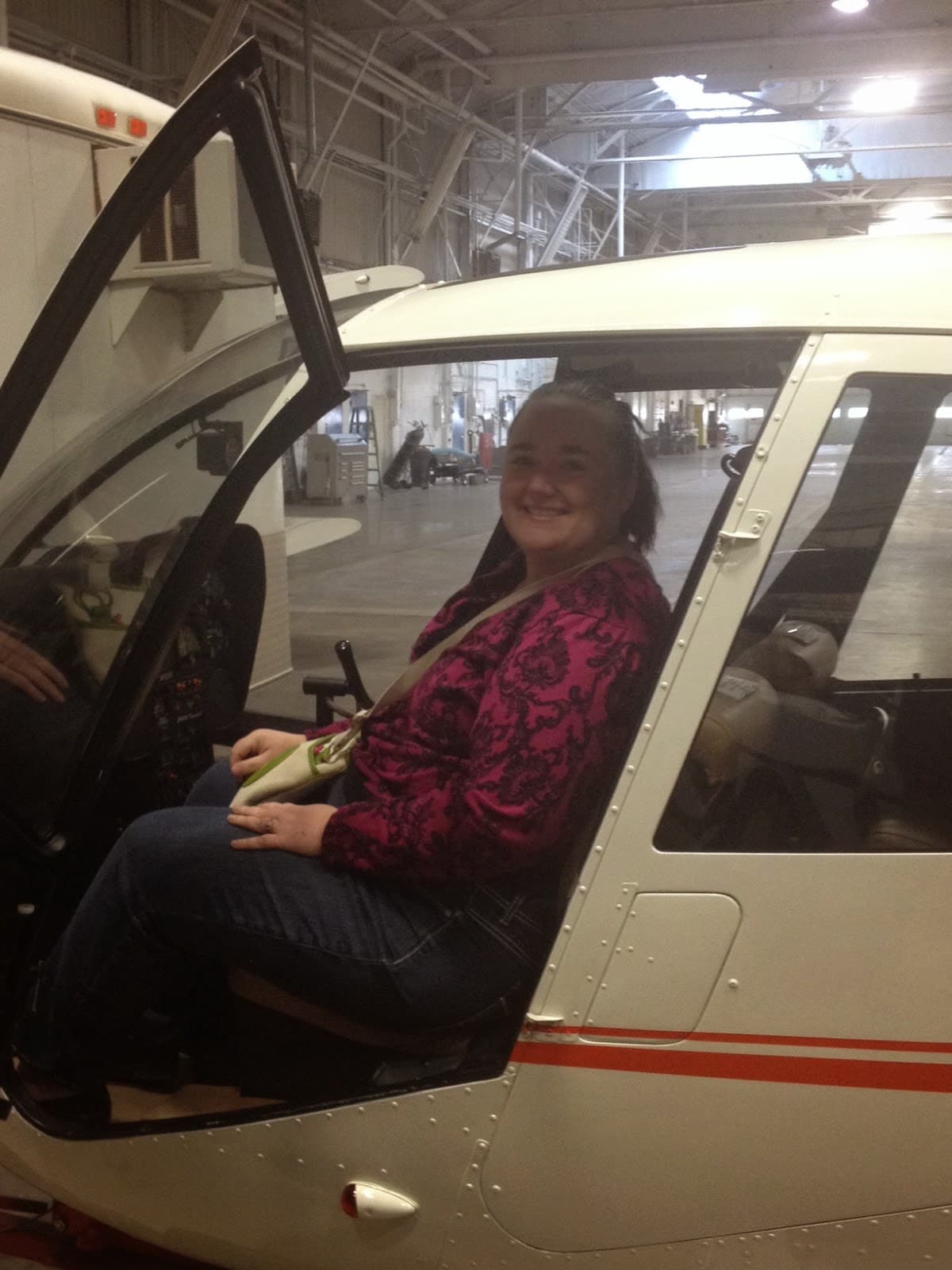 Look at how NOT scared I am when the helicopter is sitting in the garage.
And this is how I look as we're about to take off! It didn't help any that they saw that I brought a camera and said, "Oh we'll have to fly with the door off – you'll get better pictures that way!" GRRRR! But I braved it. I might have been hugging the pilot who kept telling me the seat belt had me and I wouldn't fall out. Suuuuuuuuuuure!
We took off from Lunken Airport and flew over to Coney Island. On the way – we flew over these guys. I wanna do it again and figure out where they live and go hang out with them. Something tells me that fun is had on this road.
After going over Coney – we headed to University of Cincinnati! The helicopter ride is simply exhilerating – even with the door off. 😉 It's really cool to just be up so high and see things from a totally different view.
Then we headed downtown and my goal was to get some good shots of the stadiums so we could print them off and hang them in the man cave. Side note: our man cave had just flooded the day before the flight and Larry had been totally pre-occupied by this. During the flight he said, "I totally forgot about the basement for this whole flight!" MISSIONS ACCOMPLISHED.
These pics are great and we are definitely getting them printed off for the basement. You can buy pics like this – but it's so much cooler to think I TOOK THIS PICTURE!
And finally – safely back on the ground.
We were on the
Ultimate Date Night Tour
which is $65 per person for first two passengers (you can add a 3rd for $55 more). There is a two-passenger minimum. I have to say – this ranks right up there with the
Segway tour
as most fun activity in Cincinnati. I have already told so many people about this – I mean – think about it – for the cost of a nice dinner out – you can get a totally crazy and unique view of your city!
You can also do these tours at night – just keep in mind – you may not see as much at night because not everything is lit up. They also told me that an iPhone camera won't really cut it – so keep that in mind. The other advice I would give – is if you take a camera – take some pics of things you REALLY want a picture of – but also put the camera down – sit back and enjoy.
I encourage everybody to give
Stratus Helicopters
a call and set up a tour for you and a friend/loved one today. It's so exhilarating – do it with the door off! (If I did – you can too).
Disclosure: Stratus Helicopter provided this tour free of charge. All opinions are my own.