I know the name is a little silly – but I love to make dump cake for Thanksgiving – I always used a recipe I created a few years ago for a pumpkin dump cake but this year I decided to ramp it up!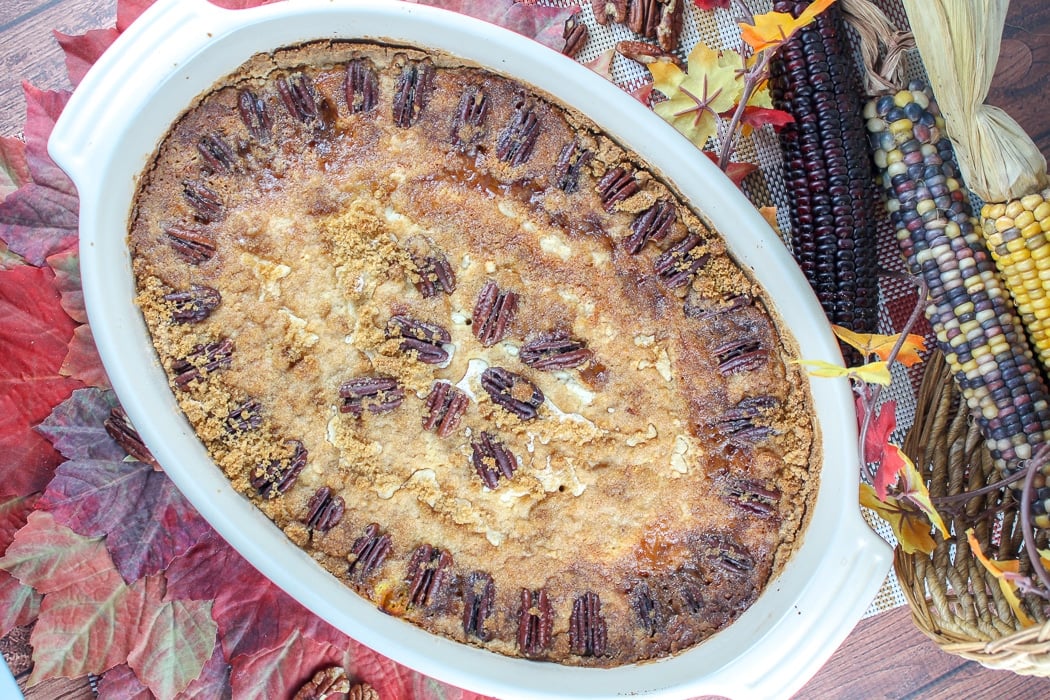 The pumpkin dump cake (with no eggs) is super easy to make – so I decided to add pineapple to it! This cake goes together so quickly – you can put it together in minutes. It's really tasty too!
The best thing about dump cake is just how easy it is to make – and once you've tried it – you can really mix it up and do lots of combinations. I think for Christmas I'm going to make a cherry dump cake!



What is dump cake? How do I make dump cake?
Dump cake is an easy dessert recipe where you just layer your ingredients and do not mix them – then bake and voila! It's not really the texture of cake – but it's darned good! This recipe uses canned pineapple, canned pumpkin and yellow cake mix. My little gif above shows how you make it! Start with pumpkin, add pineapple, top with yellow cake mix. Then you add pecans, brown sugar and butter – and pop in the oven. Yum!
Can dump cake be frozen? How to reheat dump cake?
Definitely! This made a huge pan of cake so I shared with friends at dinner, kept some for myself and then popped some into the freezer. With the leftovers – if you're only leaving out for a day or two – you don't need to refrigerate – it stays very moist. If you want to refrigerate and reheat – I would just microwave for 30-60 seconds depending on if you're reheating a slice or a dish. I would recommend reheating individual servings.
This year – you should mix it up a little by making some new holiday desserts like this Pineapple Pumpkin Dump Cake. I'll also be making my Mom's Secret Ingredient Pumpkin Pie and my Mom's Pineapple Stuffing – it's sort of a cross between stuffing and bread pudding – everybody loves it! And if you're looking for something even quicker try my 10 Minute Pumpkin Tiramisu – it's egg-free and no-bake!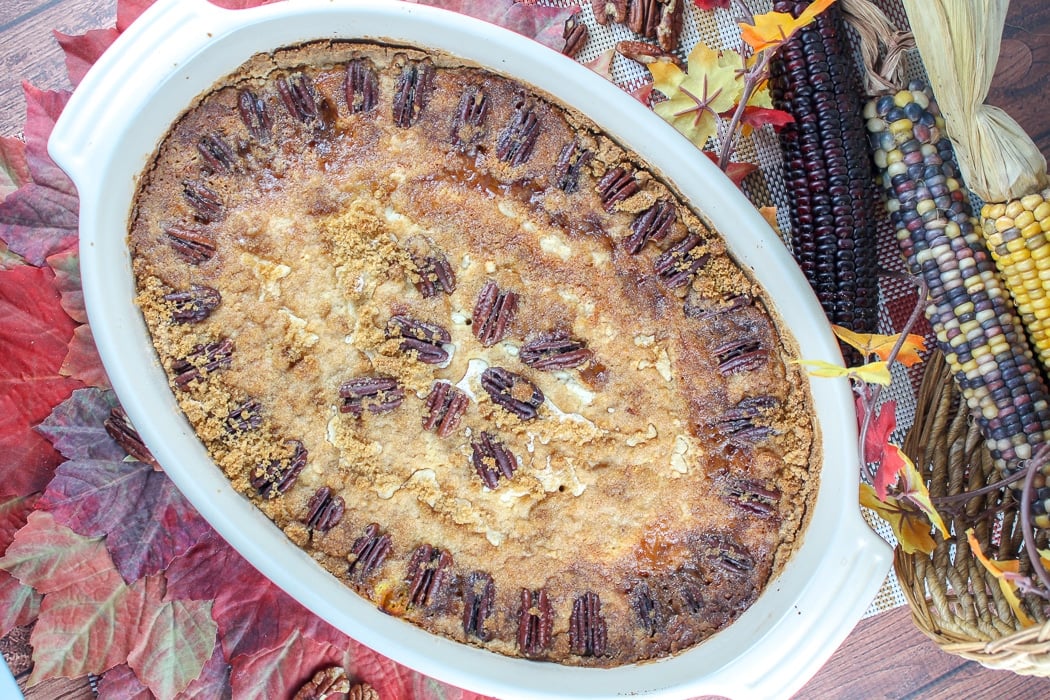 Pineapple Pumpkin Dump Cake
prep time: 10 M
cook time: 50 M
total time: 60 M
We always need something NEW at our holiday tables – but nobody wants to spend all day in the kitchen. This Pineapple Pumpkin Dump Cake takes minutes to put together and yet it tastes so good!
ingredients:
1 15 oz can pumpkin
1/2 tsp pumpkin pie spice
1 20 oz can crushed pineapple, drained
1 box yellow cake mix
1/2 cup pecan halves
1/2 cup brown sugar
1 stick butter, melted
instructions:
How to cook Pineapple Pumpkin Dump Cake
Preheat oven to 350 and spray baking pan with nonstick spray. You can use an 8×8 or 9×13 – either will work – 8×8 will just be thicker and take a little more time to bake.
Spread pumpkin across bottom of dish
Sprinkle pumpkin pie spice on top of pumpkin
Spread pineapple (drained) on top of pumpkin/spice
Sprinkle 1/2 brown sugar on top of pineapple
Pour cake mix (dry from box) over top of pineapple – evenly spread over pineapple
Arrange pecan halves decoratively over top of cake mix
Sprinkle remaining brown sugar evenly over pecans
Drizzle melted butter over brown sugar trying to cover all of cake as best you can
Bake at 350 for 50 minutes
NOTES:
– how to melt butter without it exploding – I put a stick of butter in a tall glass and use the paper from the stick as a lid – then microwave for 30 seconds – leave sit for a minute – and microwave for 20 more seconds – this will keep the butter from exploding and getting all over your microwave!
Recommended Products:
Le Creuset Oval Baker
Can Opener
Spatula
Did you make this recipe?
Tag
@foodhussy
on instagram and hashtag it #foodhussyrecipe