Now that I'm single again – my meal planning is slightly different. I eat a lot lighter and a lot more simply because I don't want to be eating leftovers for days. This is my go-to dinner more nights than I care to admit!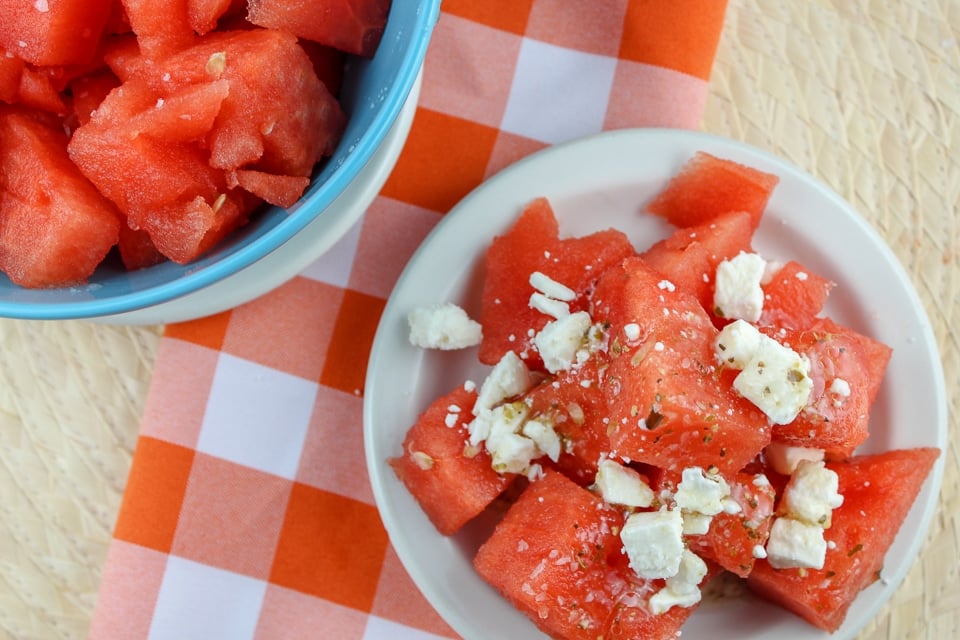 I've perfected this recipe to make it so easy and delicious – this is hands-down the BEST watermelon & feta salad recipe! It takes five minutes and you're enjoying it!
How to make Watermelon Feta Salad
Well it doesn't get much easier – I buy a mini seedless watermelon every weekend and dice it up the day I get it. It goes in a bowl in the fridge and I nosh on it all week!
From there – you just plate up some watermelon, grab the crumbled feta from the fridge (because it's ALWAYS in there) and sprinkle that on top! You can make your own dressing but I like Ken's Greek salad dressing – so I add a little of that and then some coarse sea salt and that's it!
What dressing for Watermelon Feta Salad?
You can make your own – a balsamic vinaigrette would be great – but frankly – I like things to be quick and easy – so I just grab bottled Greek Salad Dressing and top it with that. It's got all the seasonings you'll need and it's ready to go!
What to Serve with Watermelon & Feta Salad
This salad pairs really well with a piece of grilled fish like tuna or you can make salmon in the air fryer. Then you've got a super healthy dinner on the table in ten minutes! What could be better??? And this salad is so cool and refreshing – perfect for these hot summer nights!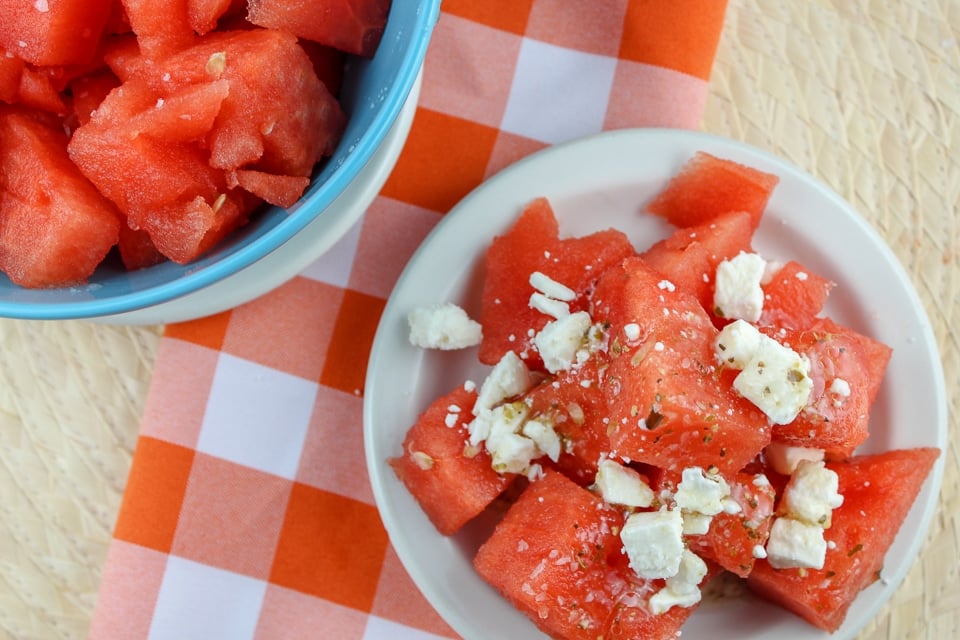 The Best Watermelon & Feta Salad
prep time: 5 M
cook time:
total time: 5 M
Watermelon and Feta Salad is one of my go-to meals every summer. I get a fresh, ripe mini-watermelon every weekend and nosh on this salad at least 2-3 times a week. It's the perfect combination of salty & sweet!
ingredients:
– 2 cups Diced Seedless Watermelon
– 1/2 cup Crumbled Feta
– 1/3 cup Greek Salad Dressing
– 1 tsp Coarse Sea Salt
instructions:
How to cook The Best Watermelon & Feta Salad
– Split watermelon between two plates
– Sprinkle feta on top of watermelon
– Drizzle dressing over watermelon
– Sprinkle coarse salt over top